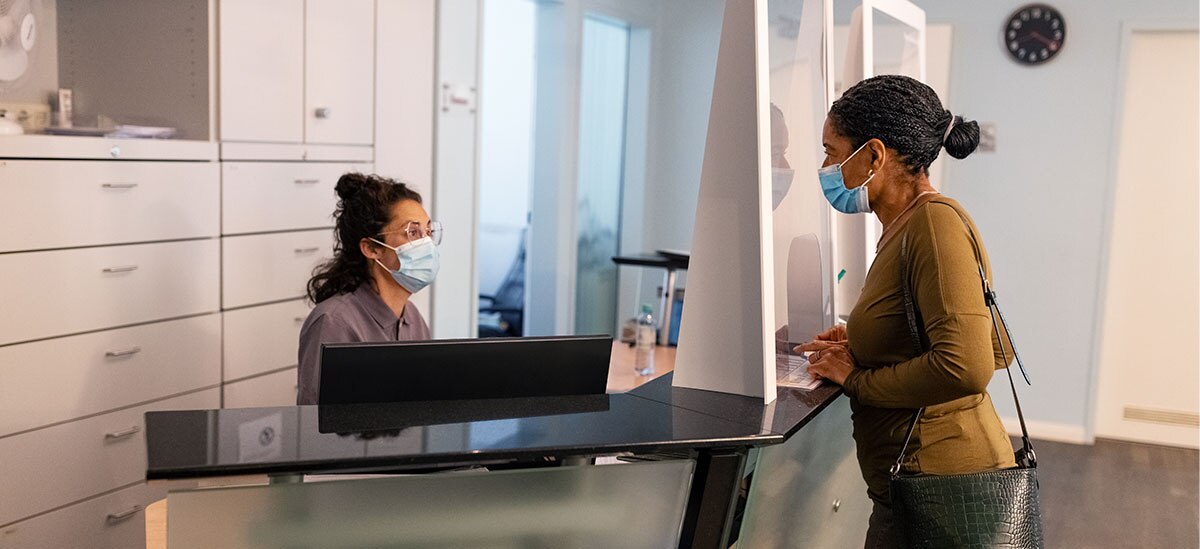 The coronavirus pandemic has impacted many aspects of our personal lives, as well as our working lives. After more than a year of healthcare practices shifting to at least some remote work – while also implementing new processes for safer interactions – and dealing with a public health crisis and constantly changing guidance from federal, state, and local government, the working environment may have changed forever.
On the positive side, the pandemic helped shine a spotlight on areas in which employers might not have been doing enough to support their workforces, while the mass adoption of teleheath proved that not all work needs to take place on-site in order to maintain a successful practice. In fact, one study by McKinsey[1] found that 71% of healthcare systems and services executives said that changes brought on by COVID-19 have created a big opportunity for growth.
But as public health guidance and economic conditions continue to fluctuate, healthcare employers might be facing challenges as well. For starters, there's a labor shortage thanks to many people who chose to retire early or seek out other opportunities. What's more, employee priorities and outlooks have also changed.
Take a closer look at some of the major changes brought on by the pandemic that healthcare practices need to keep in mind:
A greater focus on company culture

Especially in the healthcare field, workers have worked extra hard in the past year and a half to earn their "essential" title – and they want to feel appreciated. In an April 2021 survey of nurses[2], 44% of respondents strongly disagreed that their employers were doing enough to support their mental health and wellbeing. On the other hand, employers that went out of their way to make the workers in their healthcare facilities feel well supported, whether it was offering bonuses or extra paid time off, are probably the ones that are less likely to be struggling right now with turnover or a lack of workers to cover shifts. Demand for good talent is high everywhere, so expect workers to be more selective in choosing where they want to work.
A bigger emphasis on work-life balance

The pandemic proved to employers across most industries that not all work needs to be done on-site in order to be productive and successful. With healthcare practices, while there does need to be a physical presence in most cases, there's no reason why employers can't offer more flexible hours, work-from-home days, or allow for some duties to be done from home. In fact, a McKinsey survey found that 52% of employees would like their organizations to continue offering flexible, hybrid schedules[3]. Forcing workers to come back into the office on a stringent, pre-COVID schedule can have a negative impact on retention. On the positive side for practices looking to ramp up hiring, providing a remote or hybrid option for some roles means a bigger talent pool since they can look beyond their immediate geographic region or attract candidates who need more flexibility.
A greater focus on key benefits, including quality healthcare

The pandemic revealed areas in which working people need more help, including childcare assistance, paid family leave, and ample sick time. This revelation is why 57% of senior leaders told HBR[4] that their organizations are assigning higher priority to care benefits to better support their employees in both work and life. It's reasonable to say that healthcare talent should expect healthcare practices to also be mindful about the importance of offering quality healthcare benefits.
More openness around mental health support

Healthcare worker burnout is one of the sad consequences of the pandemic, not to mention an increase in anxiety and depression in the overall population. But unfortunately, there is still a stigma that prevents an openness about mental health struggles in some workplaces. The silver lining of the pandemic is that it has opened up more discussions about how employers can and should support their workforces, especially when it comes to healthcare workers on the front lines. This is especially important to practices that wish to recruit and retain younger employees: 60% of Gen Z[5] employees said in a recent report that mental health resources are important in selecting an employer, while 57% said they are important when deciding to stay with an employer. As such, healthcare practices that wish to stay competitive should be focusing on offering more Employee Assistance Programs (EAPs), wellness programs, and communicating openly about mental health awareness to help their employees in a holistic way.
For healthcare practices that had to pivot and adapt both their physical workplace protocols and their employee support systems during the pandemic, it would be a mistake to simply revert back how things were pre-COVID. Instead, employers should be taking away valuable lessons and learnings from the experience, and using them as an opportunity to find ways to reimagine the workplace and better support employees.