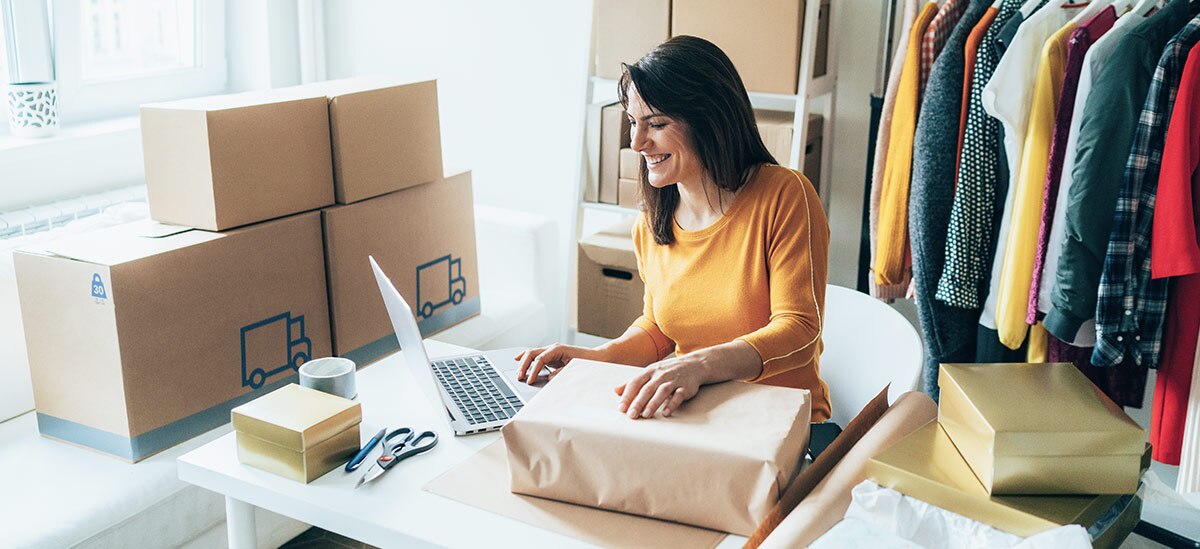 Experts predict that retailers can expect over $206 billion in e-Commerce sales[1] this holiday season. What's more, online purchases will make up a greater portion of overall spending, accounting for a record 19% of total holiday sales[2], up from 17.5% in 2020.
With more and more customers shopping online, small businesses need a strong e-Commerce strategy to avoid being left behind this holiday season. Learn how to prepare to sell online this holiday season and set your small business up for success.
Kick off your holiday calendar early
If you're still looking to Black Friday to kick off the holiday shopping season, it's time to reconsider your calendar, as shoppers likely began making holiday purchases around Labor Day and supply chain shortages may very likely impact shipping. At the same time, many businesses are rethinking Black Friday, limiting promotions to one weekend rather than a week-long blitz of offers.
Plan your strategy around a longer shopping season with a pared-down Black Friday. Consider smaller holiday promotions to attract early shoppers, releasing exciting campaigns early rather than waiting for Black Friday to kick off the shopping season.
Upgrade your hosting to ensure fast loading times
With ecommerce expected to soar this year, and click-and-collect still on the rise[3], your site needs to be ready to handle an influx of shoppers this holiday season.
A site that loads quickly and looks good on multiple devices, including phones and tablets, is a must for driving holiday sales. Nearly two-thirds of shoppers[4] said an unsatisfying online experience would drive them to shop elsewhere next time, and each added second in page loading time reduces conversions by 7%[5].
Check in with your hosting company to ensure you're ready for the holiday rush to reduce the chance of site outages. You can use different online tools to check your site's current loading times — and if they're above 2 to 3 seconds, explore ways to optimize your site to help pages load faster.
Finally, consider other aspects of the online customer experience, like customer support, that might need a temporary boost during the holidays. Now might be the time to supplement your online customer service with chat bots or other automation.
If you're looking to build (or rebuild) your website, PNC can help. Our Hosted Website Builder, available as part of our e-Commerce Payment Solutions, makes it easy to create a site, or add a store to an existing site — no coding or software required.
Help customers find products they'll love
Just as fast loading times drive sales, so does a web design that connects customers with products they're looking for. And every aspect of your site, from the copy to the design, should make products enticing and easy to find.
Start by revisiting product titles and descriptions and revising them with reader intent and search engine optimization (SEO) in mind. Think about what customers truly search for on your site, and make sure to include those keywords and search terms in your product information.
Rewrite manufacturer's product descriptions to infuse the copy with your brand voice, and play up the benefits that are most important to your readers. Upgrade product photography, too, using holiday imagery to create a festive mood.
Add a personalized recommendation plugin to your site, so readers can easily find related or complementary gifts for products they love. And create curated product lists around holiday themes — for example, stocking stuffers, gift ideas for mom, or gifts for foodies — to make gift shopping easy.
Create an immersive customer experience
Online shoppers still crave an interactive shopping experience, so get creative and find ways to engage visitors to your site.
Start by creating a festive atmosphere online. Consider adjusting your site colors for the holidays or creating a holiday-themed version of your logo or header image. If that's not an option, use winter- and holiday-themed product images to help get shoppers in the festive spirit.
Take it a step further by using virtual showrooms to help readers "walk through" the store and explore your inventory. Showrooms make it easier for customers to examine and research bigger-ticket items they might not otherwise feel comfortable purchasing online. And showrooms also give you a chance to curate themed "capsule collections," which can double as gifting guides during the holidays.
Sell on social media
E-commerce isn't just about selling on your website. More than 4 in 10 customers do product research on social media[6] before they buy, so social media marketing should be a key part of your holiday marketing plan.
Spruce up your profiles with holiday-themed avatars and profile headers, and start posting seasonal content to amp up the holiday mood. Look for creative ways to sell through social media — for example, using Instagram Highlights to publish themed gift guides, or posting video tutorials or product demonstrations on TikTok.
Take advantage of social media marketplaces to meet customers where they are. PNC's e-Commerce Payment Solutions makes it easy to sell through popular sites, including Facebook and Instagram, to drive sales this holiday season.
Entice customers with online promotions
Holiday shoppers love a deal, whether they're shopping online or in person. Create a seamless customer experience — and entice customers to shop online — by offering the same deals on your site as you would in-store.
Create online exclusive deals, too. Send limited-time offers to your email list, or promote codes on social media to attract online shoppers.
Find a banking partner to support your strategy
A strong banking partner is at the heart of a great e-Commerce strategy.
The right partner should help you meet customers where they are, make it easy to accept a range of payment methods, and even offer resources to help you build or enhance your website to support your e-Commerce strategy. What's more, they should have solutions tailored to your industry, and offer exceptional customer service that helps you focus on running your business.
At PNC, we're here to help you establish an online presence and start selling online. Learn more about our e-Commerce solutions and how we can help you prepare for a bustling holiday season.