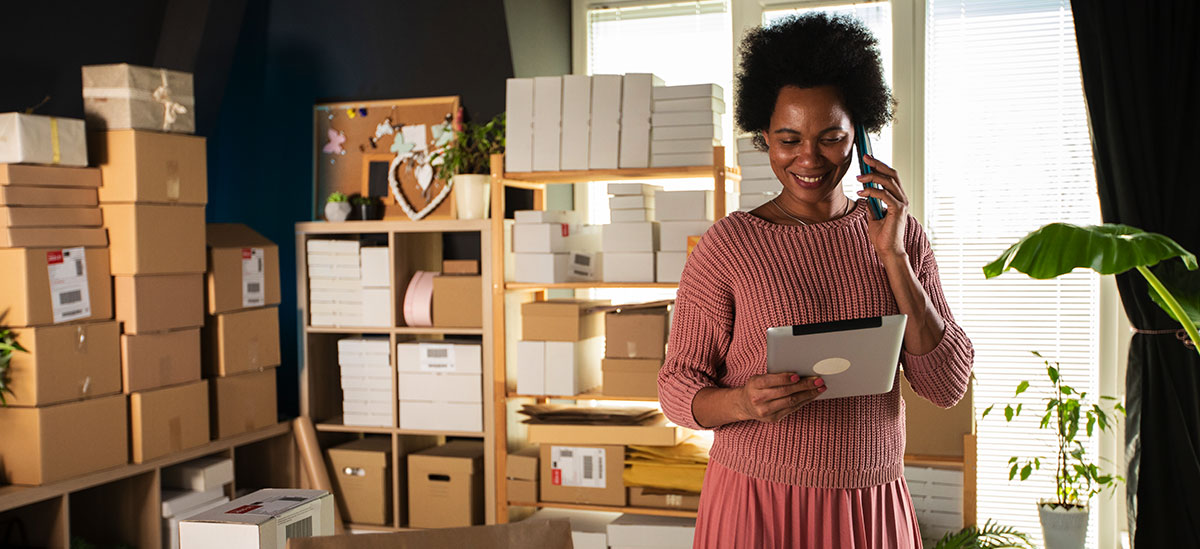 The pandemic has changed nearly every element of business. This is the case for business owners and how they operate, but it also extends to consumers. What customers want from the companies they frequent, and consumer behaviors, as the whole, have dramatically evolved, too.
For many small businesses, the foot traffic and in-person services that were the pre-pandemic norm have transitioned to a primarily digital client base, with different needs, expectations, and behaviors. Customers expect easy ways to shop, communicate, check out, and reach customer service if necessary.
As these patterns have shifted — and continue to evolve — now is the time for businesses to rise to the occasion to serve their valuable customers better and set up for innovation and success to stand out among competitors.
Create or Update an Efficient Digital Storefront
Without a physical storefront, businesses need to find an option to get customers up close, and personal with items they may have once seen in person — or have never seen at all. A modern, strategically-designed storefront can make this a reality.
Businesses should consider building or updating their websites, which serve as a digital storefront. Many modern templates prominently feature products and present the information customers need to convert. This includes enlarged images in featured light-boxes, places to have in-depth product descriptions, and a user experience built for quickly adding products into digital shopping carts, if applicable.
Without touching and handling products or seeing demonstrations in person, accessible additional information and strong visual presentation are essential for customers transitioning to online shopping.
Find PNC's e-Commerce solutions here.
Expand Payment Options
With the uptick in digital shopping, customers are increasingly expecting different ways to check out, especially when there are more options than ever. Businesses need to explore expanding the types of payments they take to make the shopping process seamless.
There are several different options to do this. The first step for many businesses is to enable online credit card payments for the most common card providers. Customers have become increasingly accustomed to purchasing items with a credit card online. Some businesses may also want to take the next step to enable different payment options, such as direct transfers from payment apps, which provide additional opportunities to check out. Another potential alternative is offering installment payments, which are spiking in popularity, especially in specific sectors, such as retail and luxury.
Luckily, there are relatively simple ways to implement these modern updates. It can be prudent to explore various options and weigh features and costs. You can learn about merchant services products offered through PNC here.
Elevate Customer Service
Another critical element to serving a newly digital client base and reaching their expectations is a solid communication strategy throughout their shopping experience. Businesses must make themselves available for questions, feedback, and customer service.
Part of this can be simple: making contact information highly visible on websites and ensuring details such as a phone number and email address are readily available in online business listings and directories.
However, businesses may also want to explore new tools that make customer communication seamless, such as customer-service AI that can instantly provide automated answers to frequently asked questions. These tools also create chat services that link customers to representatives in real-time, enabling quick resolutions and positive experiences that may convert to sales and repeat business.
Adjust Marketing Strategies and Practices
Acquiring and keeping customers who expect a digital experience means pivoting marketing strategies to cater to a newly online client base. This means meeting customers where they are and where they will be.
One approach to this is creating a solid newsletter for customers. This helps keep brands top of mind for customers. Newsletters can be frequent or timed to seasonal events, such as holiday shopping season, back-to-school, or Mother's Day. Some businesses are also setting up "drip campaigns," which are automated emails sent at timed intervals or reactive to customer actions.
Businesses may also want to explore offering online discount codes and promotions, driving customers to convert. Another option is adding loyalty programs, which incentivize customers who frequently patronize businesses. Many tech programs that implement digital payments also have opportunities to set up loyalty programs.
Another option is exploring digital advertising on platforms customers frequent, such as social media. This can help bring customers back to stores and expand the potential for new customers. Online advertising can be especially effective when businesses leverage demographic targeting, enabling them to target key groups of potential customers. Many companies find social media marketing helpful, mainly because these platforms are rich with demographic data and targeting options.
Ultimately, businesses that can pivot now are also well poised to grow with customer needs. The digital space will keep changing, but starting with a robust digital strategy will enable businesses to adapt and keep up with customer desires — or even be a step ahead.