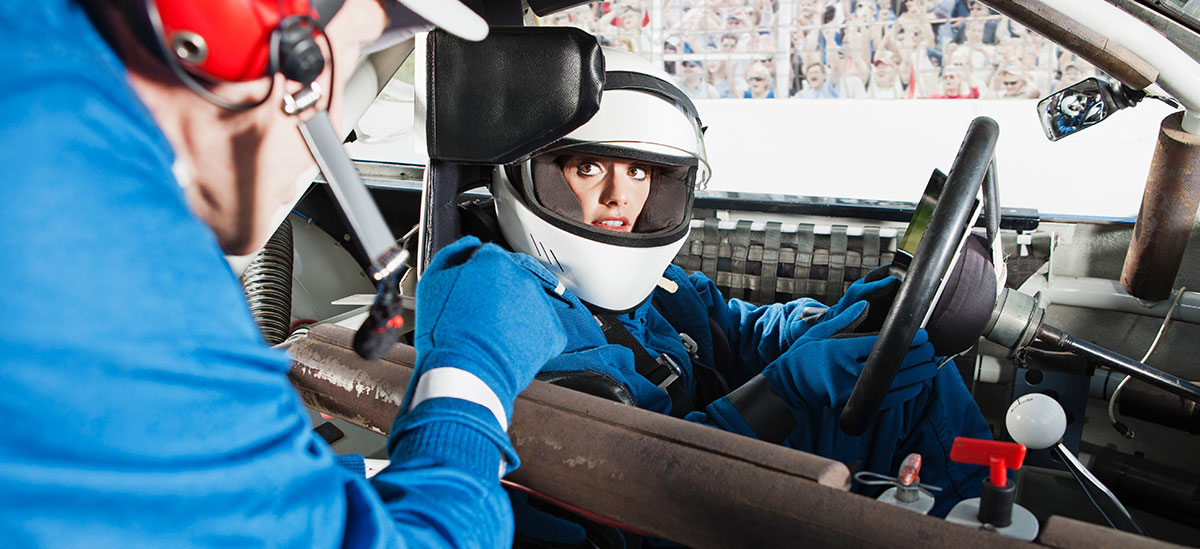 In the world of sports, women who have managed to find success continue to see both promising advances as well as hope for improvements. For example, Julie Giese, vice president of track marketing for NASCAR and president of Phoenix Raceway, can't wait for the day when she is no longer introduced as a "female" track president.

To be clear, Giese — who was the second female track president for NASCAR — loves celebrating the successes of women, but she'll be glad when women in her role are no longer a rarity. "We're making tremendous strides and I'm proud of the work NASCAR has done and continues to do," Giese said. Still, women lag behind men when it comes to sports leadership roles, from the collegiate level (less than a quarter of all head coaches at the college level are women[1]) to Major League Baseball and the National Football League (both received a C+ grade in the 2021 Racial and Gender Report Card[2] when it comes to gender hiring).

The following are some takeaways four women working in athletics have learned from climbing the ranks, and what they're hoping for in the future of women in sports.

Getting in the Game: Never underestimate the value of a good network
Giese recently came across the rejection letters she received from racetracks across the country when applying for jobs after college. Back then, Giese admits it never occurred to her that getting a job in sports might be difficult. "I was naïve," she said. "I thought you'd apply and then get the job.

After the rejections, Giese was hired at an advertising agency, but her heart was always in sports. She said she was "shameless" about letting everyone know that she wanted to work in racing.

"I had this amazing job at the advertising agency with a mentor who taught me to always raise my hand and to never settle," said Giese. "It's not easy to break into this industry, but if you want to work in sports, don't give up. Network, and find people involved. It will eventually pay off."

This tactic worked in Giese's favor when a friend of a co-worker learned about a position at Watkins Glen International, a racetrack in New York. Giese ended up there as an entry-level PR coordinator. That was in 2001, and she's been working her way up in racing ever since.

Networking was also an important element of success for Gretchen Sheirr, president of business operations with the National Basketball Association's (NBA) Houston Rockets and the Toyota Center where the Rockets play. "Networking was important for my job, but in the beginning, I didn't realize how building these networks would be beneficial for me personally," she said.

These days, as a female sports executive, Sheirr recognizes the weight of her position as a role model for women following in her footsteps. She is a founding board member of the Houston Chapter of the national networking organization, Women in Sports + Events[3](WISE), and started a monthly networking call with other women NBA executives.

As a woman in sports, "people need to know your name," said Sheirr. "It's important to have a strong women's network in our industry and in our league so that when people like myself are asked about who's ready for the next step, a woman's name is top of mind."

This is especially important in sports where the number of available positions is limited, said Danielle Shepherd, a simulation engineer with Chip Ganassi Racing. "Often we hire people we have connections with already – for instance, students who have had internships here or come recommended by other colleagues," she said. "So even finding a position that you're interested in requires networking."

Working on the Advance: Be your own biggest cheerleader

Giese — who grew up on a dairy farm in Wisconsin — credits her parents with her success. They taught her that hard work, determination, and a belief in your abilities will get you where you need to go. During her first job at Watkins Glen International, Giese followed her parents' example and took advantage of every opportunity at her disposal. "Watkins Glen is a great place to learn," she said. "The track hosts a ton of events, so there were a lot of opportunities to learn the sport, raise my hand, jump in and do different things."

Giese says her eagerness earned her the reputation as the person everyone could rely on. In fact, throughout her entire career, a consistent theme for Giese has been her willingness to jump on projects, even when she didn't necessarily have the expertise to do so.

"We can be our own worst critics," she said. "Instead, we need to be our biggest cheerleaders. When you see opportunities, raise your hand and embrace them."

Sheirr says another way to think about this is to abide by the old basketball adage: "You miss 100% of the shots you don't take." For example, the opportunity for Sheirr to prove herself came when the Compaq Center in Houston — where she started her career in ticket sales — received approval to build the current-day Toyota Center.

"When you open a new building, everything changes," she said. Her mentor at the time recommended using the transition to grow her career by becoming an expert in the space. "That was when I decided to go all in with ticketing," she said. "With so many people leaving to do something else, I got the opportunity to build the ticket sales staff, a huge project with a lot of visibility to senior leadership. That created a reputation for me as being someone who gets projects done successfully."

For Shepherd, creating her own opportunity for a career in sports began when she was in college. "I went to my professor and said, 'I'm interested in motorsports,' and he told me about grant money that was available to design my own internship experience, which I was lucky enough to be able to do through my school."

In doing so, Shepherd spent the summer between her junior and senior year at Davidson College in North Carolina, working with a NASCAR professor who was doing mathematics-based projects for a NASCAR team. "Because the internship was funded through Wooster, I met different alumni when I was in the Charlotte area," Shepherd added. "The first alum I met happened to be a kindergarten teacher who was friends with another Wooster alum who worked in racing. I was introduced to him through this whole process, and he was vital to getting me my first position with an IndyCar team."

Susan Schandel, CFO and EVP for NASCAR agrees that combining moxie with opportunity is the secret to success. Schandel worked in public accounting after college, where the International Speedway Corporation —the division of NASCAR that owns the racetracks — was one of her clients. She recognized right away that working in Daytona for NASCAR would be an exciting opportunity. "So, I told the controller at the time that if he ever thought of leaving, he should let me know because I'd love to have his job."

Although Schandel admits that letting clients know that you're interested in a new job could be self-defeating, she also knew that if she didn't speak her mind, the opportunity might pass her by. "Sure enough, one day, he called me after work and said he decided to change career paths, and I couldn't believe it," said Schandel.

"Be in charge of your own destiny, take opportunities when they're presented, or create opportunities for yourself," Schandel advises "Have confidence in yourself to know when a job move is right."

The Road Ahead: A shift in the playing field

As more women are being embraced as leaders in the sports world, Schandel is proud of the companies — including NASCAR — that are working hard to make diversity and inclusion a top priority. At NASCAR, for example, formal employee resource groups — one of which focuses on women — provide a forum for employees to come together and discuss ways to invite people of all backgrounds into the field. "This brings a better perspective to the company, and it's also how we can grow our business," she said. "If we want to be representative of our country and our fans, then we've got to go full circle, starting with our employees and the career opportunities we provide."

The day when women in sports leadership roles aren't groundbreaking or newsworthy is on the horizon, says Shepherd. "Even since I started in 2015, the number of women has noticeably grown," she said. "Each year, you see more female students reaching out, interested in motorsports and racing. We're on our way to including women in the field."

The pandemic may have played a part in creating a more inclusive atmosphere for women in sports as well. If you asked Sheirr a few years ago about the opportunity for workplace flexibility in her job, she wouldn't have thought it possible. "Growing in this industry can wear on you," she said. "For me, it's 100 live events that typically happen in our building every year, most of which I should be present for. That's a high expectation for working moms in particular. The pandemic taught us that people can connect to our brand even in the absence of live events and that there are significantly more opportunities for flexibility in sports careers than anyone originally thought. This is a game-changer when it comes to closing the gender gap in sports leadership – and that will allow our influence and our industry to continue to grow."