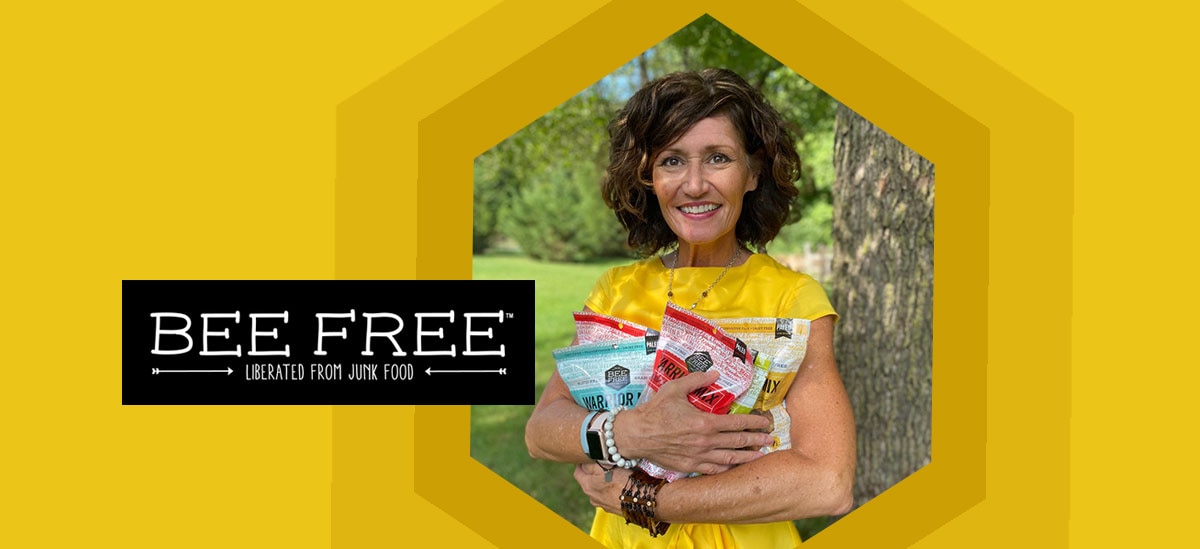 First, follow your passion. Second, find a supportive network who will build you up and help guide you along the path to success.
Back when Jennifer Wiese learned about the benefits a gluten-free diet could offer her son, there weren't a lot of healthy, gluten-free snack options in the grocery aisles. That didn't faze her. Wiese stocked up on a variety of clean, natural ingredients and headed for the kitchen. Fortunate to be surrounded by a family of taste-testers (her husband and four sons), she experimented with recipes until they passed with flying colors.
Having experienced the scarcity of natural-ingredient, great-tasting gluten-free snacks herself, Wiese recognized her creations could fill a market need. In 2010, she launched BeeFree to produce and distribute Warrior Mix, a gluten-free granola snack that today is sold online and through more than 3,000 retail stores nationwide.
Why "Warrior Mix"?
All of our products are inspired by our son, a real-life warrior who grew up fighting battles related to his autism. We recognize that each of us has our own unique battles that require our time, focus and energy. BeeFree creates real-ingredient foods that nourish your mind, body and soul to fuel that warrior inside.
What differentiates your company from other companies that make granola snacks?
First, we make our products with real, plant-based ingredients — nothing artificial. We view food as medicine and look to Mother Nature for ingredients that people know (and can pronounce). In addition, we create Warrior Mix in soft, chewy clusters so it's easy to grab a handful straight out of the bag; it's the ultimate on-the-go snack.
Also, BeeFree creates jobs for people with autism by working with local organizations to recruit and train candidates. We're on a mission to break down barriers, finding ways to be inclusive and create meaningful jobs with the better-for-you food we produce.
What did you do career-wise prior to starting this business?
I've had a few small artisan businesses throughout my life: All Wrapped Up, a gift-wrapping business with my mom when I was 17; and J Art Jewelry, a business I started after college as a creative outlet and to supplement my income as an assistant buyer for a local women's retailer. My professional years prior to BeeFree were spent in fashion merchandising for Florida premiere fashion retailer Burdines. Longing for my Midwest roots, I moved to Indianapolis to become a sales manager for Hyatt Regency Hotels, where I joined a nationally ranked sales team and crafted the art of sales.
What challenges did you need to overcome to build your business?
I don't have a background in food production, so learning and making mistakes were very much a part of our early days in business. Some of the biggest challenges were managing cash flow, learning the sourcing and sales pipeline, balancing the cost of goods sold and other expenses, and building supplier relationships for all the things needed to create a food product.
A large part of building a business is figuring things out; that's the fun part. We are fast learners, so we avoid repeating our mistakes, and we know our strengths. Where we need support, we rely on industry experts and other advisors. For example, PNC has been instrumental in a number of ways: helping us remain operational during the pandemic, navigate new territories, plan for the future and grow.
What is your vision for BeeFree going forward?
My vision is for BeeFree to become a household name — for people to associate the BeeFree logo with deliciousness, real quality ingredients and a provider of jobs for people with autism. I want consumers to gravitate toward BeeFree with excitement and spend their dollars with us knowing they are helping create social change and impact. Every purchase helps create a job for someone who may otherwise be overlooked.
What advice would you offer other aspiring entrepreneurs about starting a business?
First, follow your passion. Second, find a supportive network who will build you up and help guide you along the path to success. Third, "Never, never, never give up." (Winston Churchill)
What have you found to be most gratifying about building your business?
It's a special feeling knowing that you are bringing joy to people through good food, and providing jobs to people who truly appreciate having the opportunity to earn a paycheck and work in an uplifting environment. Also, building a business from the ground up has been a journey with my family and an example to my sons that life is what you make it. We are stronger than we ever imagined, and guts and faith combined have proven to be an unstoppable force.
Find them on the Web: www.beefreegf.com