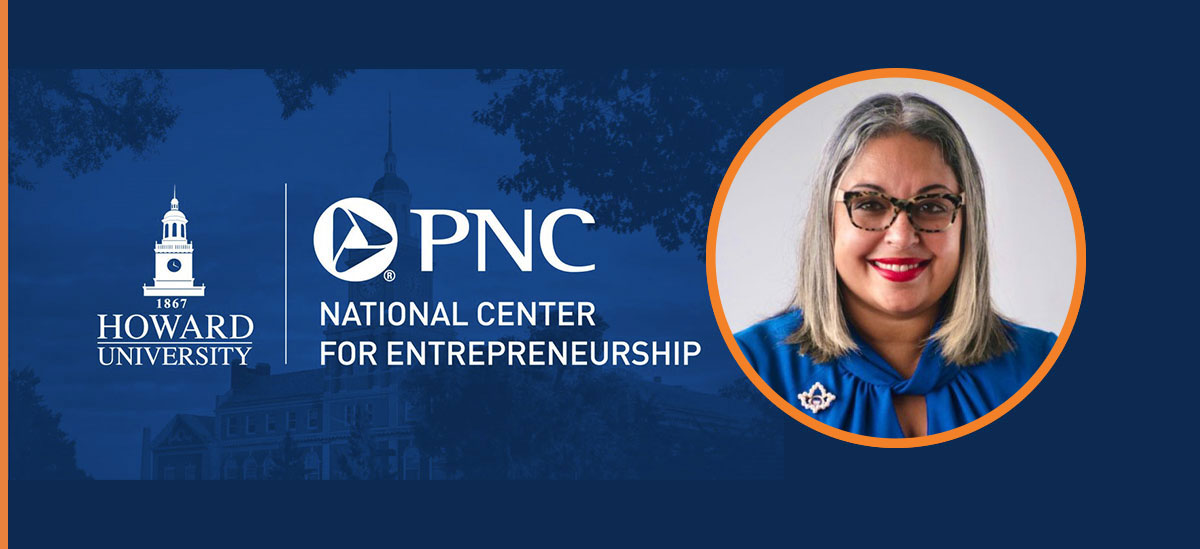 Erin Horne McKinney has spent more than 20 years building diverse and inclusive technology and entrepreneurial ecosystems within public sector and nonprofit organizations. Tapped to lead the Howard University and PNC National Center for Entrepreneurship in 2022, the national executive director is uniting the nation's historically Black colleges and universities (HBCUs) to address the barriers to Black entrepreneurship.
The national center, established in October 2021 through a five-year, $16.8 million grant from the PNC Foundation, will coordinate educational programs, research and community outreach through the national center at Howard University in Washington, D.C. and four regional centers – Howard, Clark Atlanta University in Atlanta, Morgan State University in Baltimore, and Texas Southern University in Houston.
Why is it a great time to be an entrepreneur?
Entrepreneurship played an important role during the pandemic. It was a good option for many women who needed to accommodate their children's schooling from home and for many minorities who were navigating job losses or furloughs. Now, funds are being poured into the marketplace to support small businesses. The federal government is providing greater financial support through additional grants being offered by community development financial institutions (CDFIs), for example, over the past couple of years.
Another result of the spike in new small business creation is that federal and local governments, the financial industry, universities, and the business community are supporting more technical assistance for entrepreneurs. These groups are committed to providing resources for startups and existing small businesses to help ensure they survive and thrive during this tumultuous economic time.
What are some barriers to entry and success, specifically for Black and minority entrepreneurs?
The three most common barriers I see are lack of access to capital, an insufficient corporate supplier diversity ecosystem, and the absence of generational wealth.
The venture capital (VC) space illustrates how difficult it can be for Black and minority entrepreneurs to get funding. Less than 8% of all venture capital dollars go to women and minority business owners. Black founders typically receive less than 2% of those dollars, and Black women founders less than 1%. Yet, when you look at the total landscape, you see that Black women-owned businesses are the fastest-growing group of entrepreneurs in the country. They have been doing more with less, outpacing many of their majority counterparts with far less funding.
The difficulty many businesses have in getting in the door of a potential corporate customer also stands in the way of entrepreneurial growth. Minority-owned small businesses may lack the network or may not have the history of serving a particular type of client that would get them that first meeting. Cashflow issues also can be a barrier. If you're a small business that won't get paid by the federal government or a large corporate client for 60 to 90 days, you may not have the capacity to carry those receivables for that length of time. That could stop you from being able to enter into a relationship with a client that could take your business to the next level.
Additionally, if you come from a community that doesn't have the resources to support you in starting a business – you don't have family or friends with the means to invest in you – you have to bootstrap to make it happen. That is far more challenging than being well-funded to pursue your goals.
These barriers are what leaders like me have dedicated our lives to eradicating. Entrepreneurs need advocacy, supportive policies, and a community of businesses that hold themselves accountable for reflecting the communities they work in. I think every business needs to ask, "What efforts have we made to be an ally to diverse businesses through outreach, engagement, and being an accessible partner in the long run?"
What advice would you share with entrepreneurs?
Whether you're starting or scaling a business, build a board of advisors to balance out your skillsets. It's easy and doesn't cost you anything. Different from a board of directors, these advisors are mentors you choose based on your needs. If finances aren't your strength, find someone willing to help you in that area. If you're not the strongest marketer, solicit the assistance of someone who has that expertise.
There are a number of organizations that can help you connect with resources, but you should also tap into people you know. Don't be afraid to ask, "Would you be willing to advise and support me?"
As a woman and leadership professional, what career advice would you share?
As women, we are told too many times to mute our voices and downplay who we are. Your authenticity and voice are what make you unique. I had to learn this lesson myself. I'm a nonlinear, nontraditional leader – my work is through the business school, but I don't have a business degree and my specialization is in communications and media. This reflects the spirit of our center overall. Entrepreneurship can be found everywhere, not just in business.
When you're good at what you do and you have developed subject-matter expertise, don't look for external validation. True validation needs to come from within.