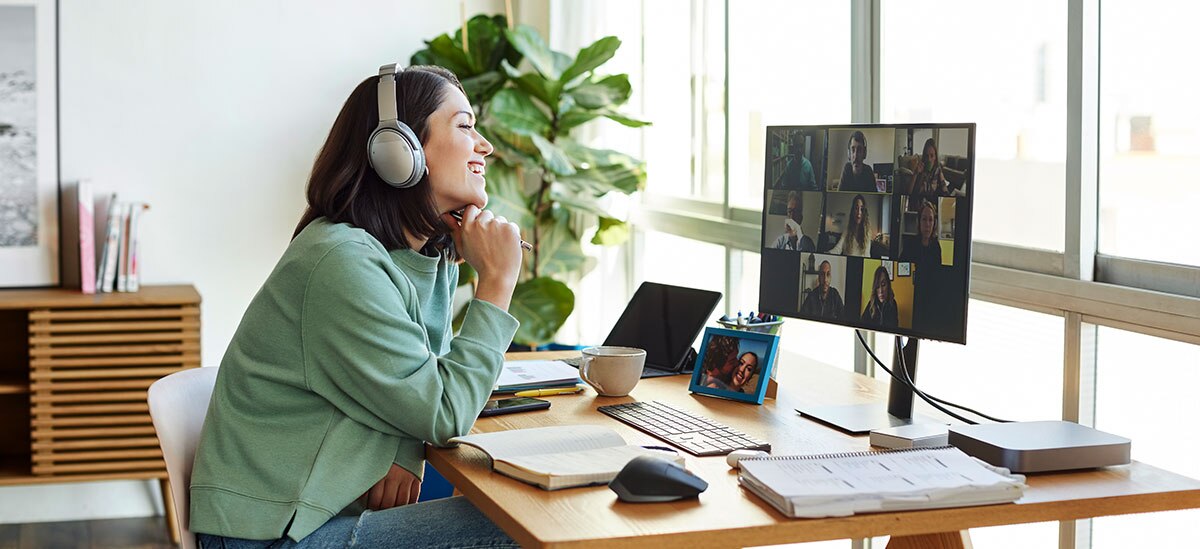 In the blink of an eye, in-office workers found themselves working remotely, many in their homes. It's been a stark transition for many employees, but also their companies, who are finding remote employees, are running into new challenges and subsequently need different types of resources to thrive.
Most companies have systems to support in-person workers, whether with tools, workflows, or benefits. But as an increasing number of employees transition to fully remote or hybrid setups, their needs are changing. Companies need to rise to the occasion to provide a different type of support for maximum productivity and happy workforces, keep workers in seats, and attract new talent in a tight labor market.
A New Set of Needs
As companies have learned throughout the past two years, a remote workforce requires different types of support. For instance, workplace communication has changed; an employee can no longer walk to a colleague or supervisor's desk for a quick question and instead needs an outlet to reach them in real-time. Indeed, many workers also need to address home and work-life balance and newfound mental health and burnout challenges.
These transitions can be stark for both workers as well as their companies. As a result, employers need to acknowledge that they can't exclusively rely on existing systems to address these changes and cater to new employee needs.
Sometimes, this takes the form of implementing new tools that cater to the ways employees are now working, such as workflow software that helps streamline project management. For instance, companies may want to consider the increased amount of work employees complete on mobile devices and be sure their tools have strong mobile apps that are easy to use. In other cases, this may mean a more human approach, such as allowing employees to be more flexible with their hours to address family and personal needs.
Productivity may be a concern as these employee habits are changing – however, the more flexible and understanding your employees' needs, the better you may find their performance and job satisfaction.
A New World of Communication
It's easy for employees to become disconnected from colleagues in a remote environment — some research[1] shows a remote workforce increasingly siloes employees. Communication should be top of mind for employers looking to support remote workers and keep productivity and morale high.
There are two components to consider. First, companies need to ensure they have adequate digital tools to facilitate clear, efficient communication. This may mean adopting real-time messaging platforms and software that supports video conferencing on both desktop and mobile.
Another element is how companies communicate to their employees about organizational approaches to remote work. Employers need to speak openly and often with employees and give them an always-available way to reach out for help.
Communication is paramount within a remote work environment — especially in its early stages when many are trying to work out kinks.
Rethinking Benefits and Resources
As employees come up against new challenges, they increasingly need different resources to help them navigate their changing environments.
As a result, traditional benefits specifically established with office work in mind may no longer suit a fully remote or hybrid workforce. Gone are the days of Friday lunches and ping-pong tables; increasingly, workers are requesting different kinds of perks,[2] such as better mental health support stipends for childcare or eldercare. Additionally, some research[3] has shown employees prize flexibility only second to compensation.
Reorganizing benefits may take some work from the employers' end, but it's a necessary change. Organizations may want to consider asking employees directly what new resources and benefits they'd like to see and can do so by taking digital surveys so that all remote employees can provide feedback.
Investing in Employees
Employees want to know their employers care about their success, mental health, and wellness. This requires making changes to address struggles reactively and being proactive in anticipating needs, so employees don't run up against barriers. This requires organizations to be agile, amenable, and flexible — and prioritize communicating and listening to employee wants and must-haves
Companies that go the extra mile with additional programs may also find they stand to gain a lot, particularly employee retention. Offering employees programs to reskill and upskill and providing educational resources that can help workers advance in their careers can be particularly effective. These can take the form of digital seminars, mentorship programs, and access to classes or certificate programs through outside providers.
Especially in a tight labor market, employers who take extra steps to support remote and hybrid employees will find that they have the advantage to keep workers and attract new talent. Importantly, however, organizations need to remember that wide-scale remote work is still in nascent stages, which means they may need to adapt the resources they offer. Ultimately, keeping an ear to the ground and staying open will keep employers ahead of the curve — and keep workforces happy.