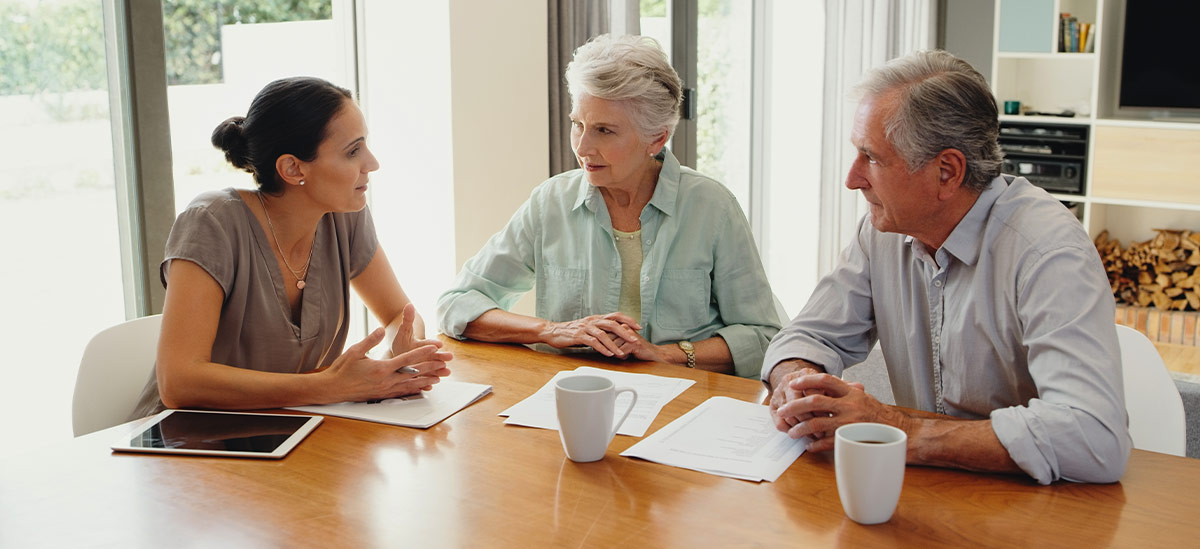 Each of us will die. Even though we know this, most find that planning for death is not easy. Preparing for the inevitable, whether close at hand or in the indeterminate future, can help your family through the difficult process of death and its aftermath. Much has been written about providing financial security for your loved ones following death. Often neglected in the preparation, however, are practical considerations to assist your family and fiduciaries in the time immediately before and immediately following death.
Thoughtful, organized preparation can provide your family with information and much needed guidance during a stressful time, allowing for your desires to be followed with a reduced possibility for conflict among family members.
This article highlights some practical things you should consider when preparing for your death or the death of a loved one.
Review Current Estate Planning Documents
Keeping estate planning documents (such as your will and/or revocable trust) up to date allows your property to reach your heirs and confirms that the appropriate fiduciaries have been appointed to carry out your intentions. Consider the following questions:
Will your beneficiaries receive property outright, and is that appropriate? For those not able to receive or manage property, consider creating trusts.
Have tax laws changed in a way that would adversely impact your plan?
Have you named the best people to act as fiduciaries and are they still willing to serve?
Do your beneficiary designations reflect your current plan?
Is your will self-proving?
Have you moved since your estate planning documents were last prepared? Laws can vary greatly from state to state.
Assemble a Fact Book of Important Information for your Fiduciaries and Beneficiaries
Think of the things you use every day. Think of the people who you interact with, such as friends and business associates. Think of the services you access. If you suddenly were no longer here, would your family and fiduciaries know who to contact and how to gain access to accounts, records and electronic information? Creating a "fact book" containing important information will help your fiduciaries administer your estate and wind up your affairs. The fact book should include:
the names and contact information for your advisors, such as your attorney, accountant, spiritual advisor and funeral director.
information regarding the location of your original documents, such as your will, any trusts, insurance and annuity contracts.
information regarding your online presence, such as account names and even passwords. The use of this information is subject to each online account provider's service agreement (which vary greatly from provider to provider). If the provider's service agreement allows you to designate a successor user for an account, do so in compliance with the service agreement and list that person in your fact book.
information regarding the location of previously filed tax returns (or actual copies).
It may also be important to provide your family and fiduciaries with important instructions, such as your desires regarding the disposition of your bodily remains.
Remember "Who Does What" and Appoint the Right People
It is important to remember that many relationships expire when you do. For example, your power of attorney is no longer valid after your death and its use after you have died could expose your agent to personal liability.
Be sure your powers of attorney confer the necessary powers on your agents. Don't simply rely on a "form" document. Some state laws require special acknowledgement of important powers, such as the power to make gifts, change retirement plan beneficiary designations or create trusts. Be sure that your power of attorney gives your agent the powers you intend your agent to have.
Be sure you have a living will and/or healthcare power of attorney (the laws of some states require both) so that your end-of-life decisions are carried out, even if you are unable to communicate them. It is very important to select the right person to carry out your desires. Be sure your healthcare/end-of-life documents and financial power of attorney permit your agents to enter into agreements with service providers. By having expansive powers of attorney (both financial and healthcare), your agents can ensure you receive appropriate care, including hospice care, even if you are unable to communicate your desires.
Prepaid Funeral Trusts
It may be possible to set aside funds to pay for your funeral before you pass away by creating a prepaid funeral trust. The funeral trust is a 'pooled income fund' set up by a funeral home [or] cemetery to which a person transfers property to cover future funeral and burial costs." Some of these arrangements can allow you to "lock in" the cost of the funeral services that you have purchased and that will apply when you ultimately pass away. It is important to select a reputable funeral service provider before creating such a trust. Also, be sure that the trust can be transferred to another provider should the original funeral service provider go out of business.
Hospice Care and End-of-Life Decisions
As the end of life approaches, particularly when caused by an intractable progressive illness, hospice care may be necessary. Hospice care may be welcomed because of its philosophy of providing compassionate care to individuals in the final phase of life when death is inevitable, and when no active treatment is given for the serious illness leading to death. Hospice care focuses on the patient and the family with respect to decision-making while hospice professionals work diligently to ensure the patient's final days pass with dignity. Family updates and open communication, often in the form of regularly scheduled family meetings with the hospice care team, can help manage expectations about the final days of life and the process of death, and provide a network of support for the family.
Preparing Now Can Save Heartache Later
End-of-life decisions are difficult. The death of a loved one can bring pain, sorrow and even regret. Preparing for the inevitable can help your family and fiduciaries through a difficult time. By providing clear instructions with the documents necessary to carry them out, your family and fiduciaries can adequately prepare for and manage your affairs after your passing.
By providing a fact book, loved ones will know how you would like things handled after you are gone and who to contact to follow through on your wishes.
Your PNC Private Bank team can help you prepare for whatever the end of life brings. Let us help you and your family assemble the tools to help your family navigate a challenging but inevitable time.