B. Douglas Phillips
Partner
---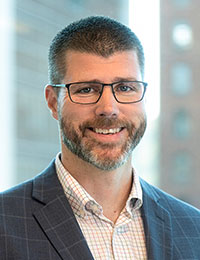 Doug joined PNC Mezzanine Capital in 2002. Prior to joining PNC Mezzanine, Doug was an analyst in the Leveraged Capital Group with Wachovia Securities, where he specialized in financial sponsor transactions. At Wachovia, Doug supported the origination, underwriting and syndication of leveraged bank loans, mezzanine debt issues and private equity investments across a broad range of industries.

Doug is a director of Evercast Concrete, House of Cheatham and an undisclosed investment in the Infrastructure sector; and has oversight responsibility for PNC Mezzanine's investments in CR Fitness, Gen4 Dental Partners, Hoskin Scientific, Pave America and an undisclosed investment in the Aerospace and Defense sector.

Doug was previously a director of Bolttech, Central States Paving and Concrete, CR Fitness, Elgin Equipment Group, Elgin Fastener Group, Excel Orthopedic Physical Therapy, Metal Spinners, Molded Devices, Prospect Mold, Resource Label Group, Sauce Holdings, Sport & Health, Stampede Meat, Storage Battery Systems and Tooling Technology, LLC.

Doug received a BA in Government from Harvard University and an MBA from the Kenan-Flagler Graduate School of Business at the University of North Carolina where he was inducted into the Beta Gamma Sigma honorary business society.