United States
The clock and markets spring forward
Domestic equity markets continued to rise in March despite some initial weakness early in the month. In the United States, trends concerning vaccinations were positive; however, new COVID-19 infections began to rise off the most recent plateau. 
Unsurprisingly, value-oriented cyclical sectors consistent with the "reopening" narrative rose 5.88% on the month, as measured by the Russell 1000® Value Index, outperforming the Russell 1000 Growth Index, which rose 1.72%.
U.S. vaccinations surpassed 150 million doses administered during the month as average daily vaccinations continued to accelerate. At the current pace of vaccinations, inoculating 75% of the U.S. adult population (the level at which the country would reach herd immunity, per an estimate from the National Institute of Allergy and Infectious Diseases) may take four to five months. In the meantime, healthcare companies continue to test the efficacy of their vaccines against various strains of the virus and have begun trials on age cohorts under 18.
In addition to the progress in rolling out COVID-19 vaccinations, President Joseph R. Biden signed the $1.9 trillion coronavirus relief package mid-month, which included $1,400 stimulus checks for some Americans and an extension of $300 weekly supplemental unemployment benefits through September. The president's fiscal agenda will now shift to two additional spending packages totaling $4 trillion. Over the next decade, President Biden is proposing significant upgrades to the nation's infrastructure, large-scale climate change actions and efforts to promote racial equality in the economy. On March 31, President Biden spoke in Pittsburgh, releasing the high-level details of a $2.25 trillion infrastructure package, which the administration has named the "American Jobs Plan" (Figure 1). 
American Jobs Plan Proposed Spending Details (Billions of Dollars) (Figure 1)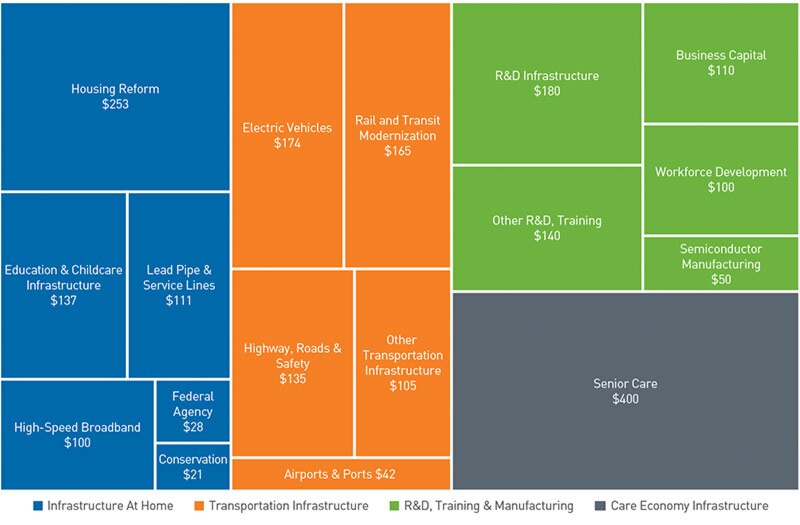 View accessible version of figure 1
Source: The White House, PNC.
He also introduced the "American Family Plan," which is another $2 trillion proposal that will be detailed further at another time, but looks to address economic inequality.
The costs for the infrastructure package are expected to be offset by proposed increases in corporate taxes over 15 years, which could cause the corporate tax rate to increase from 21% to 28% and could also feature a new minimum tax on the global income of multinational corporations. The spending and tax credits encompassed in the proposal would take place over eight years and may lead to a reduction of the budget deficit if the tax increases remain in place.
Despite positive news on vaccine rollouts and lifting economic restrictions, high frequency economic indicators continue to suggest economic activity remains well below pre-COVID-19 levels. For example, restaurant activity, as measured by OpenTable reservations, remains -30% on a year-over-year basis, even at the anniversary of the shutdown of essentially all in-restaurant dining at this time last year. Daily Transportation Security Administration checkpoint traffic has been improving in recent weeks, but is still approximately 50% below pre-COVID-19 levels. Brick-and-mortar retail, as measured by Johnson Redbook same-store sales, showed March had the largest month-over-month decline in 20 years, reflecting the fleeting support from stimulus checks, in our view.
Consumer spending indicators have been somewhat mixed over the past few months, with nominal retail sales growth of 6.3% in February, while personal spending has been rather flat, consistent with relatively modest wage and salary growth as the job market continues to improve. The personal savings rate remains elevated at 13.6% as stimulus and other government benefits drove personal income transfer receipts up 30% year over year. The unemployment rate in March fell modestly to 6.0%, and non-farm payrolls jumped to 916,000 due to large gains in the COVID-19-affected industries such as restaurants and recreation. The modest improvements on the employment and stimulus front also contributed to the Conference Board Consumer Confidence Index reaching the highest reading since last February; however, it is still well below prepandemic levels.
The ISM® Manufacturing PMI survey reported a multidecade high of 64.7, and the service-sector ISM Non-Manufacturing PMI indicator was positive in February at 55.3. Industrial production declines deepened year over year in February, although the effects of the pandemic did not impact industrial production until March. Economists expect to see industrial production increase 2.5% month over month in March.
First-quarter earnings season kicks off mid-month, with year-over-year earnings growth expected to rise 24% for the S&P 500®. Earnings growth is expected to be driven primarily by the Financials sector, with an estimated growth rate of 74%. 
However, context is key, as the sector declined more than 40% in the first quarter of last year. We believe much of the high growth rates expected this quarter can be attributed to easy comparisons against the pandemic-affected first quarter of last year. That being said, both the Energy and Industrials sectors are expecting negative earnings growth for the quarter, highlighting the fact that challenges still remain in cyclical sectors.
As companies report earnings this quarter, we will be paying close attention to how they are managing rising input costs as we pass the anniversary of last year's price declines and the impact on operating and profit margins. We will also be monitoring management guidance in terms of potential tax increases in the coming year. According to Strategas Research Partners, should the corporate tax rate increase to 28%, it could impact nearly $12 from consensus earnings-per-share estimates in 2022. That would cut the 15% year-over-year growth expectation to just 8%. When the forward price-to-earnings (P/E) ratio of the S&P 500 is sitting at a lofty 22 times (x), a tax hike of that magnitude is not being considered by investors at these levels, in our view.
Valuations remain elevated as investors remain optimistic around the prospects of a U.S. economic recovery. The S&P 500 forward P/E is trading at a 42% premium to its 20-year average, and the Russell 2000® Index is trading at a 46% premium to its 20-year average.
From a style perspective, the S&P 500 Growth Index forward P/E is much higher than its Value-style counterpart (28x vs. 18x); however, valuations are relative, in our view. While the Growth forward P/E is much higher than Value on an absolute basis, the Value multiple of 18x is only 1.5x below its all-time high in 1999, compared to the Growth Index all-time high of nearly 45x. On a relative historical basis, the spread between the two is only 10% above the 20-year average, suggesting Growth is not materially stretched. 
The traditional yield curve (2-year to 10-year) steepened to the highest level since 2015, reflecting improving economic growth expectations. However, looks can be deceiving, as the short end of the yield curve may be influenced by the Federal Reserve's (Fed's) zero interest rate policy, and thus is somewhat artificially creating a steeper curve. Furthermore, a look at the longer end of the curve tells a different story. The 10-year to 30-year part of the curve — the part of the bond market in which the Fed has the least amount of direct influence — has actually narrowed in recent weeks and is back to levels seen last August. We believe this suggests the market is reacting positively to significant fiscal stimulus in the medium term, while concerned about rising deficits and debt levels in the long term.
Developed International Markets
Markets look beyond worsening COVID-19 data
Developed international equities moved in tandem with domestic markets for most of month before lagging in the final few days, with the MSCI World ex USA Index up 2.6% on the month. 
As COVID-19 cases ramp up across Europe and Japan, country performance was led by smaller countries such as Ireland and the Nordic region, with leadership from the Financials, Consumer Discretionary and Communication Services sectors.
Compared to the United States, contagious COVID-19 variants and slower-than-hoped vaccination progress have kept many virus-related economic restrictions intact. In fact, France extended lockdown measures for another month and closed all schools and day care centers for three weeks, all effective April 3. Given this backdrop, most of the higher frequency economic data we monitor, such as OpenTable Seated Diners, is still largely subdued (Chart 1) and will likely remain subdued until the spread of the virus is more meaningfully contained.
Dine-In Activity Still Halted As of 3/31/21 (Chart 1)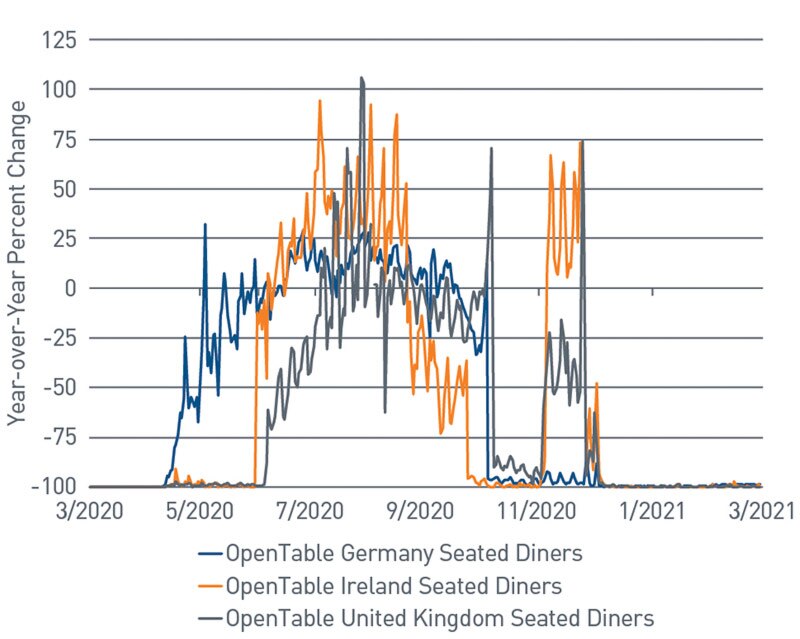 View accessible version of chart 1
Source: Bloomberg L.P.
Traditional survey data, on the other hand, shows there is light at the end of the tunnel. The ZEW Eurozone expectations index for economic growth improved to its strongest reading since 2003, and the European Commission Consumer Confidence Index improved to its highest level of the pandemic. Manufacturing PMIs improved as well, with the IHS Markit Eurozone Manufacturing PMI® rising to a robust 62.4 and au Jibun Bank Japan Manufacturing PMI® rising to 52.0 as emergency declarations were lifted across the country. As investors digest upcoming data, context is key. Year-over-year comparisons may begin to look exceptionally high given that this time last year the global service economy slammed on the breaks as virus lockdown restrictions were implemented for the first time.
Fairly comparable moves in price performance and earnings pushed the forward P/E of the MSCI World ex USA Index up from 16.8x to 17.0x and essentially maintained its ratio with the forward P/E of the S&P 500 at 0.78, still well below the 10-year average of 0.87. We believe a variety of near- and longer-term challenges, such as pandemic-induced restrictions, slow vaccination progress, upcoming elections Brexit trade details continue to justify this valuation discount.
Europe's inconsistent vaccine approval and struggle to contain COVID-19 underscore our view that the door remains perhaps even more open for a dramatic shift in German politics during the country's elections this September. With the Green party rising quickly in the latest polls, the stars may be starting to align for a change in power. While we typically do not believe politics drive markets over the long term, German politics have remained under one party's control for nearly 20 years. Thus, we believe it warrants attention this year given it is the fourth largest country in the world by GDP.
Emerging Markets

Overheated internet growth stocks cool an otherwise improving backdrop
The MSCI Emerging Markets (EM) Index declined for the first month since last September, driven lower by overbought conditions in high-growth Chinese internet stocks. We continue to believe strong fundamentals, an improving global economy, and easing geopolitical tensions remain tailwinds for EM in 2021.
Economic data out of China was primarily favorable in March, led by retail sales and industrial production, which delivered better-than-expected results in a strong rebound from last year's COVID-19-affected data. In addition, the China manufacturing PMI came in above expectations and remains in expansion territory at 51.9. For perspective, the China manufacturing PMI has remained above the 50-level threshold since last March.
On the flip side, the Chinese Consumer Price Index remained in outright deflation for the second consecutive month, a feat that last occurred in 2009. 
While the global economy is recovering, we don't expect inflation to dramatically rise because we believe the near-term rebound is transitory. Furthermore, much of the recovery is due to the unprecedented level of fiscal and monetary support taking place in the United States.
Relative to the United States and developed international countries, most EM countries have seen COVID-19 case curves flatten or at least decelerate from the winter flu season peak; one exception, however, is Brazil. The fifth largest country in the EM Index came under extreme pressure as COVID-19 variants flared in March, bringing the seven-day moving average of new daily cases to all-time highs (Chart 2). In our view, one of the reasons Brazilian equities delivered surprisingly positive results for the month is due to index composition, as the country has significant exposure to commodity producers, which benefited from rising prices in the month.
COVID-19 Cases Back on the Rise As of 3/31/21 (Chart 2)
View accessible version of chart 2
Source: Bloomberg L.P.
At the most recent OPEC+ meeting, the group surprised investors by agreeing to gradually increase oil production in the coming months. The surprise is due to the group's optimistic view that global economic growth is improving to the point it warrants an increase in supply, despite the ongoing supply-demand imbalance. We also suspect the decision was partly made with an eye toward U.S. competitors. North American shale has an average breakeven production price of approximately $55 per barrel, whereas in March the price of West Texas Intermediate crude reached $65 per barrel, the highest level in nearly two years.
For more information, please contact your PNC advisor.

TEXT VERSION OF CHARTS
Figure 1: American Jobs Plan Proposed Spending Details (Billions of Dollars) (view image of figure 1)
Infrastructure at Home
Housing Reform, $253
Education & Childcare Infrastructure, $137
High-Speed Broadband, $100
Lead Pipe & Service Lines, $111
Federal Agency, $28
Conservation, $21
Transportation Infrastructure
Electric Vehicles, $174
Rail and Transit Modernization, $165
Highway, Roads & Safety, $135
Other Transportation Infrastructure, $105
Airports & Ports, $42
R&D, Training & Manufacturing
R&D Infrastructure, $180
Other R&D, Training, $140
Business Capital, $110
Workforce Development, $100
Semiconductor Manufacturing, $50

Chart 1: Dine-In Activity Still Halted As of 3/31/21 (view image of chart 1)
| Date | OpenTable Germany Seated Diners Year-over-Year Percent Change | OpenTable Ireland Seated Diners Year-over-Year Percent Change | OpenTable United Kingdom Seated Diners Year-over-Year Percent Change |
| --- | --- | --- | --- |
| 3/30/2021 | -98.34 | -99.66 | -99.87 |
| 1/31/2021 | -99.62 | -99.84 | -99.76 |
| 11/30/2020 | -98.98 | -98.97 | -94.36 |
| 9/30/2020 | -8.49 | -51.67 | -9.34 |
| 7/31/2020 | 13.81 | 58.43 | -19.21 |
| 5/31/2020 | 0.34 | -97.98 | -99 |
| 3/31/2020 | -100 | -100 | -100 |

Chart 2: COVID-19 Cases Back on the Rise As of 3/31/2021 (view image of chart 2)
| Date | 7-Day Moving Average Daily New COVID-19 Cases - United States | 7-Day Moving Average Daily New COVID-19 Cases - Brazil |
| --- | --- | --- |
| 1/31/2020 | 1 | 0 |
| 3/31/2020 | 19205 | 496 |
| 5/31/2020 | 20993 | 21663 |
| 7/31/2020 | 64223 | 53573 |
| 9/30/2020 | 42796 | 31367 |
| 11/30/2020 | 162336 | 35467 |
| 1/31/2021 | 149061 | 51451 |
| 3/31/2021 | 64300 | 75534 |