United States
"Bad news is good news" drives strong October rally
After two months of declines, domestic equities rallied in October, with all major indices posting gains. The S&P 500® ended October with an 8.1% total return, making October only the fourth month of 2022 to deliver positive returns. While October Consumer Price Index (CPI) data came in above consensus estimates and accelerated in core CPI (ex-food and energy prices), "bad news is good news" sentiment, whereby weaker economic data fuels hope of slowing rate hikes by the Federal Reserve (Fed), largely drove the rebound.
In contrast to softening economic data such as recent Purchasing Managers' Index (PMI) readings, the labor market remains exceptionally tight and suggests we are still in the slowing expansion phase of the business cycle. As the Fed remains highly attentive to both inflation and jobs data, we caution investors that monetary policy will remain restrictive as the economy continues to show strength despite tightening financial conditions.
Third quarter earnings season for the S&P 500 has proven to be only marginally better than expected, with an upside surprise of 218 basis points (bps) through October 31, compared to the long-term average of 450-500 bps. The blended earnings growth rate (consensus estimates combined with actual results) of 2.2% is also below the quarter-end consensus estimate of 2.9%. In our view, it suggests numerous macroeconomic headwinds are impacting profit margin expansion. Fourth-quarter estimates continue to reflect caution heading into year-end, with the fourth quarter growth rate now down to 0.3%, and the 2022 growth estimate falling to 6.0%. Likewise, the 2023 growth estimate fell to 6.3% to end October, its lowest level on record.

Figure 1. S&P 500 Earnings Upside Surprise
Companies are beating consensus estimates but are well below the historical average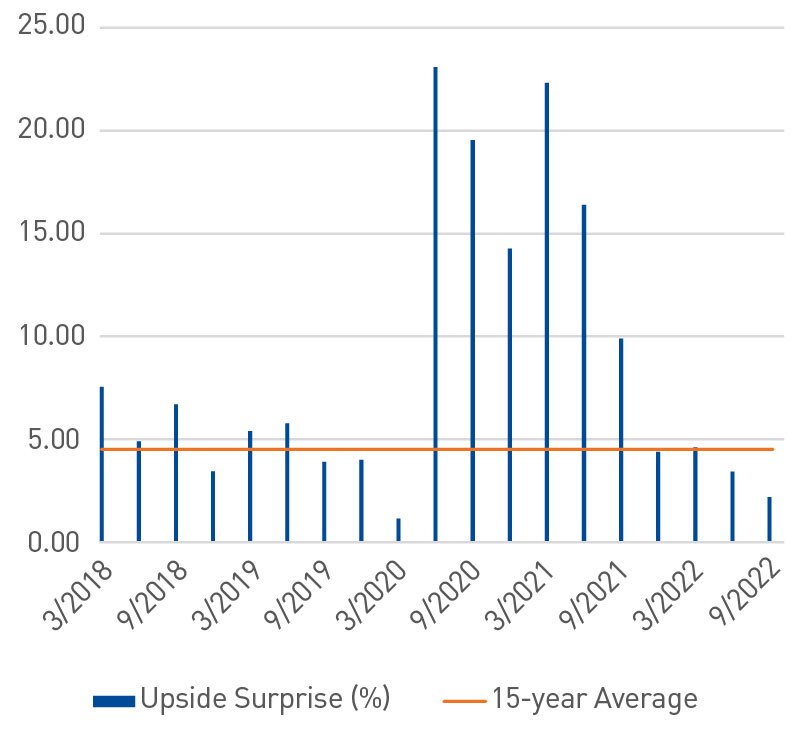 As of 10/31/2022. Source: FactSet®. FactSet® is a registered trademark of FactSet Research Systems Inc., and affiliates.
View accessible version of this chart.
Rising equity prices and better-than-expected earnings supported valuation expansion across the market-capitalization spectrum. The S&P 500 forward price-to-earnings ratio rose by 1.5 multiple points, from 15.2 times (x) to 16.7x, its largest monthly increase since July. While valuations remain compressed relative to last year's highs, they are now back to 20-year averages, which signals fair value, in our view. We are cautious as we believe multiples will continue to face pressure while the Fed aggressively combats inflation and the dollar remains strong relative to most major currencies. Going forward, we do not expect meaningful multiple expansion without a material decline in inflation.
Volatility continues to dominate as global headwinds and a lack of liquidity plague markets. Equity volatility, as measured by the CBOE Volatility Index, hit its highest level since mid-June but quickly retreated following the CPI report. We believe bond market volatility continues to be a significant driver behind major market moves. The ICE BofA MOVE Index, which measures bond market volatility, remained elevated around 140 throughout October, which has not occurred since 2008. In addition, the U.S. Government Liquidity Index, which measures liquidity (or lack thereof) in the U.S. Treasury market, is nearing extremely low levels last seen in March 2020. In our view, the uncertainty regarding monetary policy, coupled with low liquidity, will keep markets volatile for the foreseeable future.
The U.S. Treasury (UST) yield curve rose in October as the tight labor market and accelerating core inflation supported further Fed tightening. All tenors across the curve rose, with the 2-year moving 21 bps to end the month at 4.49%, and the 10-year yield, which is more indicative of longer-term borrowing costs, rose 22 bps to end at 4.05%. In contrast to previous months where moves were concentrated at the short end of the curve, October saw the longest maturities experience the largest moves, as accelerating core inflation caused breakeven rates to rise. The rate increases finally led to the inversion of both closely watched yield curves, as measured by the spread between the 2- and 10-year and the 3-month and 10-year UST yields. While neither yield curve has perfect predictive power, their inversion points to stress caused by aggressive monetary tightening and rapidly slowing growth.
Investment grade (IG) issuers took advantage of a slight drop in yields at the end of October, bringing in more than $83 billion in new debt, $8 billion above estimates. In addition to new issues, bond spreads on existing IG and high yield (HY) debt narrowed, with IG spreads down 4 bps and HY spreads down 88 bps. We believe narrowing spreads support our thesis that corporate borrowers' balance sheets remain strong with fundamental support in credit markets, as spreads remain narrow relative to historical periods of financial stress.
After a tumultuous summer led to several bankruptcies among cryptocurrency (crypto) exchanges and trading platforms, as well as several prominent hedge fund liquidations, concerns in the space are now focused on mining firms that face challenges from elevated energy costs, low crypto prices and a competitive environment as the universe of active mining operators shrinks. Bitcoin mining is incredibly energy-intensive due to its proof-of-work method. Given ongoing high energy costs, three of the largest mining firms reported a combined $1 billion loss in the second quarter, according to Bloomberg data. While the price of bitcoin increased nearly 4% for the quarter through October 31, it is down 66% over the past 12 months. We believe energy costs will continue to pressure third quarter profitability for miners, a group vital to supporting the network effects of crypto markets.
Developed International Markets
Inflation, central banks and politics set the mood
International developed markets experienced their best month of the year in October, with the MSCI World ex USA Index up 5.5%. The index was led by the Eurozone region, which has been a laggard for most of 2022, and found support from a weaker U.S. dollar relative to both the British pound and the euro. We believe the outlook for developed markets remains challenged due to high inflation, contracting economic growth and energy security concerns.
Along with strong October performance, third quarter earnings reports have come in better than expected so far, with an upside surprise of 551 bps through the end of the month. That said, the blended earnings growth rate of 19.6% is lower than the quarter-end comparison of 22.3%. In addition, 2023 estimates have fallen to just 2.1%, the lowest on record. We continue to caution investors that while the forward price-to-earnings ratio for developed international has fallen nearly 2x below its 20-year average to 11.6x, we believe it is due to numerous, unresolved headwinds facing the asset class.
Eurozone GDP growth came in at 0.2%, a positive surprise as the regional economy continued to expand in the third quarter. The overall macroeconomic picture, however, remains concerning. Inflation jumped to a new all-time high of 10.7%, and consumer confidence moved just slightly off the all-time low in September. We believe these factors are weighing substantially on the consumption outlook, as retail sales had already begun trending down even before interest rates began to rise.

In the United Kingdom, former Prime Minister Liz Truss abruptly resigned after six weeks, the shortest-ever tenure for a British prime minister. She lost political support following a controversial tax cut and fiscal spending plan that sent sovereign yields (gilts) soaring and would have worked counter to the central bank's inflation-fighting endeavors. The appointment of Rishi Sunak as Prime Minister was greeted with relief by financial markets, as he quickly walked back the idea of a significant tax holiday. The leadership change, in addition to emergency support from the Bank of England (BOE), resulted in the yield of the 10-year gilt falling from its highs of 4.5% in mid-October to 3.5% by month-end. The heightened level of interest rate volatility also highlighted the speed with which gilt market liquidity evaporated, reaching the worst levels since 2009, before the BOE quickly intervened (Figure 2).

Figure 2. Bond Market Liquidity
Political upheaval in the United Kingdom led to a sharp drop in gilt market liquidity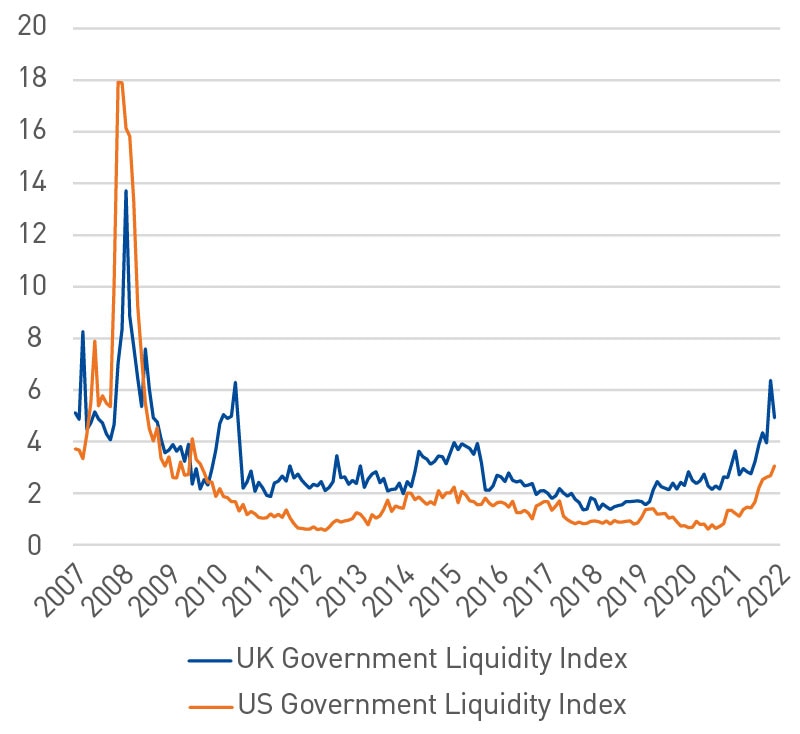 As of 10/31/2022. Source: Bloomberg, L.P..
View accessible version of this chart.
Global monetary policy action continues to diverge, with both the BOE and the European Central Bank (ECB) tightening policy while the Bank of Japan remains firmly committed to easing. Even among the central banks that are tightening policy, differences are beginning to emerge. The BOE has signaled it may be nearing the end of raising interest rates, whereas ECB officials indicated they are willing to go above their estimated neutral rate if needed. We continue to believe 2022 volatility across the multi-asset universe is in part driven by the wide range of action from global central banks, as it also adds to the high level of uncertainty for the market's overall path forward.

Emerging Markets
Reaction to President Xi's reelection in China weighs on markets
Emerging markets (EM) equity performance, as measured by the MSCI EM Index, fell 3.1% in October, significantly underperforming developed markets. EM equities have struggled in 2022 relative to their developed market counterparts, with China serving as the key detractor. In fact, excluding China, the EM index would have returned a positive monthly return of 3.1%. Despite challenges for the asset class, we continue to see potential bright spots that support the case for maintaining a strategic allocation to EM equities.
On a geographic basis, October results varied widely, with Brazil and South Korea returning 8.6% and 8.3%, respectively. China, which represents close to 30% of the EM index, was down 16.8%, outweighing the diversification of the 22 countries comprising the index. Chief among the issues weighing on China's economy and equity markets are worries about China's political landscape.
China's 20th Party Congress ended in October with the confirmation of President Xi Jinping for an unprecedented third 5-year term. Equities in China and Hong Kong sold off sharply on the prospect of more of the same policies: zero-Covid lockdowns, corporate sector regulation and the prospects of a U.S. military confrontation over Taiwan, all issues we continue to monitor closely.
In our view, easing fiscal and monetary policies in China continue to make headway despite a challenging zero-Covid policy. The relationship between the PMI and COVID-19 restrictions continues to be a drag on the economic recovery (Figure 3). While mobility improved relative to March of 2022, lockdowns in various cities continue as China PMI dips into contraction territory.
Figure 3. COVID-19 Restrictions and Manufacturing PMI
China remains the last country with severe pandemic restrictions, hampering economic activity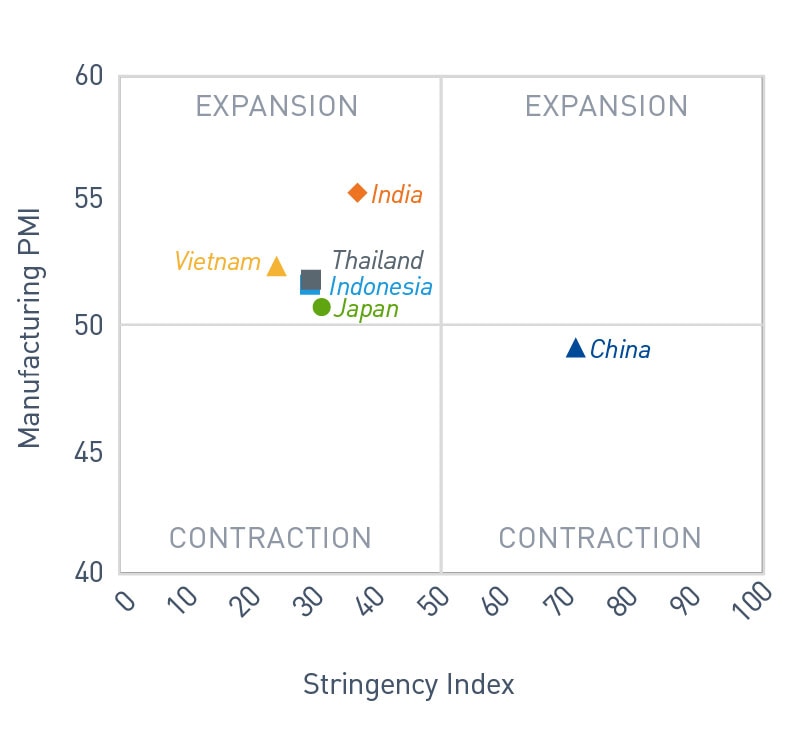 As of 10/31/2022. Source: Bloomberg, L.P.
View accessible version of this chart.
Impacted by ongoing pandemic challenges in China, consensus earnings-per-share growth forecasts for EM equities in 2022 have fallen to -9.4% through the end of October. Against that backdrop, earnings are expected to grow 6.3% in 2023, which could also see improved revisions should zero-Covid policies fade next year, allowing China's economy to find its footing.

In Brazil, former president Luiz Lula da Silva emerged victorious in last month's highly anticipated presidential elections after a close race against incumbent Jair Bolsonaro. Brazilian markets rallied not only due to the shift in power, but also because Bolsonaro has pledged that he will not contest election results and will complete an orderly transfer of power. In our view, risk is now focused on the potential for the president-elect to enact outsized fiscal action, as he did during his first presidency from 2003-2011.
For more information, please contact your PNC advisor.

TEXT VERSION OF CHARTS
Figure 1: S&P 500 Earnings Upside Surprise
Companies are beating consensus estimates but are well below the historical average (view image)
| Quarter | Upside Surprise (%) | 15-year Average |
| --- | --- | --- |
| Dec-17 | 4.53 | 4.5 |
| Mar-18 | 7.56 | 4.5 |
| Jun-18 | 4.90 | 4.5 |
| Sep-18 | 6.69 | 4.5 |
| Dec-18 | 3.44 | 4.5 |
| Mar-19 | 5.39 | 4.5 |
| Jun-19 | 5.78 | 4.5 |
| Sep-19 | 3.90 | 4.5 |
| Dec-19 | 3.99 | 4.5 |
| Mar-20 | 1.13 | 4.5 |
| Jun-20 | 23.09 | 4.5 |
| Sep-20 | 19.53 | 4.5 |
| Dec-20 | 14.27 | 4.5 |
| Mar-21 | 22.32 | 4.5 |
| Jun-21 | 16.39 | 4.5 |
| Sep-21 | 9.90 | 4.5 |
| Dec-21 | 4.38 | 4.5 |
| Mar-22 | 4.61 | 4.5 |
| Jun-22 | 3.41 | 4.5 |
| Sep-22 | 2.2 | 4.5 |

Figure 2: Bond Market Liquidity
Political upheaval in the United Kingdom led to a sharp drop in gilt market liquidity (view image)
| Date | UK Government Liquidity Index | US Government Liquidity Index |
| --- | --- | --- |
| 10/31/2008 | 7.04 | 17.925 |
| 10/31/2010 | 2.92 | 2.437 |
| 10/31/2012 | 2.35 | 0.605 |
| 10/31/2014 | 2.39 | 1.453 |
| 10/31/2016 | 2.29 | 1.504 |
| 10/31/2018 | 1.39 | 0.834 |
| 10/31/2020 | 2.43 | 0.732 |
| 10/31/2022 | 4.92 | 3.066 |

Figure 3: COVID-19 Restrictions and Manufacturing PMI
China remains the last country with severe pandemic restrictions, hampering economic activity (view image)
| Country | Stringency Index | Manufacturing PMI |
| --- | --- | --- |
| China | 69.91 | 49.2 |
| Japan | 31.48 | 50.7 |
| Thailand | 29.63 | 51.6 |
| Indonesia | 29.79 | 51.8 |
| India | 37.04 | 55.3 |
| Vietnam | 25.93 | 52.5 |