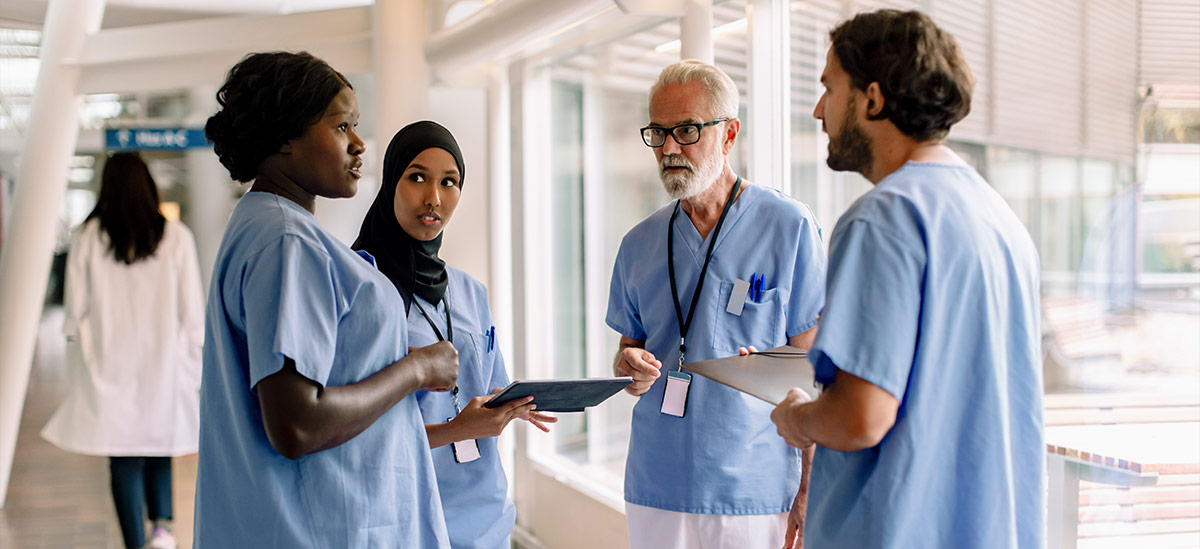 Competition for top talent is not a new phenomenon. The healthcare industry has been hard hit by this trend with labor demand significantly exceeding labor supply.
While headlines focus on domestic unemployment rates near historic lows (3.5% as of December 2022[1]), the percentage of open healthcare positions as a percentage of total healthcare jobs can be calculated at roughly 8.4%[2]. Worse, job openings are up 133% in December 2022 relative to the average of the past decade (830,000 average from 2010-2019) and "Quits" are up 87% (306,000 average from 2010-2019). Worth noting, "Quits" is defined[3] as "employees who left voluntarily" and does not include retirements or layoffs.
| | | | |
| --- | --- | --- | --- |
| HEALTH CARE LABOR TRENDS [4] |   |   |   |
|   | Health Care and Social Assistance - Total Jobs | Health Care and Social Hiring - Job Openings | Health Care and Social Assistance - Quits |
|   |   |   |   |
| December 2019 | 20,670,300 | 1,132,000 | 434,000 |
| December 2020 | 19,971,400 | 1,189,000 | 434,000 |
| December 2021 | 20,230,000 | 1,970,000 | 540,000 |
| December 2022 | 21,023,100 | 1,932,000 | 575,000 |
With this environment in mind, healthcare systems, practices, and other providers can no longer rely on salary alone to make their jobs attractive to current and prospective employees. Employers should consider how their employee benefits and, more specifically, their defined contribution plan, can be used to improve recruitment and retention outcomes. In this article, we focus on two key trends for designing a retirement plan to recruit, reward, and retain today and tomorrow's workforce. 

Build a DC Plan that Exemplifies Your Organizational Culture
Financial security is an essential building block of well-being. When people do not feel financially secure, it takes a toll on their physical and mental health. This significantly increases the importance of helping employees understand how they can improve their financial wellness and the role their employer can play.
Organizations can differentiate themselves to employees by operating their retirement plans as an example of their workplace culture. Specifically, organizations can show their commitment to their employees' financial well-being through providing benefits and financial education that help employees to become retirement ready. As part of this, it is also important to include a focus on employees at all income levels within an organization to help drive equitable retirement outcomes.
With this in mind, there are certain best practices that systems, practices, and other providers can consider with respect to their defined contribution plan(s) to show this commitment to employee financial wellness: 
Identify and prioritize groups that need the most help – Recordkeeper data about plan participants at the individual and aggregate level can be used to identify which employees need the most help (e.g., those with low deferral rates or low balances), allowing you to target communications and initiatives. 
Provide inclusive and accessible communications/education – When plan sponsors regularly use inclusive language and focus on accessibility, especially in retirement documents and communications, they can help employees to feel heard and understood. This can help drive an increase in participation and engagement.
Expand eligibility requirements – Expand eligibility for employees to make elective deferrals to your defined contribution plan (so that certain groups – such as part-time employees – aren't excluded). For example, consider reducing the minimum number of hours of service required.  
Expand automatic features – Discussions of "automatic features" typically focus on just automatic enrollment. Three additional considerations include setting a meaningful default deferral rate (e.g., 6%), adding automatic escalation (whereby deferral rates increase automatically by a set percentage each year), and automatic re-enrollment (whereby each year employees need to periodically re-opt out of enrollment in the defined contribution plan).
Employ minimum annual matching contribution formulas – Create minimum annual employer contribution levels (e.g., matching the greater of 100% on the first 4% in employee deferrals or $2,000 in annual contributions).
Once you create your story (i.e., create a great retirement program), it is important that you equip your recruiters and your managers with the tools they need to tell that story. 
Recruiters should be able to explain the retirement program and its benefits as a key part of the compensation offering and why a prospective employee would want to join your organization.
Managers should be reinforcing the message with current employees, making sure they are taking full advantage of the benefits offered.  
This creates a culture where all employees are very clearly seen and valued as a key priority, creating an important differentiator in recruiting and retention efforts. Proving all employees are valued and supported is not just the right thing to do, it can also give the organization an advantage in recruiting.
Provide Exceptional Employee Financial Education
Reducing financial stress for healthcare employees is acutely important. An academic study found the relationship between empathetic care and attention to patient safety has shown to be negatively impacted by financial hardship[5]. 
A thoughtful and holistic education program that suits your workforce and includes targeted financial wellness training can help to reduce employee financial stress and be attractive to prospective employees. Consider these ideas for making your employee education program a recruiting and retention tool: 
Deliver education to fit disparate learning styles – Every workforce is different. Employee education strategies need to meet a given workforce where it is. Some prefer in-person interaction while others may prefer email correspondence or online resources. An effective education program customizes not only the content provided to meet the specific needs of your employees, but also offers education in different media types (e.g., e-mail, video, in-person sessions, etc.) to reach your entire workforce. 
Recognize the importance of financial wellness – Many employees find it difficult to save for retirement due to more immediate financial obligations. Therefore, many employees say access to financial wellness resources are a key benefit. Employers who provide financial education as part of their retirement benefits or offer access to separate financial wellness tools build loyalty with their workforce and will have a clear advantage in recruiting and retention.  
 Provide access to personal consultation – For assistance with questions or concerns related to their retirement plan, many organizations only offer employees access to large, impersonal call centers. Worse, some don't even offer that. Smart employers see the value in providing access to unbiased financial consultation as part of their benefits package, including sessions employees can attend with their spouse or partner.
In table two, we share some of the common challenges in the healthcare industry and some recommended best practices.
While there is no one solution that works for all situations, plan sponsors know that continuous saving toward retirement (and keeping that money invested) helps to drive positive retirement outcomes for employees. A strong retirement education strategy can improve engagement and help employees stay on track.
Conclusion
The competition for top talent is perhaps greater than at any point in recent history. Employers know they are in a battle and must find ways outside of direct compensation to make their organization more attractive. A superior benefits package can often tip the scales when potential employees are weighing multiple employment options. In this environment, plan sponsors must consider how their defined contribution plan can help improve outcomes for their organization and its employees. If you would like to continue the discussion on recruit, reward, and retain please contact todd.mccullough@pnc.com.

| | |
| --- | --- |
| INDUSTRY CHALLENGES | CONSIDERATIONS |
| Irregular work schedules | Work with providers that offer flexible options including meetings outside f standard business hours and on-demand education. |
| Higher student loan debt | Consider the financial strain this causes and consider options to help like student loan repayment assistance (possibly tied to retirement plan) |
| Large spectrum of income levels | Provide tools and resources to help diverse demographics with a wide range of needs. |
| Contract employees | Make available budgeting tools, tax strategy support, and tax preparation resources. |
| Increased employee turnover/burnout.  | Cultivate a comprehensive wellness program to provide extra support for a workforce experiencing unprecedented physical, mental, emotional, and financial strain due to the pandemic.  |
| Attracting and retaining employees | Offer a competitive benefits package with perks employees value (such as financial wellness tools) |
For more information, please contact your PNC advisor.

---