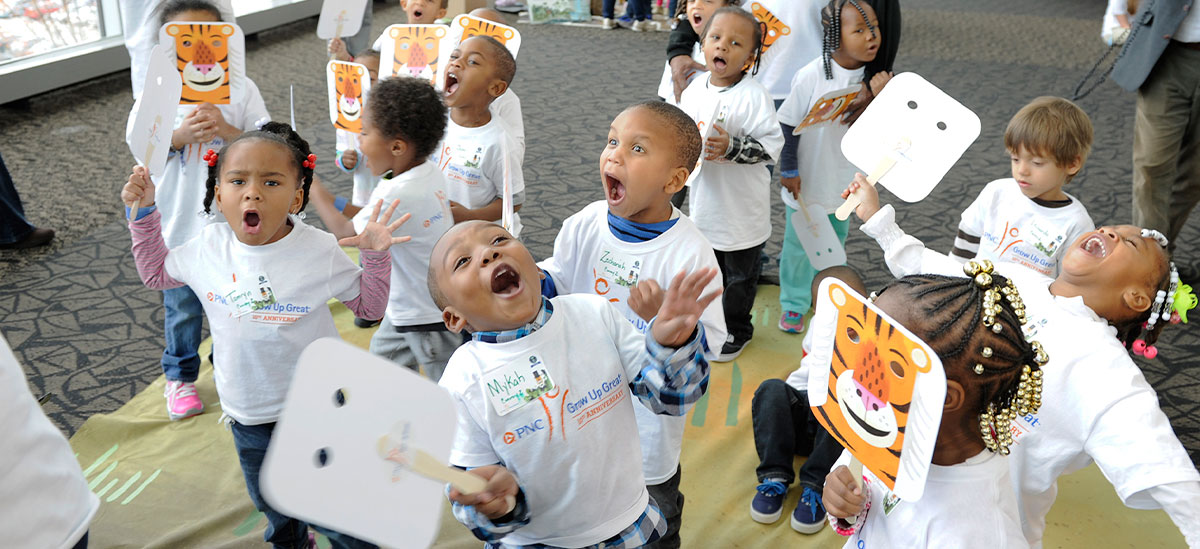 It's virtually impossible to get to a destination without a strong set of directions, especially if the territory is unfamiliar. When PNC set out to create its signature philanthropic initiative 17 years ago, a program to help prepare children from birth to age 5 for success in school and life, experts were brought in to help chart the course and to serve as a guiding force as it evolved over the years. The PNC Grow Up Great Advisory Council, comprised of early childhood education experts from across the country, has been providing strategic direction and guidance since 2004. The Council offers insight and expertise that a bank could never profess to have on its own and helps to set the strategic direction for the program's four components: grants, advocacy, employee volunteerism and awareness building.

"We have said from the start that we are bankers, not educators," said Sally McCrady, president and chair of the PNC Foundation. "Relying on the knowledge of our partners has been essential to the success we have seen over the past 17 years. They have helped us understand the unique set of resources a corporation could provide to help support early childhood education."

That expertise helps position Grow Up Great as a leader in advocating for early childhood education and has also helped to identify opportunities for strategic partnerships. One such example, new research funded by PNC Grow Up Great and conducted by the National Institute for Early Education Research (NIEER), helped to identify how the pandemic has disrupted early childhood education and was made possible through Advisory Council member W. Steven Barnett, director of NIEER. The data gathered from this study has already influenced Head Start and other programs, informed and influenced practice and policy and will help shape Grow Up Great resources moving forward. Important initiatives like this study help to ensure that PNC Grow Up Great's efforts create meaningful advances in early childhood education.

Providing Great Guidance

With 11 Advisory Council members and three ex officio Advisory Council members, or members that represent PNC's longstanding partner organizations, PNC benefits from more than 44 decades of collective expertise in early childhood education. Council members work in a wide range of professional settings, including early childhood research institutes, higher education and non-profit organizations. Many of the Advisory Council members were also teachers themselves and know first-hand about the importance of and the barriers to early childhood education. "The strength of the Advisory Council is in the breadth of experience that each member brings; these subject matter experts have spent their careers devoted to early childhood education," said Paul Siefken, President and CEO of Fred Rogers Productions and ex officio Advisory Council Member. "I have learned so much from the council's incredible leaders and am inspired by the work they are all doing to advance early childhood education." Advisory Council members meet formally twice each year in addition to providing ongoing support whenever called upon for their unique perspectives. Throughout the year, Advisory Council members keep the Grow Up Great team informed on what they are doing in their respective organizations, share developments in the early childhood education space, contribute opportunities for cross-collaboration on various initiatives and provide Grow Up Great with input on their strategic direction. "The deep knowledge and personal experience each member of the Advisory Council brings is invaluable to Grow Up Great," McCrady said. "They help us understand the biggest needs in early education and how to best reach children, families and educators to provide resources that help prepare children for their first day of kindergarten and beyond."

Strengthened Through Two New Additions
As Grow Up Great continues to evolve and grow over time, it's important that the Advisory Council does so as well. "We are excited about the addition of two members to the council - Wendy Lewis Jackson, Managing Director for the Detroit Program at the Kresge Foundation, and Michèle Mazzocco, Professor at the Institute of Child Development at the University of Minnesota and Director of the University of Minnesota's Math and Numeracy Lab," said McCrady.

Learn more about PNC's newest Advisory Council members.

PNC Grow Up Great Advisory Council members:

Barbara A. Wasik, Ph. D.
PNC Endowed Chair in Early Childhood Education, Temple University


Maureen Barber-Carey, Ed. D.
Barber National Institute


W. Steven Barnett, Ph. D.
National Institute for Early Education Research


Barbara Bowman, M.A.
Erikson Institute


Jerlean E. Daniel, Ph. D.
Early Childhood Consultant


Sharon Darling
National Center for Families Learning


Marcia Egbert
The George Gund Foundation


Deforia Lane, Ph. D.
Early Childhood Consultant


Michael L. López, Ph. D.
NORC at the University of Chicago

Wendy Lewis Jackson
Kresge Foundation


Michèle Mazzocco
University of Minnesota

Ex Officio Advisory Council Members:
Jeanette Betancourt, Ed.D.
Sesame Workshop

Paul Siefken
Fred Rogers Productions

Yasmina S. Vinci
National He ad Start Association