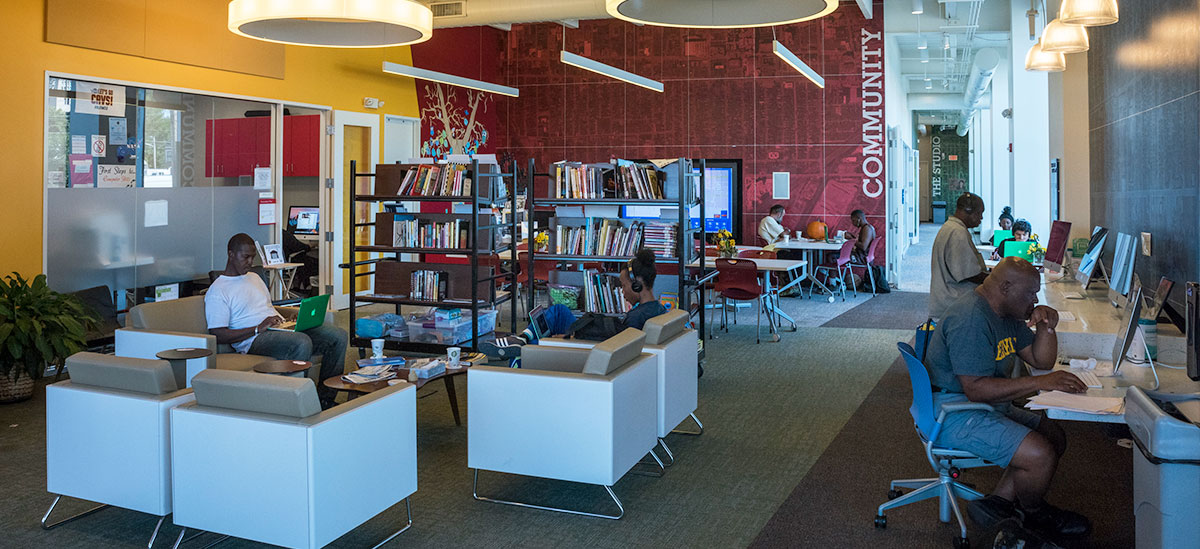 In Cleveland, the PNC Fairfax Connection is a free community resource center offering local business owners and residents of all ages access to innovative technology, educational opportunities and exciting new experiences.
In one of Chicago's most distressed areas, a new community center provides fresh food, transitional housing and youth assistance. In Cincinnati, 60 homeless veterans now have a safe place to eat, sleep and receive medical care. In St. Louis, low- and moderate-income individuals are building a secure financial future that will allow them to achieve homeownership, higher education and business opportunities. And in Washington, D.C., employees are providing banking and money management workshops for unbanked and under-banked residents
These projects and many more are examples of PNC Bank's (PNC) community development work, which helped the  bank earn an "Outstanding" rating in its most recent Community Reinvestment Act (CRA) exam. Outstanding is the highest rating given by the Office of the Comptroller of the Currency (OCC), the federal agency that charters, regulates and supervises national banks. PNC has consistently earned this top rating since the CRA was enacted in 1977, including those following the CRA revisions of 1995 that focus on lending, investments and services.
Ratings are based on lending, investing, retail bank delivery and employees providing a variety of activities that support low- and moderate-income individuals or neighborhoods – such as affordable housing, economic development, revitalization projects and community services related to financial education. The most recent rating is based on PNC's activities from Jan. 1, 2012, through Dec. 31, 2016. Assessment periods often cover several years due to the large volume of information considered.
PNC works to make communities stronger and more prosperous as part of our culture as a Main Street bank. We aim to always do right by those we serve and to deliver a superior banking experience for every customer.
Three Tests to Achieve the Rating
PNC received Outstanding ratings for each of the three tests for large banks:
Lending includes mortgage, home equity, small business loans and credit cards and community development loans done by Community Development Banking, Public Finance, Real Estate Banking and others.
Service includes branch and all other retail delivery channels, financial education and board committee service.
Investments include those by the Tax Credit group, Community Development Banking, the PNC Foundation and the Grow Up Great program.
PNC's Community Development Banking group serves as the connector between PNC and those living in low- and moderate-income communities across the bank's footprint. The team works with consumer groups, community organizations, neighborhood developers and local community development corporations to serve as the entry point to the rest of PNC. Community Development Banking distinguishes PNC from other banks because its objective is to meet the needs of our low- and moderate-income communities through a blend of products, services and philanthropy.
In the current environment and with heightened expectations, only a small percentage of large banks achieve an Outstanding CRA rating. PNC's achievement reflects our commitment to customers and communities and distinguishes us among other large banks.
Every three to four years, the OCC evaluates a bank's record of meeting the credit needs of its entire community – including low- and moderate-income neighborhoods – consistent with the safe, sound operation of the institution. Based on the evaluation, a bank is rated as Outstanding, Satisfactory, Needs to Improve or Substantial Noncompliance. PNC has consistently earned an Outstanding rating since exams began.