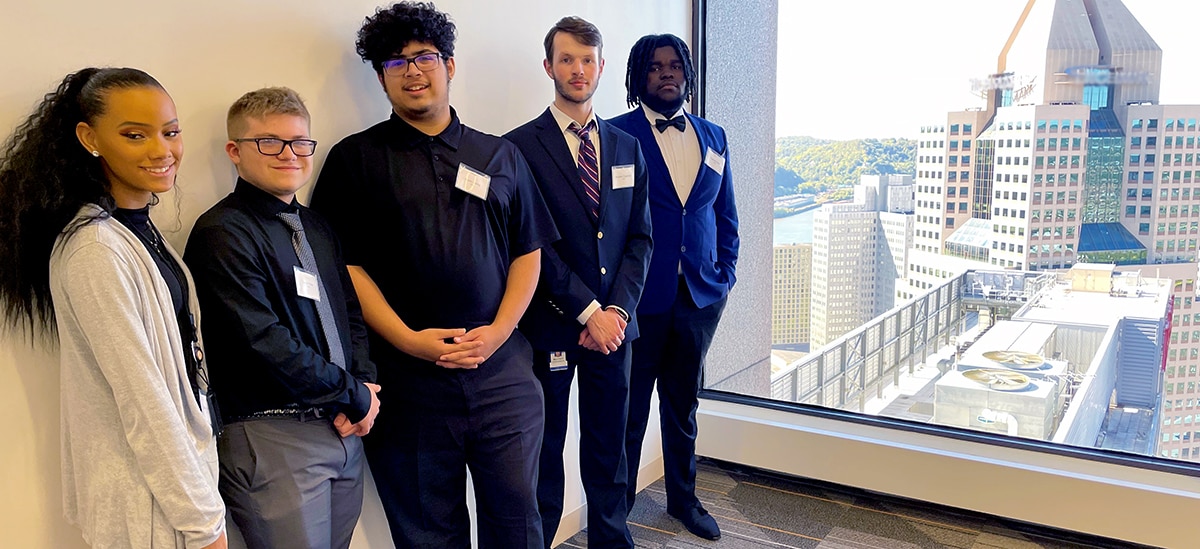 There's a problem in the labor market, and PNC has emerged as a corporate leader in helping to solve it through an impactful program.
Pre-pandemic, 70% of employers in Pittsburgh, where PNC is based, cited a skills gap between what they needed and what was available in the current talent pool.1.
That skills gap, combined with the 22% of workers expected to retire within 10 years – and no comparably sized group to replace them – concerns business leaders.
This workforce landscape prompted PNC to seek input from nonprofit, business and school leaders to create PartnerUp with high schools and major employers in southwestern Pennsylvania. The program offers high school seniors the opportunity to build their resumes, sharpen their interview skills and develop other skills in preparation for interviews with potential employers. Since its February 2018 launch, the program has created a talent pipeline of early career professionals ready to enter the workforce after high school graduation in entry-level roles.

"PartnerUp empowers high school graduates to enter and thrive in a job market that's in need of their skills," says Brianna McMeekin, talent program manager at PNC. "Employers partner with teachers and parents to provide committed guidance, real-world opportunities and ongoing assistance. Graduates then take the first step on a path that leads to a fulfilling and secure future – for themselves and the community they call home."
The Program and Its Impact
The program has been rolled out in 50 high schools and to more than 6,000 students to date, offering an in-school curriculum for 11th- and 12th-graders. The focus for 11th graders centers on teaching students about career decision-making, financial literacy and professionalism, among other topics.
In 12th grade, the students focus on resumes, interview preparation and identifying skills they can use to market themselves. This program level is only for students who have determined they want to start their career right out of high school, rather than going on to post-secondary education.
Throughout the program's five-year existence, 16 partner employers have participated and offered students the chance to land positions in a variety of industries. PNC has offered roles at the company to over 70 graduates of the program. Niko Haughey, senior detection and investigation analyst at PNC, was among those 70 PartnerUp graduates to receive an offer from the bank.
"PNC offered me a way to get my foot in the door and demonstrate what I was capable of doing," says Haughey, who joined PNC in 2019 as a bank teller. "The combination of coursework that is focused on the hard and soft skills you need to be successful, and the mentoring and job shadowing opportunities we were given, all really prepared me to step into my first role."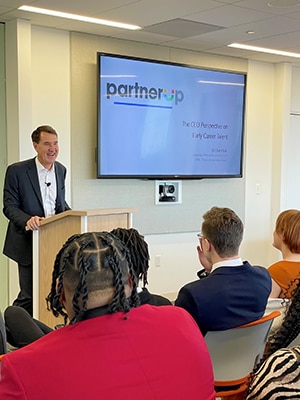 PNC Chairman and CEO William Demchak talks to a cohort of the company's early career professionals who participated in the PartnerUp program. PNC has offered roles at the company to over 70 graduates of the program during the first five years of its existence.
Expanding the Effort
In 2022, the need to fill the skills gap remains prevalent. Three in four global employers saw a talent shortage of about 75%.2.
In an effort to meet talent development needs beyond Pittsburgh, PNC expanded PartnerUp into its Cleveland market and has plans to offer the program in the Birmingham, Alabama, market during the 23-24 school year The PartnerUp team also is building resources and support for PNC markets interested in bringing components of the program to their regions.
Vicki Henn, chief human resources officer at PNC, says the vision for the program always has been to develop a scalable model that could be deployed in other regions.
"With PartnerUp's expansion, we're working with more employers and local education partners to provide local high school graduates with the skills needed to land entry-level careers in high-demand industries such as healthcare and financial services, without the burden of student loan debt," Henn says.
Investing in the Talent Pool and Community
PartnerUp represents a shift in how PNC and other employers view the labor market, investing in talent in new ways instead of just consuming it, Henn says.
"As a talent-focused company, we're committed to investing in impactful skills development programs and educational initiatives that help drive career growth and economic opportunity in the communities we serve," she adds.
McMeekin sees PartnerUp as more than a way to leverage early career talent, stating that the program is also about adding to the communities PNC serves.
"Ultimately, our goal is to invest in communities," McMeekin says. "We want to ensure our high school graduates have a clear understanding of all the opportunities available to them post-graduation and are ready to productively apply their talents to make a difference in their community, the local economy and their futures."