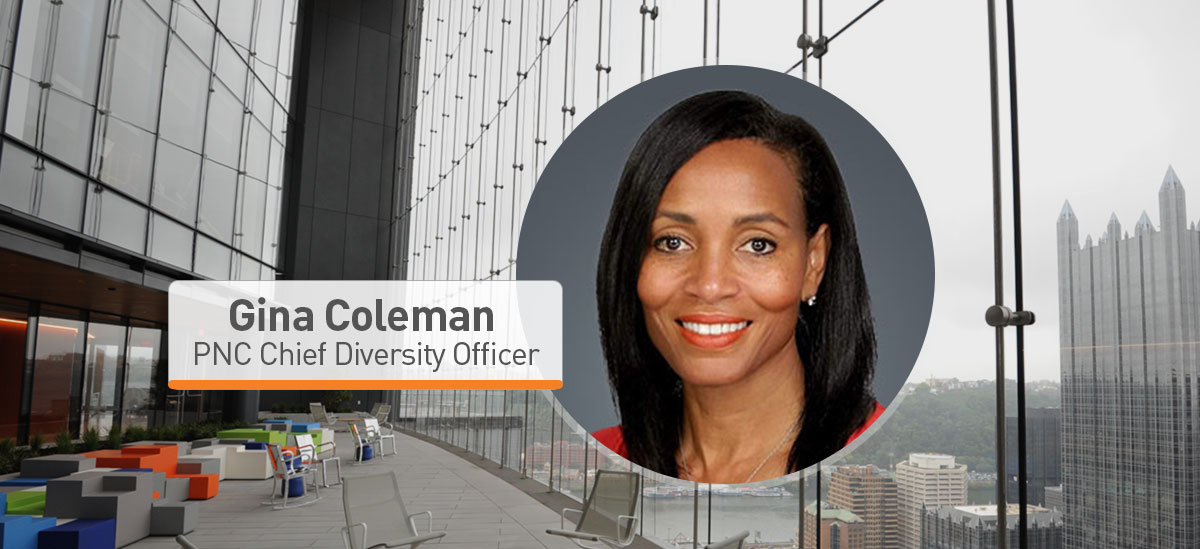 PNC Chief Diversity Officer Gina Coleman believes the bank's commitment to inclusion shapes how people lead, interact with their colleagues and deliver on business strategies. A former PNC client and community relations director in the Detroit market's office of the regional president, she returned to the bank after nearly two years – most recently serving as chief sales officer for MassMutual Great Lakes. Coleman officially began her role as chief diversity officer Jan. 1, 2022 and is looking forward to elevating and strengthening Diversity and Inclusion at PNC. 
During her previous tenure at PNC, she not only participated in PNC's Employee Business Resource Groups (EBRG), but she co-founded one – the Women's Connect EBRG. Coleman also became a PNC-certified Women's Business Advocate to use her expertise in helping women thrive in their businesses and has worked to drive engagement in PNC's market-level diversity and inclusion initiatives.
Today, Coleman spends her time building strategies and programs that allow PNC to grow and sustain a talented, diverse workforce and works to further advance a culture of inclusion among PNC's stakeholders. She shares her thoughts on some of PNC's D&I objectives and the challenges corporations face in the space.  
What do you think are the greatest challenges facing corporate diversity and inclusion?
I see the greatest corporate challenges being centered on the slow progress of diverse representation in senior-level roles, effective measurements of impact within D&I programs, deeper embedding of D&I into talent, recruitment and retention and the drive for inclusion during this current remote and flexible environment. The effects of the pandemic, the great reshuffling of talent and a wave of state legislation impacting segments of diverse populations add to these challenges.
D&I is one of PNC's core values, can you share its importance from a business perspective?
D&I is a business imperative, and we must approach it and manage it like any other business strategy. It's not just a nice thing to do, but something that has a tangible impact on business success and should be viewed as a strategic necessity.
As we continue to navigate operating in this flexible work environment and with talent being top of mind, I believe now more than ever that fostering inclusion and embracing diversity is an integral component for PNC's success. Even with present-day challenges, I'm excited about the critical role that D&I plays.
Our commitment to inclusion really shapes how we lead, how we interact with our colleagues, how we deliver on our business objectives and how we serve our customers, communities and all PNC stakeholders.
What are your key priorities as PNC's Chief Diversity Officer?
For more than a decade, PNC has been on a progressive D&I journey led by our first chief diversity officer, Marsha Jones. Our focus has been and continues to be centered on our greatest asset, our employees, while being intentional in building diverse, high-performing teams.
We are committed to fostering a culture where every employee is respected, valued, and has a sense of belonging and confidence to bring their authentic selves to work and pursue equitable opportunities for growth. We will continue driving inclusion and increasing engagement of our D&I initiatives through our core pillars of Workforce, Workplace and Marketplace.
Increasing diverse representation within all ranks of our workforce will continue to be a priority. We know that talented teams, with varied experiences, skills and perspectives help us to better innovate, create solutions to help meet the needs of our growing and increasingly diverse customer base.
We look to further embed inclusion and mitigate bias in our policies and practices and advance the integration of D&I with our culture, customer experience and community. And we will continue to strengthen accountability measures across PNC for all employees, especially our people leaders. Advancing our efforts will require more transparency around workforce demographics and sharing measures of progress.
How will you measure D&I success at PNC?
Our success relies on objectives that are measurable, where employees and managers, at all levels, are being held accountable in living our values and meeting PNC leadership standards.
We leverage clear and transparent metrics around workforce demographics. We track engagement in D&I learning and development and survey our employees – at least twice a year – to garner feedback that informs action and meaningful progress.
Senior leaders are responsible for identifying opportunities to increase diverse representation and develop and execute plans to drive change.
We set an example from the top of the house through PNC's corporate diversity council. This council comprises senior executives across a wide range of busines lines. I serve as co-chair alongside PNC CEO Bill Demchak on the council, which helps define accountability measures, strategizes how we attract, retain and develop a talented and diverse workforce. Council members serve as sponsors and champions for targeted D&I initiatives throughout the enterprise.
In the spirit of accountability, we have an equity and inclusion subcommittee of the PNC board of directors. As the chief diversity officer, I work closely with the corporate responsibility officer, the chief human resources officer and our CEO to oversee these collective D&I efforts at PNC.
What areas of diversity and inclusion will be under the spotlight in the year ahead?
I think it's important to continue our D&I work through our three main pillars of Workforce, Workplace and Marketplace, but we'll also be working to elevate how we deliver and measure the impact of our programs.
Workforce objectives will be to engage more employees and managers by expanding our Employee Business Resource Groups (EBRGs), especially in our expanded markets. We currently have 12 EBRGs, with over 100 chapters and over 14,000 participants throughout our footprint. We will support retention efforts by growing participation of our D&I mentoring program.
All efforts within the Workplace pillar contribute to fostering inclusive skills and behaviors. We want to drive a best-in-class, inclusive culture that will help to build diverse representation and give all employees a sense of belonging. D&I learning, and development will be centered on building self-awareness and leadership skills.
We will continue to focus on our Listen, Learn and Act framework to keep employee needs, front and center while providing actionable D&I tools and resources for all to participate. Our 20 D&I line of business councils work to further D&I objectives through their respective verticals.
In Marketplace, we want to continue enabling diverse customer and business growth. This allows us to create a compelling and competitive brand within the communities we are a part of and serve. This work will be delivered through the lens of the three tenets of our Corporate Responsibility Group – education, economic empowerment and entrepreneurship – with our 40-plus D&I regional councils, that align with our Main Street bank model, D&I business roundtables, history and heritage and thought leadership programs.
Those Corporate Responsibility tenets are captured in PNC's $88 billion Community Benefits Plan, which commits to providing better economic opportunities for the communities and people we serve. It's our hope that we can better offer access to capital and resources to traditionally underrepresented individuals and communities – specifically low- and moderate-income individuals and neighborhoods, as well as women, veterans, members of the LGBTQ+ population and people from underrepresented racial and ethnic backgrounds. That attention to inclusivity will put us on top.
It's important to note that D&I at PNC does not operate in a silo. We have strategic alignment with key internal partners throughout the enterprise, including multiple areas within human resources, supplier diversity, marketing, legal and many more. Everyone in the company plays a vital role in advancing our efforts and meeting key performance objectives.
It's going to take engagement with all our stakeholders to get there. This work is important in our efforts to be a better colleague, a better company, a better community and a better investment.