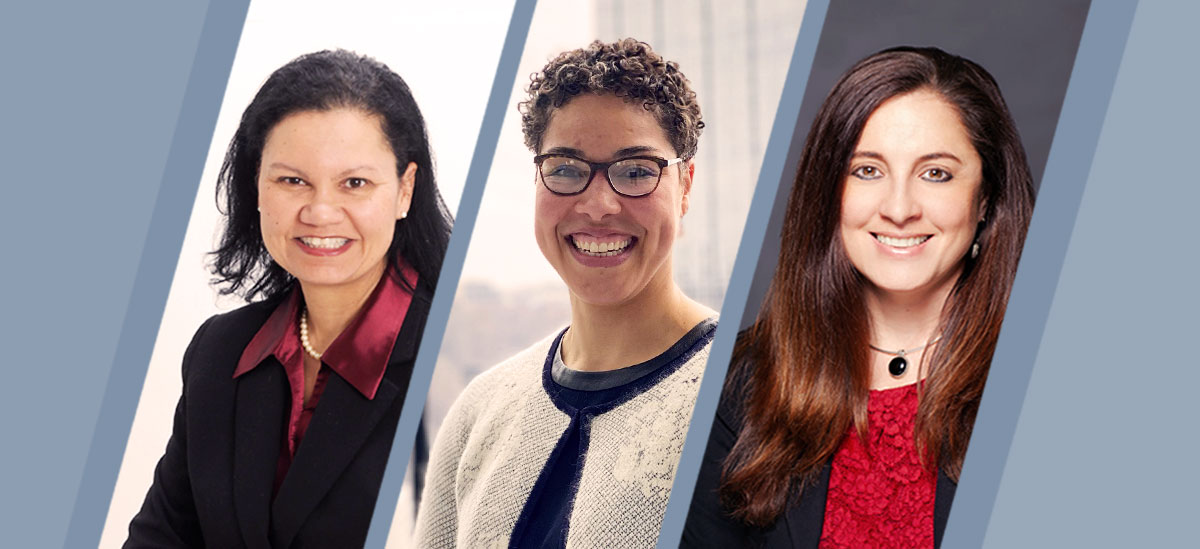 From left to right: Rebecca Haywood, Carmen Bruce, Rose Silva
Rebecca Haywood grew up just south of Pittsburgh, Pennsylvania at a time when the steel industry was collapsing. Seeing families struggle to find jobs and food had a profound impact on her and she became determined to succeed despite the growing economic hardships her community faced. During high school, Rebecca worked part-time at PNC while studying hard to get into college.
"It wasn't easy. At 10 p.m. on a Friday night, I was studying. I got locked in the library several times," said Rebecca.
I didn't want to lose an opportunity. I wanted to take full advantage and that's how I was able to succeed.
Before applying to Princeton University, her guidance counselor attempted to dissuade her. She didn't believe they would take a student from her small high school. With her parents' encouragement, Rebecca applied anyway. She went on to become the only person from her high school to graduate from Princeton. From there Rebecca went to law school and eventually became a successful lawyer, passionate about making an impact in her community.
Connecting community members to the resources they need
After a successful law career that culminated with becoming Chief of the Appellate Division at the U.S. Attorney's Office, Rebecca felt it was time to make a change. That change felt more like a homecoming when she returned to PNC in 2018.
Today, Rebecca is managing chief counsel at PNC. She serves on the board of directors for the Greater Pittsburgh Community Food Bank and plays an active role helping meet the challenges community members face in finding food security.
Rebecca also has a passion for reading. She acts as a reader for the Head Start Program at Crescent Elementary School and collects books for local schools in need through several community organizations as well as PNC Grow Up Great®.
I've had opportunities greater than I would have ever imagined. When I work with members of our community who are less fortunate, it puts things into perspective. It impacts the attitude I have when I come to work each day.
- Rebecca Haywood
A basketball coach turned banker
When it comes to basketball, Carmen Bruce always had natural talent. She grew up on the court watching her father coach the University of Pittsburgh women's basketball team and eventually made it into collegiate basketball herself, playing at Georgetown University and later Duquesne University. After college, she went on to become an assistant coach in NCAA Division I women's basketball.
Carmen's responsibilities went far beyond providing skill instruction. She acted as a role model and liaison, guiding young women toward their post-college careers. As she approached her 10th year in recruiting, Carmen was looking for an opportunity that would marry her love of coaching with something new.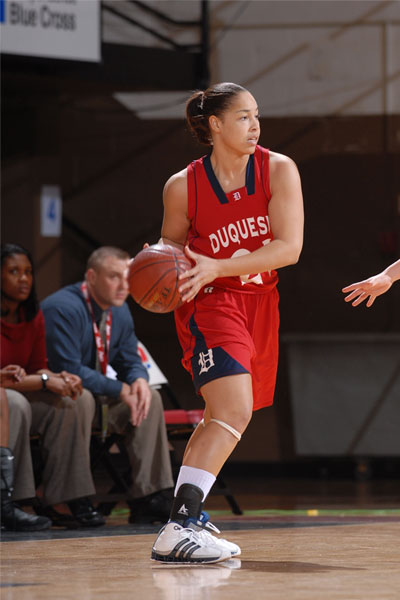 Making the transition to corporate America
When a family friend recommended PNC as her next career move, her initial reaction was to ask, "What's a bank going to do with a basketball coach?"
Still, Carmen saw the opportunity at PNC as a compelling challenge. She brought her energy and enthusiasm for developing and motivating teams from the court to the bank and spent 10 months learning everything there was to know about day-to-day operations before becoming a branch manager.
I ran my branch team like I did my college basketball team. My job as a manager was to motivate and develop our employees – to give them that extra push to do their best work.
- Carmen Bruce

During a particularly challenging week, Carmen drew on her strengths, delivering a motivating speech during a team huddle.
"I felt like I was back in the locker room," said Carmen. "I needed to make sure that everyone was on the same page — that's college athletics. The point guard passes to the guard; guard to the forward and they take a shot. It's the same thing in banking. You have to be on the same page. If that happens, people want to come to work every day and put their best foot forward."
After two years in branch banking, Carmen transitioned to a role on the Diversity Recruiting team.
The team connects veterans, individuals with disabilities, women, the LGBTQ+ community and multi-cultural individuals to job resources and hiring managers. In this role, Carmen has conversations with candidates every day, works one-on-one on resume development, and helps them prepare for interviews at PNC.
"We're giving individuals a chance. It takes me back to how I started my career at PNC." said Carmen. "Someone took a chance on this basketball coach turned banker. Now we're giving folks who don't see themselves in corporate America – let alone banking – the opportunity to have that same experience."
An affinity for problem solving and a love for mentoring
In the dawn of the internet revolution, Roseanne (Rose) Silva helped bring PNC online.
Since then, Rose has spent most of her 24 years at PNC in various management roles within technology innovation – from systems administration to infrastructure and employee technology. Today, she's a business chief technology officer but – if you ask her she'll point out – she didn't get to where she is on her own.
Throughout her career, Rose found the importance of building a network of mentors. These individuals helped her learn and challenge herself. They saw opportunities she wasn't able to see. This included a pivotal role during a large PNC merger.
When the acquisition happened, her network knew what she was capable of and helped her land a role running the technology infrastructure integration. She got to know people across the bank and gained a deeper appreciation for how technology serves the business and customers.
Now she's paying it forward, mentoring emerging leaders across PNC and in her community.
Supporting career-changing mentorship
In 2005, Rose participated in one of PNC's inaugural Employee Business Resources Groups (EBRGs), which provide opportunities for professional development and networking.
As these groups evolved, Rose felt there should be one geared toward women in technology. The PNC women in tech resource group (Tech Connect) was born with Rose at the helm as president.
The group focuses on increasing the participation of young girls and women in technology. With 700 members, Tech Connect sponsors events, a speaker series and leadership development programs. Rose also participates in a reverse mentoring program, fostering relationships with colleagues across the bank.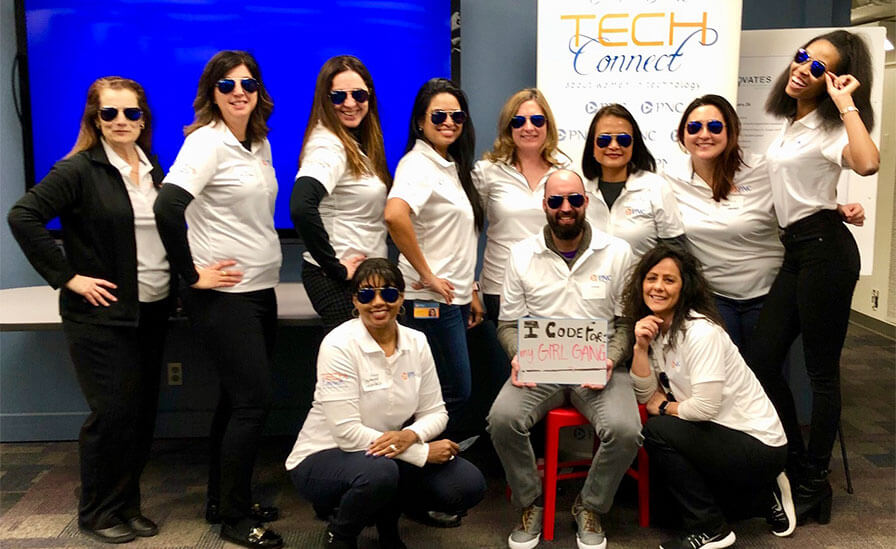 PNC's Tech Connect helps women in technology build a network, learn the importance of coaching, having a personal brand and being an influential leader.
"A number of people helped me to get where I am today through mentorship, scholarships and support," said Rose. "Now is the payback, give back window of my career. It gives me a great sense of pride and accomplishment to help women develop their networks, build their leadership strengths, and advocate for them, the way my mentors did for me."