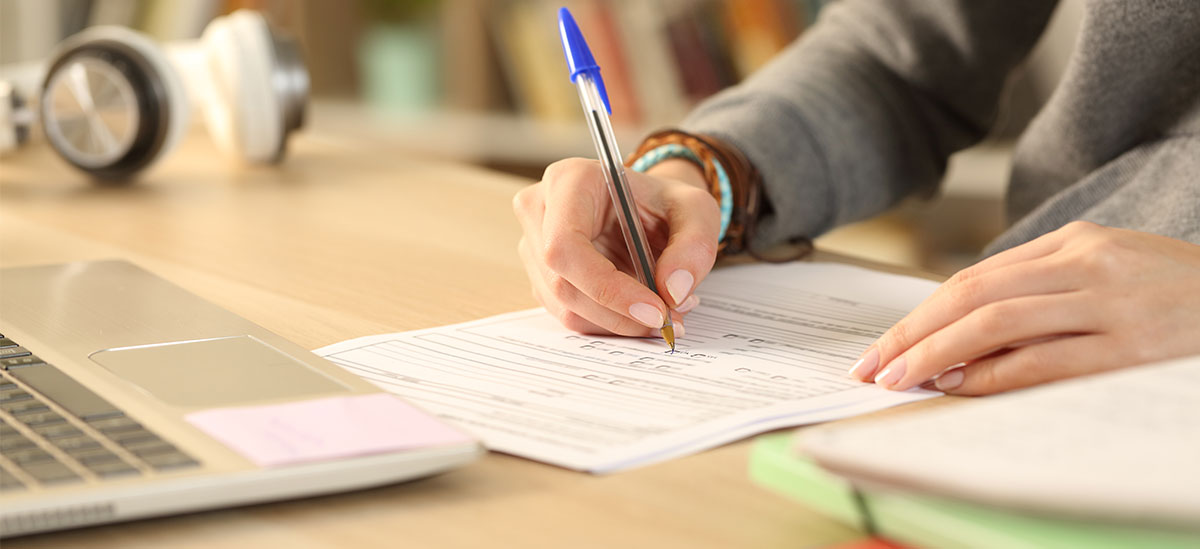 Preparing for college means not only exploring the programs and merits of various colleges and universities, but also figuring out how you're going to pay for it. The good news is that most students qualify for some type of federal financial aid: grants, student loans and/or work-study. According to the National Center for Education Statistics, 86% of first-time, full-time undergraduate students at four-year colleges were awarded some type of financial aid in the 2017-18 school year (the most recent information available).1
How can you find out about your own eligibility? File a Free Application for Federal Student Aid, better known as FAFSA. The U.S. Department of Education, state grant agencies and individual colleges use this information to determine whether you are eligible for financial aid and, if so, how much and in what form(s) you may be awarded aid. You must reapply by completing and filing a FAFSA each school year to be considered for financial aid.
Preparing and Filing a FAFSA
Filing a FAFSA is well worth the effort as most students benefit from financial rewards. Take your time in understanding the process and don't be discouraged! Take it one step at time:
Know FAFSA and college deadlines, and act promptly. FAFSA submissions are accepted over an 18-month period spanning from October 1 of the year prior to the school year through the end of that academic year. For example, you would be able to file a FAFSA for the 2021-22 school year from October 1, 2020, through June 30, 2022. However, college and state deadlines vary, so it's important for you to research those and make sure you apply in time. According to Student Debt Relief, students who file in the first three months after the FAFSA opens are awarded twice as much financial aid, on average, as students who file later, primarily because filing early ensures you meet all state and college deadlines.2
Create an FSA ID at  fsaid.ed.gov (choose "Create an FSA ID"). This ID will enable you to electronically sign your FAFSA and loan contracts, access the myStudentAid app, apply for repayment plans and tap into a variety of online information.
Gather information to make the application process easier. The FAFSA will ask for basic student information — name, date of birth, address — plus more detailed information about your/your family's financial circumstances. Providing accurate information is essential, since financial aid awards are based on having a full view of your financial picture. Be sure not to misrepresent anything; you will be asked to sign your application to indicate that all the information you have provided is accurate.
Make sure you have the following information on hand (this list assumes you are a dependent student; independent students do not need to include their parents' information3):
Your Social Security number
Your parents' Social Security numbers
Your driver's license number (if you have one)
Your Alien Registration number (if you are not a U.S. citizen)
Federal tax returns, as well as records of any untaxed income, for yourself and your parents
Cash, savings and checking account balances and investments (stocks, bonds, real estate) for yourself and your parents
Make a list of the colleges you are considering. FAFSA asks you to list from one to 10 colleges or universities (four if you apply by mail) that you'd like them to share your application with. These schools will have the opportunity to use your information to determine your eligibility for not only federal financial aid but also grants and scholarships independent of the federal government. If you are considering a college or university in your own state, list that one first, because some states require schools to be listed in a specified order for you to be eligible for state aid (state financial aid eligibility is usually, but not always, restricted to residents attending a college within the state).
Fill out and submit your FAFSA. You have several options for applying: online at  FAFSA.gov, through the myStudentAid app available in the App Store or Google Play, or by mail. The PDF is available online or you can call 1-800-4-FED-AID [1-800-433-3243].
Be prepared to spend about an hour, possibly more, on your FAFSA. If you need help, the online application offers tips as you go, and a FAFSA help page lets you browse FAQs or contact a support staff member through chat or email. If you need more support, you can also reach out to the financial aid office of any of the colleges you plan to attend.
Once you have signed and submitted your FAFSA, you can check on its status online (provided you have created an account at  fsaid.ed.gov) or through the myStudentAid app, or by contacting the Federal Student Aid Information Center at 1-800-4-FED-AID (1-800-433-3243).
What Is a SAR?
Three days to three weeks after you've filed your FAFSA, you should receive a Student Aid Report (SAR), which includes the answers you provided to the FAFSA questions, as well as your expected family contribution (EFC), a calculation based on the household and financial information you provided that estimates the amount you may be responsible for paying.
If you provided your email address on your FAFSA, you will get an email notice from noreply@FAFSA.gov with instructions for accessing your SAR online. If you did not provide your email address, you will get a paper copy of your SAR via postal mail. You will be asked to check for errors on this report and provided with instructions for correcting or updating it. It is important for this information to be accurate, because colleges will use it to determine your financial aid awards. Your SAR will not include these award determinations; financial aid offer letters will come directly from the individual colleges you have applied to, provided they have accepted your application to attend.
Once you've completed your FAFSA process, remember that you may have other opportunities for financial aid. For example, some colleges offer students the opportunity to fill out the College Board's CSS Profile, an online application for nonfederal financial aid, and many nonprofit organizations, businesses, professional or social organizations, and religious groups offer scholarships that must be applied for separately.