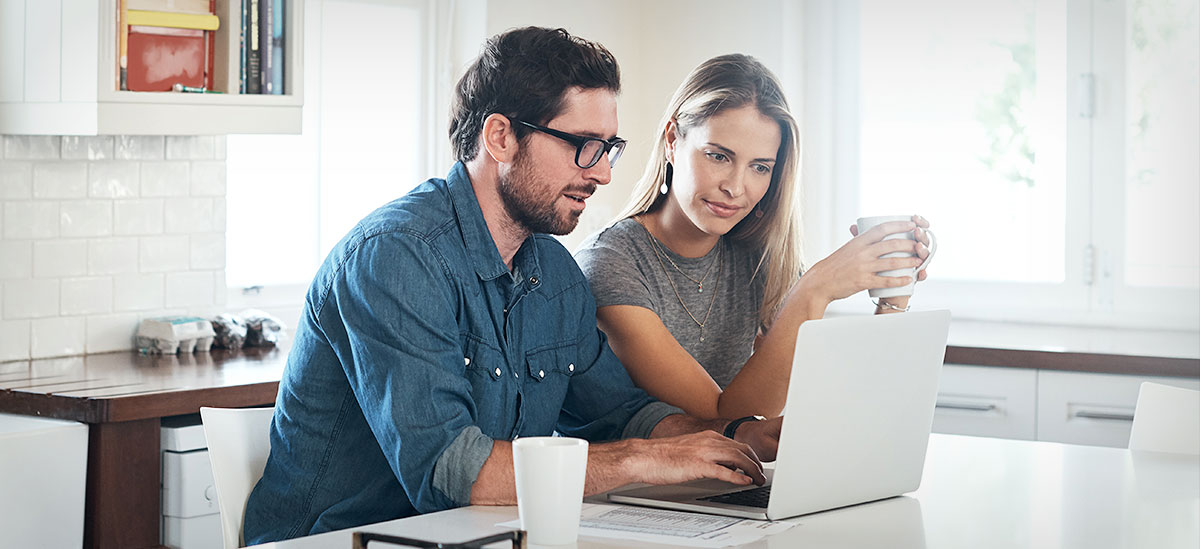 You set up your budget, and you've been sticking to it. What happens next?
The truth is, budgeting isn't a "set it and forget it" exercise; it's an ongoing work in progress. Even the most perfectly-planned budget needs to be adjusted, especially if your income or expenses change over time. You'll also want to modify your budget as new financial goals emerge that impact your spending and savings. 
Taking time to check in on your budget pays off. It gives you an opportunity to ensure your budget fits your lifestyle, so you aren't forcing yourself to stick to outdated guidelines. Check-ins also help you track your progress toward your goals, so you can stay on track and feel good about your finances. 
And, fortunately, staying on top of your finances likely takes less time than you think. Here's when (and how) to do financial check-ins to meet your goals. 
Stay On Track With a Quick Monthly Check-in
Once you've set up your budget, pencil in a few minutes a month to see how well it aligned with your actual spending. 
Virtual Wallet in your PNC Mobile app makes it easy. The Spending + Budgets tool lets you see at a glance how closely you stuck to your budget, so you can instantly tell if you over- or under-spent. Prefer a spreadsheet? No problem! Simply import your statements or input your spending to see how you're doing. 
Take note of areas where you spent too little or too much, and decide whether you should adjust your budget accordingly. You might opt to relax your recreational budget, for instance, or find you have even more room for savings than you thought. Fine-tuning your budget month to month ensures it works for your lifestyle right now, so budgeting feels manageable and not restrictive.  
Schedule Quarterly Check-ins for Year-Round Planning
Businesses break their financial year into quarters, and you should consider looking at your financial year the same way. 
Quarterly check-ins give you a chance to look at longer-term goals — ones you don't need to look at every month — and plan for seasonal expenses. But they're also approachable: you only need to look a few months into the future, rather than make decisions based on what life might look like a year from now.
Set aside some time each quarter to review your financial goals. Our seasonal schedule covers all your financial bases. 
Winter: Prepare for Tax Time
Tax season can feel stressful at the best of times — but you can make it much less hectic by planning in advance. Track down any documents you need to file your taxes and take note of anything you're missing so you can find it by tax time. 
Winter's heating bills, holiday expenses and travel can strain your budget if you aren't prepared for them. So make a plan for any extra costs now to avoid a "debt hangover" later. 
Spring: Financial Spring Cleaning
Use your spring check-in to get ready for lighter and brighter days ahead. Budget for any home or car maintenance you plan to undertake in the coming months and make a financial plan for spring break and wedding season. 
If you got a tax refund, now's the time to decide how to spend it wisely. Using it to boost your emergency fund or save for retirement are always smart options, but you can have a little fun too —so decide how to treat yourself. 
Finally, spring clean your finances along with the rest of your home. Take your bank statements paperless by using Virtual Wallet and ditch documents you don't need anymore to cut down on clutter. 
Summer: Get Ready for School
Good news: you've already done most of the heavy lifting when it comes to your finances. But take a few minutes to budget for late summer fun, like that last-minute trip to the cottage. 
You'll also want to make a plan for back-to-school expenses, especially if you're sending a child to college. Write down tuition due dates and ensure you have a plan to pay on time. And make a budget for other school-related costs: clothes, school supplies, moving expenses and dormware. 
Fall: Prepare for The Holidays
With back-to-school behind you, it's time to look ahead to the winter holidays. Make a plan to cover any cool-weather expenses, like snow tires or last-minute home maintenance. 
Budget for holiday spending, including presents, travel and food. Planning early helps you budget for these costs over a few months. So when December rolls around, you can enjoy your holiday fun without worrying about a nasty credit card bill in January.  
Finally, keep your family and your finances secure by reviewing your insurance coverage. September is life insurance awareness month, so ensure you have the coverage to provide for your family in case something happens to you. And review your health insurance options, too, in preparation for open enrollment in November.
Get an Annual Financial Check-Up
Some financial goals only need to be revisited annually — and, thanks to your seasonal planning, this once-a-year check-in should be a breeze. 
Use this time to take an in-depth look at your savings. Do you have enough money in your emergency fund? Have made enough room in your budget for retirement savings? Are there new milestones on the horizon — like growing your family or planning a move — that you should start saving for now?
Consider seeing a financial advisor for help taking a longer-term look at your finances. An expert can help you juggle multiple savings goals, ensure you're saving enough for a comfortable retirement, and advise you on how to invest your savings wisely to make your money work harder for you. 
No matter where you are in your financial journey, we're here to help. Get in touch today for help managing online banking, answers to frequently asked questions and personalized support.