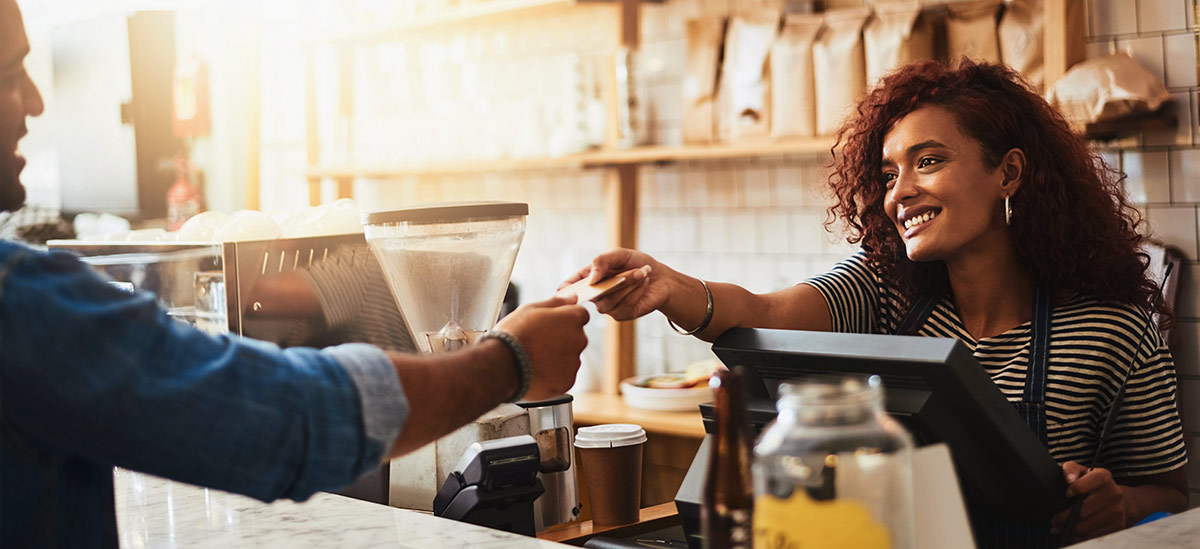 Accepting customer payments as a new small business owner may sound like a straightforward concept, but there are many layers to consider when figuring out what's best for your operation.
There are various forms of payments, including mobile payment apps, digital wallets, ACH transfers, and in some cases, the old-fashioned way of cash and physical checks. With so many options available to consumers, business owners should think carefully about what will work best for their business and their customers' convenience.
A simple answer could be to accept all forms of payments. However, it's certainly not a one-size-fits-all situation.
"As businesses grow, payment needs start to get more complex," said Nathan Merrick, Head of PNC Small Business Treasury Management Solutions. "From a customer payment perspective, they need to think about whether they're going to focus on a point-of-sale, online, phone payments, or all of those."
Below are examples of payment options for small businesses, the benefits of each, and what to take into account when deciding which ones to offer customers.
Merchant Accounts
"When you're starting a side hustle, or you're a gig worker or hobbyist -- before even opening a small business -- you're probably accepting payments through mobile payments apps," said Charlie Stitcher, Head of Product at PNC's Merchant Services. "It's so easy nowadays to do person-to-person transactions via a bank or fintech app. But as businesses grow and evolve, some customers are going to start paying with cards, which becomes the next horizon."
That's when a merchant account comes in.
A merchant account gives you the ability to accept card payments. It's the account that is not only associated with accepting those payments, but ultimately ushers the money movement that happens behind the scenes.
"This type of account can take a lot of different forms," said Stitcher. "The right one for a small business owner is dependent on the industry that they're in, or it could be dependent on the way they go about doing business. Traditionally people think about retail stores. For example, we offer the Clover® Station point-of-sale system. But for other industries, that may look very different."
Online and Mobile Payments
With a contractor or service provider, such as a plumber, electrician, or landscaper, they may need the ability to send an invoice online or via text message, with a link to accept payment through their customers smart phone or computer. An example of this type of system is PNC's e-Commerce Payment Solutions that help entrepreneurs establish a way to accept card payments online or over the phone.
"We have solutions that provide tech services across the board that are all wrapped around that inherent capability to accept card payments," said Stitcher. "Our role is to have the resources and an experienced team of people that small business owners can count on to recommend the right solution or combinations of solutions for them."
Automated Clearing House (ACH) Payments
Automated Clearing House (ACH) payments are a convenient small business payment method. ACH payments allow business owners to receive funds by electronically transferring money from a customer's account into their business's account. In terms of accepting and having the capabilities to accept ACH payments, there are some potential risks to consider, but also ways to mitigate those risks.
"If a small business is going to offer the ability to pay through ACH, they need to consider adding account verification services or other fraud tools to make sure that the funds they're receiving are from a reputable account that exists and has a balance," said Merrick. "At PNC, we offer solutions that guarantee those funds, because if it's a large value transaction, small business owners may want to have a guarantee and peace of mind."
Automated Payments
Whether small business owners are accepting ACH payments, credit or other digital payments, automated payments can also be a useful tool for budding entrepreneurs. This is especially true for subscription-based businesses, such as fitness centers, that require a membership. A steady, recurring stream of revenue is one of the many benefits of automated payments and an easy payment option for small businesses.
"The beauty is that you securely get the customer's information, store it in an encrypted way, and conveniently save it for future transactions without having to deal with monthly, manual processing," said Stitcher.
Physical Checks
Physical checks aren't going anywhere, according to Merrick, especially when considering customer preferences in a rural area versus urban, and other factors. In the midst of their busy day running their operation, having to go into a branch to deposit checks may not be the most convenient for a business owner.
"There are solutions and other options available for businesses to accept checks without having to go into a bank to deposit them," said Merrick. "PNC, for example, has remote deposit capabilities where clients can scan a check at their business, and those funds will be put into their account."
Digital Wallets
According to Merrick, accepting payments through digital wallets should seriously be considered as a startup grows. Digital wallets include Apple Pay and Google Pay, which allow customers to pay by simply tapping their phone on a contactless reader. Offering payment through digital wallets depends on a business's client base, but Merrick notes that it is becoming an increasingly popular form of payment in the U.S. The aforementioned Clover® Station system the bank offers is equipped to support these types of contactless payments.
"Right now, a customer may walk into a store and say, 'I forgot my wallet, I'm going to have to use my digital wallet,'" said Merrick. "Relatively soon though, people are going to start to think, 'Why would I even bring my wallet? I have my digital wallet.' Business owners are going to have to start taking that into consideration."
Figuring out What's Best for Your Business
With a bevy of options in front of small business owners, there are many factors to consider when determining the right payment solutions. However, the right guidance can also help small business owners untangle it all.
"If you as a small business owner are trying to figure this out, your first inclination is to hit the internet and do some research," said Stitcher. "What you're going to find is an overwhelming amount of information that can be quite confusing. At PNC we will work with you to understand your business, and offer the expertise needed to help you understand your options.
For more information, visit PNC's Starting Your Own Small Business page.