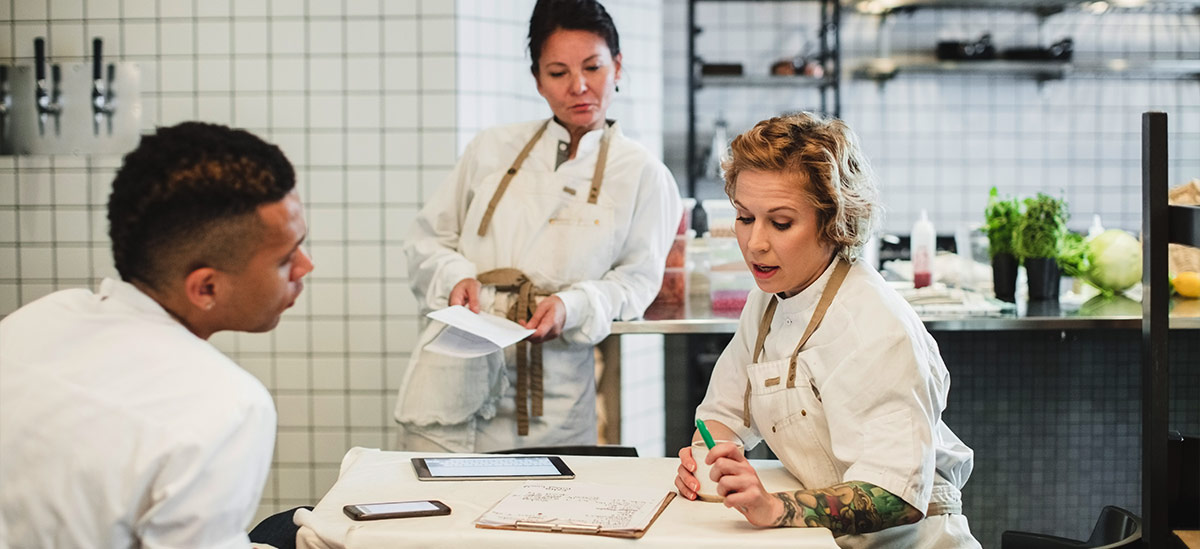 According to the National Restaurant Association's 2023 State of the Restaurant Industry report, nearly half of restaurant operators expect competition to intensify this year.[1] Add in the industry's traditionally thin margins, rising prices, and other challenging factors, and it's clear restaurants need to explore innovative ways to boost their revenue.
One of the "ingredients for growth" recommended by consulting firm McKinsey is exploring new revenue streams.[2] While maintaining top-quality cuisine and service should always be the priority, these creative extensions of your core offerings can enhance financial stability and attract a broader customer base while strengthening bonds with existing customers.
Of course, not every pivot is right for your business model and clientele, so choose the appropriate approaches to help your restaurant thrive in today's dynamic culinary landscape. Take a look at our list and dive into those that appeal to you.
1. Expand to takeout and delivery services.
According to a research firm William Blair report, off-premises dining (takeout, drive-thru, and delivery) represents approximately 70% of total interactions.[3] While many restaurants pivoted to this lucrative option during the pandemic, now's the time to initiate a service if you haven't yet. For those already embracing this model, assess your existing offerings and look into upgrades like special packaging or meal kits, such as already-assembled picnic packs, or consider a dedicated takeout menu to streamline service. Just make sure you have a point-of-sale platform that can handle the volume. For example, hospitality-focused Linga is a scalable solution that offers more than two dozen apps in one system, including online ordering and payments, QR code-based menus, virtual kiosks, and more.
2. Broaden menu offerings.
While some customers crave classic favorites, others love fresh innovations. Use data analytics from your point-of-sale platform to monitor which staple dishes should always be featured, then extend your menu by offering limited edition or seasonal fare, which drive trial and repeat business. After the test, delve into your analytics to determine the most successful, profitable ones to add permanently.
3. Try out new dayparts.
If you've covered the work-from-home lunch crowd, why not try a Sunday brunch? Or, if your location is nestled on a street of nightclubs, offer late-night snacks on weekend evenings. Sometimes it can take a while for customers to create a new habit, so supercharge your promotional activity, maybe even offering discounts to get them in the door.
4. Offer merchandise.
Merchandise helps create customer loyalty and affinity for your restaurant. As they pour a beer into their pint glass emblazoned with your logo, they're liable to think, "Hey, why aren't I there?" And branded clothing makes your customers "walking billboards" for your restaurant. To help minimize the initial financial outlay, try a limited edition collection to drive interest and help you evaluate colors, sizing, branding, and other factors before extending the run.
5. Create meal kits.
Send customers home with your famous pasta sauce and reheating instructions so they can re-create a favorite meal at home  – the National Restaurant Association survey cited above found that nearly 70% of adults would likely purchase a meal kit. Focus on dishes that will travel well so your customers will have high-quality results at home. This model can help you increase profits and introduce new customers to your product while minimizing hands-on staff requirements.
6. Sell gift cards.
These gifts keep giving, both when you make the sale and when it's redeemed. That's because the recipient often brings in a larger party which lifts sales and potentially introduces new diners to your concept. Through Linga, you can offer eye-catching branded cards online and in-store to promote to guests and in digital marketing. Experiment with a bonus for the buyer, such as a free dessert, and incentives for the user, like discounts on certain items if they bring friends.
7. Develop a loyalty program.
There's no question customers like rewards: A survey from PYMNTS found that more than half of customers use restaurant loyalty programs.[4] Consult your data to discover the best type of program to offer, and devise a schedule of perks that encourages patrons to try new menu items and make repeat visits. These programs can also help you gather valuable data on dining patterns and preferences, and integrating it with a point-of-sale platform like Linga makes it a light lift.
8. Host events and promotions.
Themed nights, cooking classes, tastings, or live music performances can all help attract additional traffic. Partner with another supplier, like a wine or beer purveyor, to cross-promote, or if you're located near other businesses, collaborate with them to host a block party and supercharge traffic for all. Look online for the list of food and beverage holidays[5] for inspiration on a fun celebration that will resonate with your patrons – whether it's something quirky like "More Herbs, Less Salt" Day in August or an all-around crowd-pleaser like National Dessert Month in October.
Three Essential Considerations Before Taking the Plunge
Before introducing any new program, three factors can help bolster success.
1. Ensure the funding you need to optimize your investment.
You've probably heard the adage, "You must have money to make money." And it's true: You're likelier to have a favorable outcome program with ample funding. You'll want to budget for robust marketing support, including digital ads and social media marketing to raise awareness broadly, along with email campaigns to reach your existing customer base. You'll also want to carefully manage your inventory to ensure you have adequate supplies on hand to satisfy all the diners visiting for a specific event. Fortunately, your small business banker can help you identify the best solutions for your operation, such as credit cards,  lines of credit, and term loans.
2. Make sure your technology can handle the new ventures.
There's nothing more frustrating for customers and staff than having a dining experience thwarted by long waits or clunky technology. Now's the time to upgrade or expand your technology to an end-to-end system designed specifically for small business restaurants and is prepared to scale as your needs grow. For example, Linga is the first processor-agnostic, cloud-based POS system designed specifically for the hospitality industry, offering one of the most sophisticated restaurant operating systems on the market with new functionalities added regularly.
3. Have a plan for your revved-up cash flow.
While you might devote your initial infusion of cash into launching your program, the ultimate goal of the venture likely is to augment your cash flow on an ongoing basis. It's important to create a plan for how you will spend it, whether it's shoring up reserves to weather slower times, raising pay for your loyal team members, upgrading technology for improved customer satisfaction, or refreshing your physical space.
Talk to your PNC business banker for best practices on maximizing your cash flow with effective management and a smart spending plan.
Are you ready to create new opportunities for growth in your restaurant? Experimenting with new ideas can help keep the day-to-day experience fresh for associates and diners while contributing to profits and overall success. For more information, visit PNC's Solutions for Retail Businesses & Restaurants