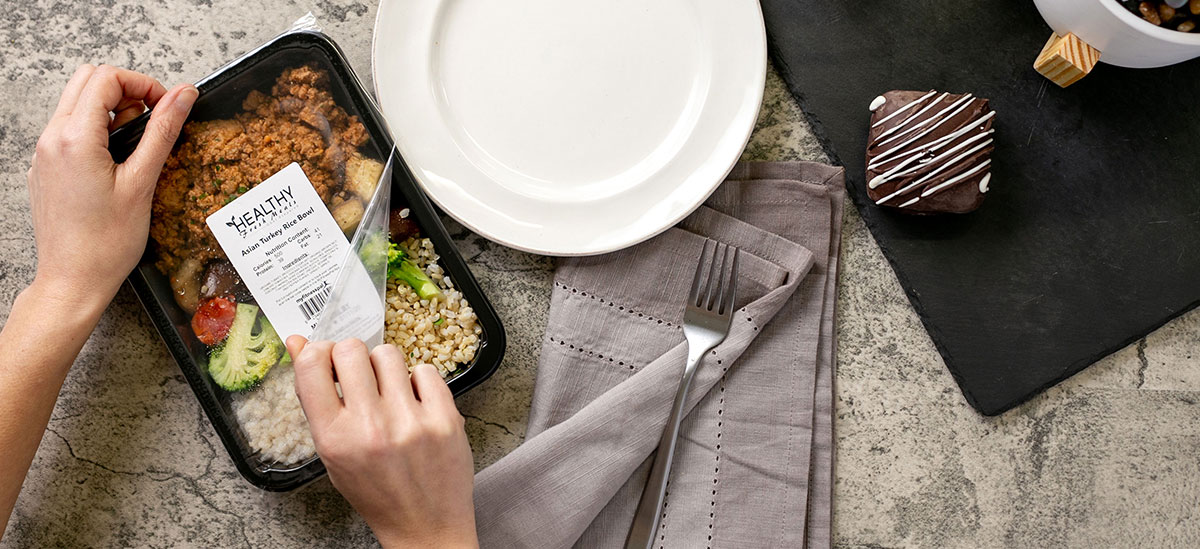 Shana Greenbaum was meal-prepping long before it was trending on Instagram. A figure skater and lifelong athlete, she began preparing and cooking healthy meals for herself in high school and college, a habit that continues today.
Her diligence—and the fact that she always had healthy snacks on hand—caught the attention of friends and family, who started to ask for help getting in shape and eating better. "A few people suggested that I should launch a business," Greenbaum recalls. "So, I posted an offer online, and it snowballed."
That was in 2016. Today, Greenbaum is CEO and owner of Healthy Fresh Meals, a Washington, D.C.-based meal delivery service that serves the surrounding metropolis. The company provides fresh, chef-made meals for individuals as well as companies and organizations, including the DC United soccer team.
Providing 3,000 meals a week, Healthy Fresh Meals has grown exponentially since Greenbaum founded it. And thanks to the company's new production facility, secured with the help of a PNC SBA loan, she is well-positioned to meet the demand surge created by the COVID-19 crisis.
Humble beginnings
With a demanding job in her 20s, Greenbaum realized that she needed to prepare meals at the beginning of the week if she wanted to maintain healthy habits. "If I didn't meal prep on Sunday, then I didn't have time to cook during the week, and I ended up eating whatever was around," she says.
Once she began meal prepping for friends as a side gig, the referrals started to roll in. Greenbaum launched the first iteration of Healthy Fresh Meals in her parent's basement, taking advantage of their extra fridge to store food and putting her mom and brother to work making meals.
The timing couldn't have been better. The concept of ready-to-eat meals and meal delivery was just taking off, fueled by waning interest in meal kits and the rise of Uber Eats and other delivery services. If growth continues at the current pace (an estimate calculated before the COVID-19 pandemic escalated the demand for home delivery of food and meals), the meal delivery industry projects $1 trillion in global spending by 2030, according to Ark Invest.[1]
A kitchen to call home
As her business expanded, Greenbaum moved her operations into a shared commercial kitchen. However, over the next three years, she realized that she and her team desperately needed a kitchen of their own. "We would get busy, and then run into challenges—we were limited on the number of staff who could work in the space, and we needed a permanent place for our equipment and supplies," Greenbaum says. The shared space also made it hard to hire and plan, and Greenbaum lost precious work hours driving between her kitchen, office and storage units.
When Greenbaum began searching for space to lease, rents were beyond her budget. Feeling frustrated, she reached out for financing guidance to Lucia Manic, her PNC business banker, and Paul Kukla, vice president in PNC's SBA finance group. They broached the idea of buying and renovating a building using an SBA loan. This notion was a game-changer for Greenbaum, who years ago had been turned down for SBA financing.
"Their confidence in my ability to qualify for an SBA loan was when I really began to feel like I could finally start mapping out what this business could be," she says.
Kukla immediately saw Greenbaum's passion for her business and her potential for even more success.
"Shana was diligent and responsive, and she 100% knows her business," Kukla says. "We offered another set of eyes on the problem and a team approach to help her solve it."
With the onset of a global pandemic, the move proved essential. Needing a safe place for her staff to work, Greenbaum moved out of the shared kitchen in March and into her new building, literally overnight. While the space wasn't quite done, Greenbaum's foresight made it possible for Healthy Fresh Meals to keep its employees and triple the amount of meals it was making weekly, from 1,000 to 3,000, to meet the sudden demand for meal delivery requests.
Showing up for success
As a young entrepreneur, Greenbaum bootstrapped her company with her own money and profits from the business. It wasn't always an easy road. She worked around the clock, sometimes sleeping just three or four hours a night. Her gender and her age were roadblocks, Greenbaum says. "Sometimes people didn't take me seriously." And she agonized over decisions, worrying that one misstep would sabotage her efforts.
Looking back, Greenbaum recognizes that she had the smarts and strength to tackle the challenge of growing Healthy Fresh Meals all along. Equally as important, she was resilient and flexible when things didn't go as planned.
"I put a lot of pressure on myself to succeed, and I didn't always trust myself," she says. "Now, I know that when you work hard, show up and surround yourself with people who have your best interests at heart, things will work out."
Shana's Tips for Eating Healthy at Home
Making and eating healthy food can be challenging when you're balancing the demands of work, family and life. Here, Greenbaum offers her best advice on how to make food prep easier—and meals more nutritious and delicious.
Take time to plan. Determine what you want to eat for the week, paying attention to ingredients that can do double duty. "Figure out how to cross-utilize ingredients," Greenbaum says. For instance, you could use bell peppers in a pasta salad, regular salad and fajitas.
Work in advance. Prepare and cook your food at the beginning of the week. If you only prep and chop ingredients, then the chore of cooking on a busy Tuesday may dissuade you from using them. "I have it all ready to go," Greenbaum says. Then when hunger strikes, you've got meals on hand.
Don't be afraid to experiment. Healthy food doesn't need to be bland, Greenbaum says. Add herbs and spices to boost the flavor. Find replacements for ingredients to make a meal more nutritious, such as veggies in place of the pasta layers in lasagna. Don't be afraid to alter recipes—you can experiment and often create something that's better than the original.
---
To learn more about Greenbaum's business, visit healthyfreshmeals.com. For more stories about inspirational women in business like Greenbaum, visit pnc.com/women.