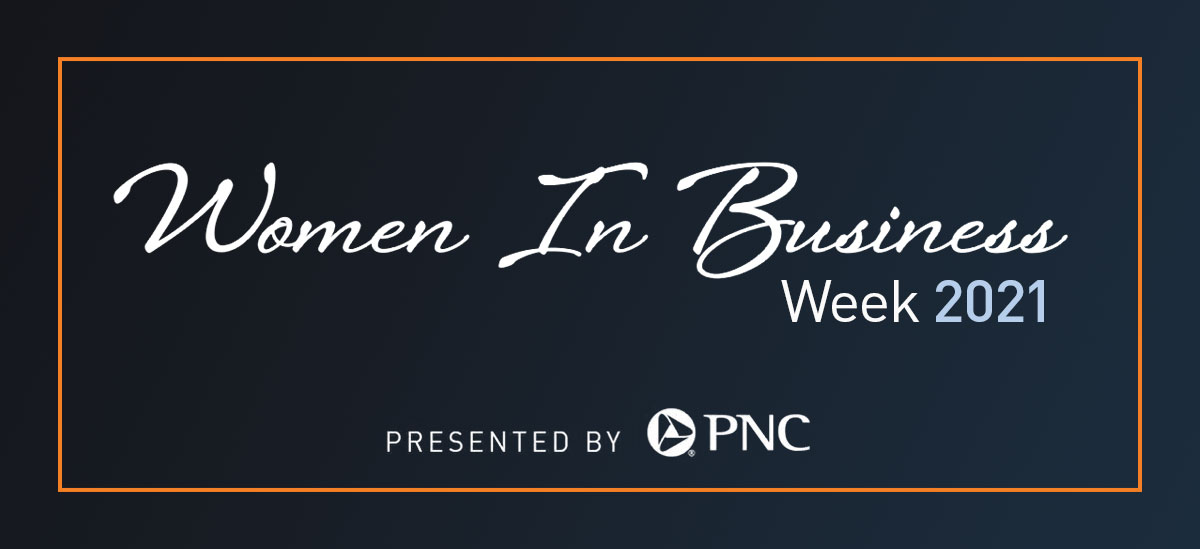 During PNC's 11th Annual Women in Business Week, a week-long celebration featuring inspirational conversations with women leaders working in many different industries who shared their knowledge and unique experiences in a series of webcasts. Here are a few highlights from these inspirational conversations.
How Ruth Bader Ginsburg became the 'Notorious RBG'
Lawyer and Supreme Court Justice Ruth Bader Ginsburg dedicated much of her legal career to gender equality and women's rights. It wasn't until she reached her 80s that she became a cultural icon.
During the "Notorious RBG" webcast Irin Carmon and Shana Knizhnik, authors of "Notorious RBG: The Life and Times of Ruth Bader Ginsburg," discuss the impact Ginsburg had on critical issues that improved the lives of so many women and men across America. Tune in to this webcast moderated by PNC General Counsel Greg Jordan (who interviewed RBG in 2018) to learn more about the changes Ginsburg fought so hard for and the obstacles she overcame while trying to advance the law.
In addition to sponsoring this webcast, PNC has partnered with the Maltz Museum of Jewish Heritage in Cleveland to bring to life an exhibition about Ginsburg through Aug. 29, 2021. Visit maltzmuseum.org[1] for more information on in person and virtual tours.
Planning for "what if"
Businessowners who have a deliberate scenario planning process can help reduce the uncertainty of unforeseen events, minimize their negative impacts and keep their business moving in the right direction long term. Watch "Be Prepared: Planning for What If..." to refresh your thinking on how to review your financials and develop a framework for defining and responding to potential scenarios.
Additional TAP Tuesday webcasts with experts from The Acceleration Project will take place in the coming months. Visit pnc.com/women to register and learn more about these financial workshops for businessowners.
Empowering women in technology
While there's a tremendous opportunity for women to be leaders and influencers in the technology space, the reality remains that there's still a gender gap.
During "Women in Tech," hear from four women who are helping to pave the way. Learn about their varied career paths in technology, the challenges they faced and how they've excelled.
The power of inspiring change
Growing up, CEO and inventor Jessica O. Matthews spent summers in Nigeria where she saw firsthand how unreliable power and poor infrastructure negatively impacted the country and her cousins who lived there.  At 19 years old she invented the SOCCKET, an energy-generating soccer ball, to inspire a solution to solve the problem. By 22, she had co-founded Unchartered Power, a power solutions company that has since expanded to develop integrated infrastructure solutions for modern cities.
Tune in to our Keynote Speaker's webcast to learn about her experience as an unlikely entrepreneur who is disrupting the energy space. Read more about Matthews' story.
Owning your financial wellness
From job loss to juggling childcare, the global impacts of the COVID-19 pandemic have hit women especially hard. During "Financial Wellness: Resetting Your Personal Goals", a diverse panel of women share how they channeled the experiences of the last year to help reshape their financial priorities.
In this discussion you'll hear why it's important to have a network of mentors and trusted advisors, how to be intentional about building your financial assets, the value of teaching your children about money and savings, and more.
---
To view these and more webcast replays, visit pnc.com/businesswebcasts.