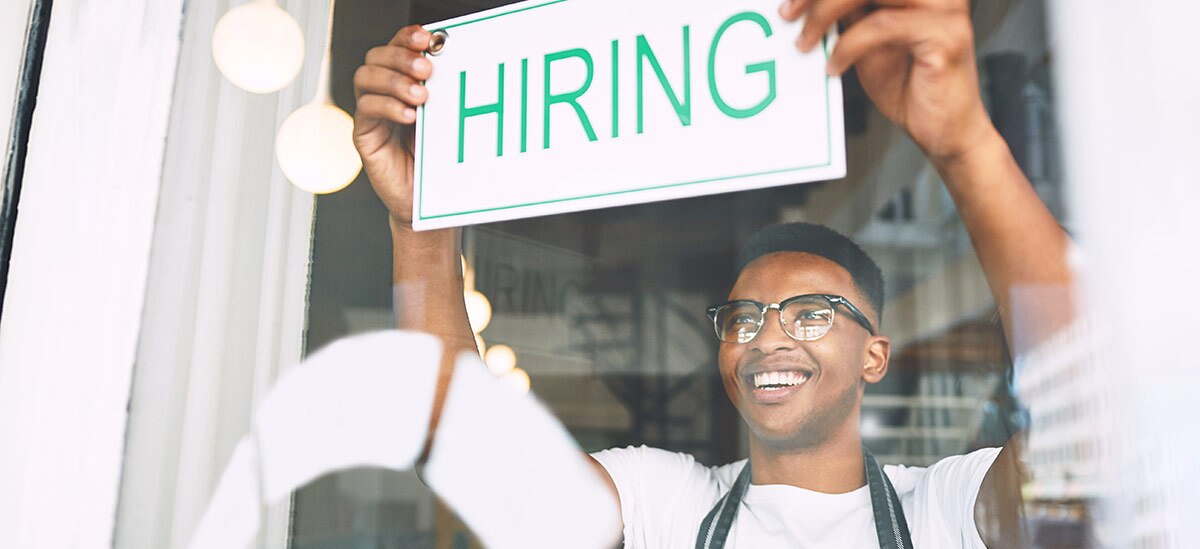 If you're wondering how you're going to staff up for the holidays, you aren't alone. According to a survey from consulting firm Korn Ferry[1], nearly half of retailers are having trouble attracting employees for the upcoming season. And this scarcity comes on the heels of what was a challenging summer for most, with many stores needing to shorten store hours or minimize service due to staffing concerns.
But as consumers head back to the stores, many flush with cash and ready to spend, the last thing you want is to turn away any potential dollars. Here are seven ways to help your small business attract and retain workers this holiday season.
1. Look for nontraditional help.
Many retailers are chasing the same talent pool—former retail workers and students. But there are other cohorts, such as seniors and parents, who might have more availability (and flexibility) and welcome the chance to earn some holiday cash.
To reach these groups, talk to your local senior center and preschool or elementary school to see if they have suggestions for a way to broadcast your opportunity. The good news is that these factions typically have a strong network so attracting one person makes it quite likely you also recruit their friends.
2. Offer flexible schedules.
The best way to approach a schedule is to show your team the available shifts and ask them to select the ones they prefer, perhaps even rating them with a 1, 2 or 3 to gauge the strength of their preference. In an ideal world, these choices would match exactly with your hours, but realistically that's unlikely to be the case. However, that intelligence allows you to give each employee as many of their 1s and as few of their 3s as possible.
Another option is to use an app where workers can easily switch shifts with each other in case something unexpected comes up or a particular team member wants to pick up more shifts to augment their earnings. Finally, if you are left with a number of shifts no one wants, consider spreading out the "pain" with more, shorter shifts.
3. Use a variety of channels to post jobs.
The more avenues you use to reach potential workers, the better your chance of success. Start with general job boards like Indeed.com or Monster.com, then try special interest job boards like IHireRetail.com or AllRetailJobs.com. Reach out to local high schools and colleges to see if they send an email with job openings to their students or have a website page where they share opportunities.
Post openings on your social media platforms and website, send an email blast and post a physical sign in your window in case loyal customers might want to be part of your team. You can even encourage current team to post on their pages if they're willing, maybe allowing them to shoot a fun video or selfie that would underscore your store as a desirable place to work.
4. Offer referral bonuses.
On that note, one of the best ways to attract workers is to get referrals from your staff. It's usually a successful strategy for two reasons: You might feel more comfortable hiring someone for whom a trusted source has vouched, and the person might be more interested in the job since their friend or family member already works there and presumably enjoys it.
5. Cross-train to make positions more engaging and improve your service.
Few people want to spend all their time stocking shelves, cleaning out dressing rooms, greeting customers or ringing up people. The truth is that the more diverse tasks they have, the faster the day goes and the more engaged they are likely to feel as they try new things and pick up new skills.
This strategy also will boost your service, given that customers are increasingly choosing a wide variety of channels—from curbside pickup to buy online, pickup in-store—that require different staff skills. If everyone knows how to swiftly pack an order and deploy the contactless payment system, they're ready to step in wherever they see a need.
6. Automate as many processes as possible.
The right technology allows you to redeploy workers from rote tasks to more customer-facing activities. Add a chatbots to your website to answer routine questions; use an inventory management app that lets staff know at a glance what's available; and choose online and mobile banking services for cash management.
7. Prioritize mental wellness.
Finally, remember the toll that the pandemic has taken on everyone. Many front-line workers report that it's rough out there, and they need to know you're on their side. While ideally customers will soon get into a festive holiday spirit, many are feeling lingering stress, which can lead to tense interactions. The last thing you want is for a valued employee to quit because of burnout just when you need them most.
Provide a safe environment for them to vent if they need and defend them if a customer becomes confrontational. Offer a calming environment in the backroom and make sure they take their scheduled breaks to have time to decompress.
Finally, comply with all applicable safety measures, including masking as suggested in your region, sanitizing frequently and offering contactless payment methods. Ensuring the safety of both your employees and customers will lead to happier holidays for all.
Want more information on how PNC business banking can help you reach your goals this holiday season? Contact us today to find out about the solutions that suit your needs.