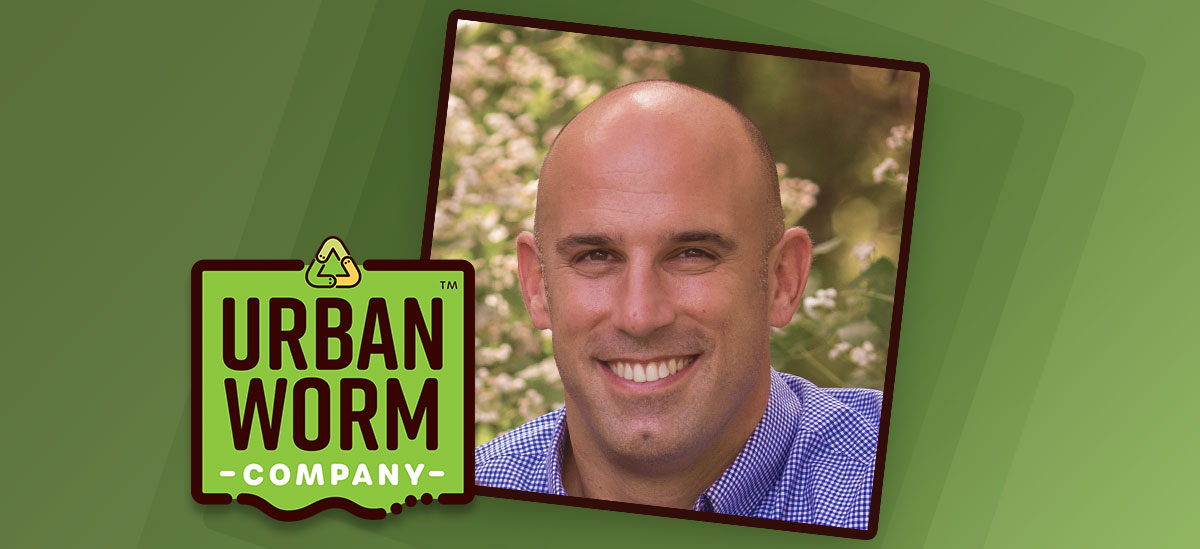 After becoming fascinated with the concept of vermicomposting — the use of earthworms to recycle organic waste into fertilizer — Steve Churchill established the Urban Worm Company, a business dedicated to educating beginners in this practice, in 2014. Steve, who serves as a pilot for the Pennsylvania Air National Guard and is employed as a commercial pilot by Southwest Airlines, expanded Urban Worm Company in 2018 to begin selling vermicomposting equipment in the U.S., Canada and Europe. Today he continues to support novice vermicomposters, as well as enthusiasts looking to scale their efforts, through education and an evolving product line.
Like so many veterans, Steve found his military experience to be an asset as he transitioned into entrepreneurship. It's no wonder: SCORE recently reported that veterans overwhelmingly feel their military service has helped strengthen their skills in areas including teamwork, leadership, management, work ethic, discipline, perseverance and the ability to get things done[1]— all vital to entrepreneurial success.
Steve recently shared more insights into his company and career:
Tell us about your military background.
After graduating from Ohio University, I enrolled in both graduate school and Air Force ROTC at The Ohio State University, where I earned a master's degree in journalism and my commission as an Air Force officer in June 1999. I attended flight school at Laughlin Air Force Base in Texas and then moved to Charleston (South Carolina) AFB to fly the mighty C-17 Globemaster III, flying missions mostly in the Middle East after the attacks on 9-11. In 2005, my career took me to McGuire AFB in New Jersey, just outside of Philadelphia.
Although I left active duty in 2007, I have served in the Air Force Reserves and Air National Guard since then. I've been a Southwest Airlines pilot for the past 14 years as well.
What inspired you to become an entrepreneur?
One of the great things about entrepreneurship is that you don't necessarily have to quit a job you love to start and grow a business. I started Urban Worm Company in 2014 as a blog, never really intending to make it into much of a business. It was always the thing I was going to dabble with until the "big idea" came along. I was interested in vermicomposting but felt that most websites were not doing a great job serving up information to beginners like me. So I started a blog and began building an email list. By early 2018, I had enough of an audience to successfully launch my flagship product, the Urban Worm Bag.
Does your military experience make you a better business leader?
Absolutely. The military is excellent at putting you into situations and positions that you're not quite ready for, with the expectation that you'll grow into your role. If you don't know everything that you're doing, you do know that you have to figure it out. Unlike the Air Force, though, the world of entrepreneurship doesn't give you a tidy set of support manuals. But years of growing into new roles in the Air Force gave me the confidence that I could figure out product development, SEO, copywriting, web design and the ins and outs of running a business — areas of expertise I didn't necessarily have when I got started.
What differentiates Urban Worm Company in the marketplace?
Our big differentiator is our free, helpful web content and fast, responsive customer service. My competitors sell things to the vermicomposting community, but I am in the vermicomposting community and have developed a much more personal relationship with my customers. We also pride ourselves on answering questions and solving problems for our customers same-day.
What challenges have you overcome to get where you are today?
Since I never intended for the Urban Worm Company to be a "real" business, I did not initially create or adopt business practices to help me scale it. Playing catch-up with bookkeeping and documenting processes for my part-time employees was not much fun, but it's now enabling the Urban Worm Company to grow without too much of a headache.
What is your vision for the Urban Worm Company's future?
I plan to continue on our current 40% annual sales growth and grow our product line to serve our audience. We have great potential for ongoing growth.