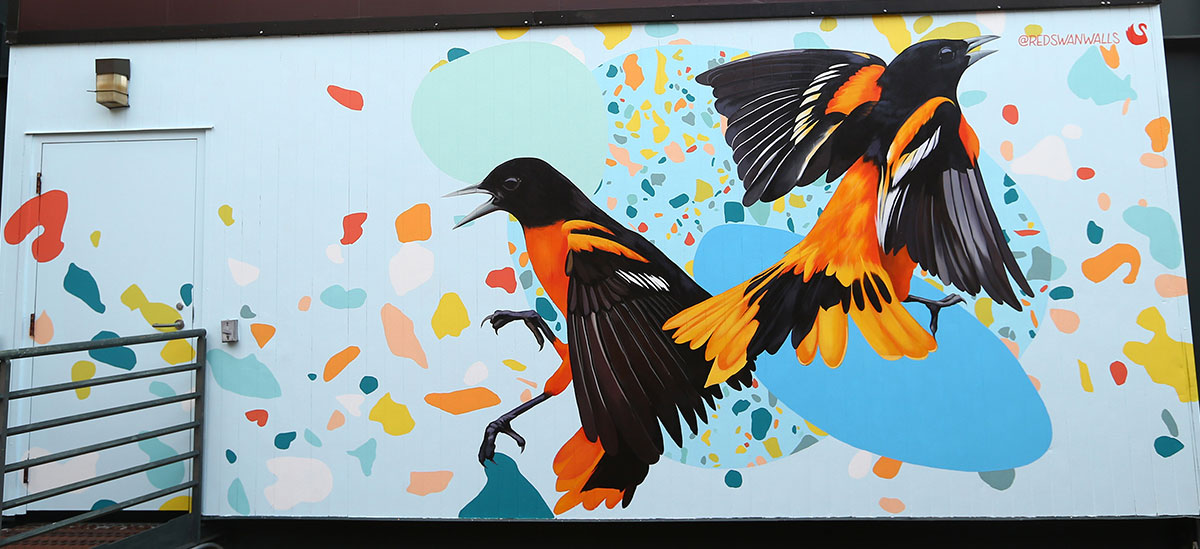 NOTE: The 2020 Major League Baseball season has been postponed in an effort to minimize the spread of COVID-19. We encourage you to check the Oriole's website[1] for updates.
In a city with three designated arts and entertainment districts where street art is widely embraced, no one thought twice when the idea of bringing mural artists into Oriole Park at Camden Yards was proposed. But it was PNC's idea to exclusively feature the work of female street artists that brought the multi-year "Birdland Murals" project to life.
"When PNC sponsored Open Walls Baltimore, a program that gave local street artists the opportunity to display their talents in the Station North arts district, the participants were primarily male," says Laura Gamble, PNC Greater Maryland regional president. "The Birdland Murals project gives us the opportunity to showcase local female artists and, at the same time, underscore PNC's commitment to being intentional about supporting women in our community."
A collaboration of the Baltimore Orioles and PNC, the Birdland Murals project enlisted the expertise of globally acclaimed street artist Gaia to curate the show at Oriole Park for the 2019 season. He identified women artists who created vibrant, high-impact murals, adding a new dimension to the ballpark experience. For the 2020 season, to commemorate the centennial anniversary of the 19th Amendment, Gaia is recruiting female talent to create larger-than-life portraits honoring some of Maryland's most respected female civic leaders.
"We will feature two or three historically prominent women in the Legends Park area of the ballpark that will be visible to the public from Eutaw Street. We hope people will be so inspired by the legacies of these legends that they'll stand up and make a difference themselves," explains Jennifer Grondahl, senior vice president of Community Development & Communications for the Orioles.
In addition to the Legends Park portraitist(s), other female artists are being invited to create murals behind the bleachers, simulating the feel of Graffiti Alley, a renowned safe space in the heart of Baltimore where street artists exercise their creativity and the public enjoys an ever-changing gallery of their work.
"Baltimore loves the arts, and the Orioles love bringing the arts to life through programs like Birdland Murals," says Grondahl. "We're already scouting other places in the park for future exhibits as we look forward to continuing this partnership with PNC."