A qualified charitable distribution (QCD) lets you send up to $100,000 a year directly from a traditional individual retirement account (IRA) to a charity once you are 70-1/2 years old.[1] It is a relatively easy, highly tax-efficient way to support qualified charitable organizations that are important to you.
The salient point of a QCD is that the distribution is not included in your adjusted gross income (AGI), which may have a number of positive financial benefits.
An individual's charitable contribution can be an itemized deduction, which reduces taxable income. These deductions help reduce taxable income.[2] The money used to fund the contribution is, however, included in your AGI, if it is from a taxable source, such as employment income or distributions from a qualified plan.
Your AGI[3] is the starting point for calculating a number of tax-related items. For example, AGI is used in determining how much of your Social Security benefits are taxed, Roth contribution eligibility, applicability of the net investment income Medicare surtax, your Medicare premium, your state income taxes, and whether your itemized deductions are phased out.
Once you reach age 70-1/2, you are required to take annual withdrawals, called required minimum distributions (RMDs), from traditional IRAs and most of your other retirement accounts.[4] Any money you send from the IRA to a qualified charity as a QCD counts toward your traditional IRA's RMD. If an RMD was taken and then used for philanthropic purposes, the withdrawal would not be counted for income tax purposes but would be included in the AGI.
This makes the QCD particularly useful for charitably inclined people in higher tax brackets who are still working or have other significant pension income and do not need the RMD to fund life expenses.
Client Profile
charitably inclined;
traditional IRA holder;
minimum age 70-1/2; and
financially well-established.
Qualified Charitable Distribution
To use a QCD, ask your traditional IRA custodian to send the money directly to the qualified charity (you cannot receive the money first and then send it to the charity yourself). Qualified charities include all 501(c)(3) organizations. You cannot make a QCD to donor-advised funds, private foundations, supporting organizations, and other grant-making organizations.[5]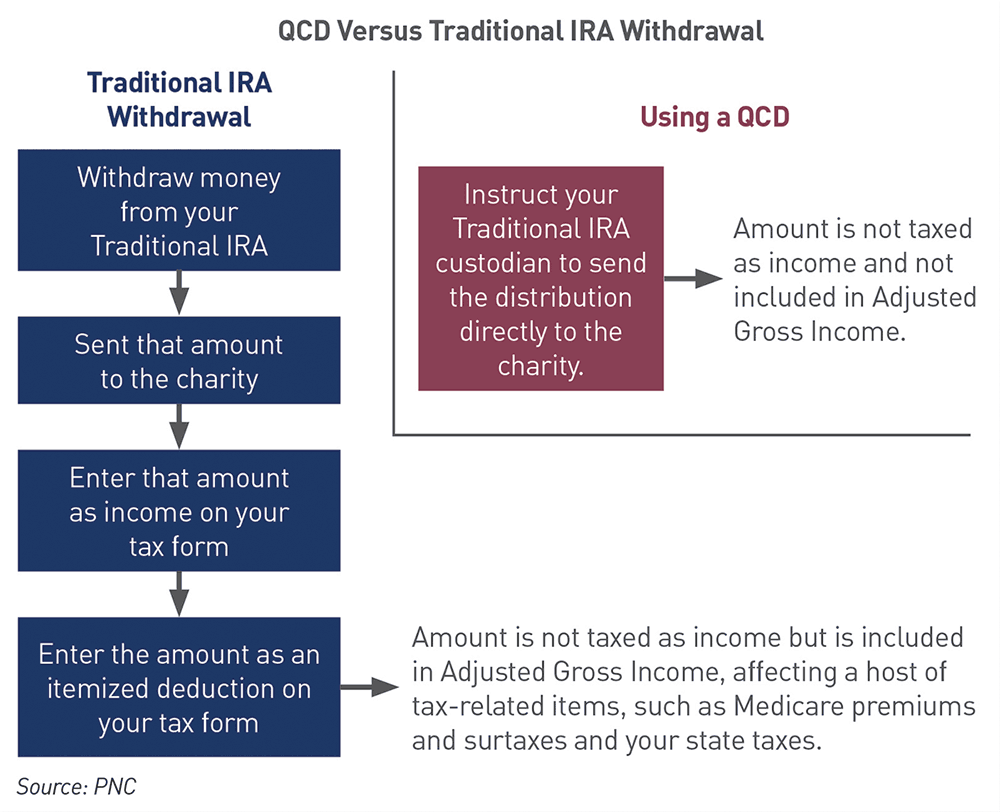 QCD Opportunities
Qualified charitable distributions offer several advantages.
They may provide multiple tax benefits.
QCDs are not counted toward AGI, which has a number of tax-related benefits.
They may be used to satisfy RMD requirements without tax ramifications.
They may be used for multiple charities, up to a total of $100,000 annually.
Even if you do not itemize deductions, QCDs may provide a tax benefit.
QCD Considerations
Qualified charitable distributions must meet the following criteria. 
They can be made only from IRAs.
You must be at least 70-1/2 years old.
QCDs are limited to $100,000 per taxpayer per year.
Contributions must be transferred directly from the IRA to the charity.
You may make QCDs only to qualified charities. QCDs cannot be made to donor-advised funds, private foundations, supporting organizations, and other grant-making organizations.
You must obtain a letter from the charity substantiating the gift and stating that nothing was received in return.