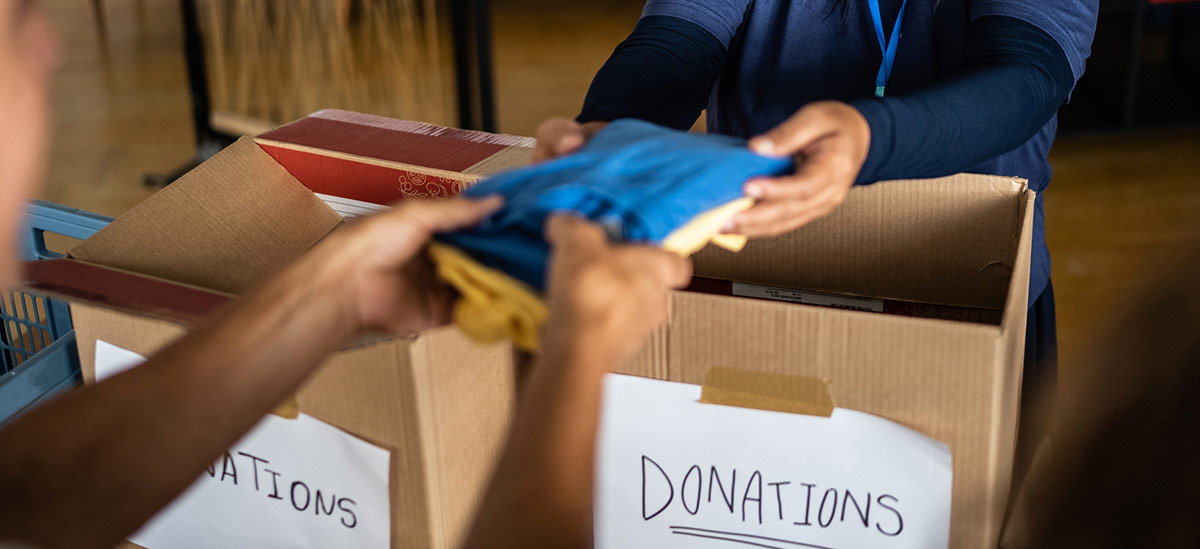 PNC's financing for recent construction and expansion of homeless shelters and food banks across the country is helping to serve communities battling the rising costs of food and shelter through New Markets Tax Credits (NMTCs).
The bank's Tax Credit Solutions business, part of PNC Real Estate, provides critical capital and resources across PNC's coast-to-coast national footprint to benefit low- to- moderate-income communities. PNC uses a selection of federal and state tax credit programs to accomplish this work, including NMTCs, Low Income Housing Tax Credits and Historic Tax Credits, as well as its own Preservation funds aimed at keeping housing affordable.
Over the past several years, the bank has been able to use the NMTC program to finance more than 10 food banks and homeless shelters over the past three years – a total of nearly $259 million in PNC financing.
Main Street Bank Approach
David Gibson, senior vice president and manager of specialty tax credit investments for PNC Tax Credit Solutions, says financing the projects allows PNC to leverage its reputation as an industry leader in the NMTC program and as a Main Street bank, passionate about its communities.
"Prior to the pandemic we'd made some strategic investments in food security and basic community services across our footprint, but after seeing the impact COVID-19 was having on the communities we serve, we shifted our focus more substantially to help address these critical infrastructure needs," Gibson says. "Two and a half years later and we're still seeing significant need in this space, especially as COVID-19 disruptions continue and housing costs rise. That's why we are so focused on allocating the right resources, including our tax credit programs to address each individual community's needs."
These projects reflect how public-private partnerships can provide PNC with the financial incentive of tax credits to invest flexible equity capital in ways that support economic and community development outcomes in low- and moderate-income communities.
Challenge of Food Insecurity
The impact of pandemic lockdowns and supply shortages, along with the current rise in costs due to inflation has created challenges for an increasing number of people who find themselves in need of essential services — such as food and shelter.
Earlier this year, Feeding America reported that around 85% of its food banks saw a rise in demand for individual and family food assistance or the demand remaining the same as its early pandemic numbers.1
Additionally, the price index for groceries at home rose by nearly 10% over the prior 12 months — the largest increase since April 1981, according to the Bureau of Labor statistics.2
"With such critical needs, PNC can play an important role by providing community organizations with the creative financing they need to build and expand their facilities and operations," says Gibson.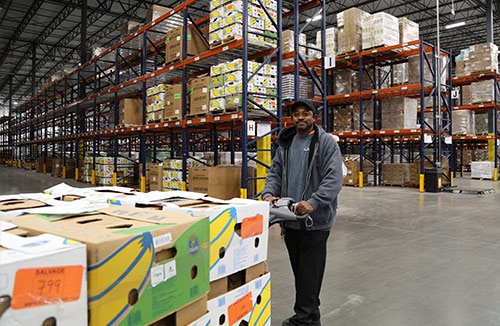 A staff member at the Atlanta Community Food Bank pushes a load of food inventory in the new 70,000 square-feet facility that nearly doubles the food bank's capacity and quadruples its fresh food distribution
The Atlanta Community Food Bank, part of the Feeding America network, recently built a new 345,000-square-foot facility to serve as its headquarters using $46 million in NMTC allocation from various community development partners, as well as $19 million in NMTC equity and $30 million in traditional financing from PNC. In addition to office space, the new facility includes a warehouse and distribution center serving 29 counties in Atlanta and North Georgia.
The construction period for the new facility created between 275 full-time jobs and 40 part-time jobs with construction workers being paid a living wage or higher.
The new facility nearly doubles the food bank's capacity and quadruples its fresh food distribution. The new facility also features about 70,000-square-feet of refrigerated and frozen storage area, more dock bays for distribution, bulk food processing facilities and enhanced volunteer-engagement facilities.
The food bank later received additional financing to accommodate increased food purchases and to support the salaries and benefits of employees hired to meet the demand for services, including $33 million in NMTC allocations from community development partners along with more than $9 million in NMTC equity from PNC.
"We opened in spring 2020 shortly after the pandemic hit," says Kyle Waide, president and CEO of the Atlanta Community Food Bank. "Despite the efforts of government food assistance programs and the charitable food network, too many of our neighbors were missing too many meals. Our new state-of-the-art warehouse and office complex along with our strategic initiatives will fuel our efforts to end hunger."
Waide says they estimated that families across their service area were missing nearly 140 million meals annually in 2015.
"Since then, we have been able to increase distribution and partially close the gap," he adds.
Providing Shelter
Just as rising costs have impacted the need for food banks, the demand for homeless shelters remains. More than half a million people currently experience homelessness in the United States.3
Bethany House Services, which serves the Greater Cincinnati area, is the largest family shelter in Hamilton County and serves 60% of the families experiencing homelessness.
The organization received $17 million in allocation and $6.8 million in equity, which is inclusive of PNC's investment of $4.442 million in tax credit equity and $2.36 million in bridge equity.
"By consolidating seven facilities, five of which are shelters, into one building, the new facility enables us to serve at least 100 additional families annually, allows us to improve access to a full-range of supportive services and provides shelter to those in need of special care for the trauma associated with being homeless – whether domestic abuse, stress from housing disruptions or other factors impacting a family's well-being," says Peg Dierkers, Bethany House Services chief executive officer. "More importantly, the new shelter provides on-site space for partner agencies and that improves access to a wide range of services including medical and mental healthcare and employment services – services crucial to our families."
Bethany House Services teaches the basic skills families need to contribute to the community and establish connections to the services needed after leaving the shelter.
We provide emergency assistance, so they do not become homeless again. PNC's financing is helping our community's most vulnerable children and families – those without a home – achieve housing stability and long-term self-sufficiency.
—Peg Dierkers, Bethany House Services chief executive officer
Early Pandemic Impact
Both Bethany House Services and the Atlanta Community Food Bank saw unprecedented adjustments for the populations they serve during the early part of the pandemic.
To meet the increased demand, the food bank conducted hundreds of mobile food pantries at pantry partners sites, schools, municipal centers and even large venues such as the Atlanta Motor Speedway.
"Within a few weeks of when the pandemic hit and businesses began to close and furlough employees, our website's 'Find Help' map experienced a 300% jump in searches. Our 'SMS Text for Help' system had nearly 4,000 inquiries in the first 30 days," Waide recalls. "At the height of the pandemic, we were distributing up to 60% more food each week than pre-pandemic volume. With the impact of inflation added, we are distributing 30-35% more than pre-pandemic."
Similarly for Bethany House Services, over 2,100 families called the regional hotline for help in 2020, but only 450 — just 21% — were able to receive shelter or program services. The organization also began offering services virtually to keep connection and meet the needs for individuals seeking employment and affordable housing in addition to caring for children.
"At the time we financed many of these projects, we couldn't have known the eventual impact the pandemic would have on our communities or on the economy," Gibson says. "We are proud to have been able to provide critical funding resources so these organizations can continue to do the great work that they are doing."
Read More About PNC's New Market Tax Credit Projects