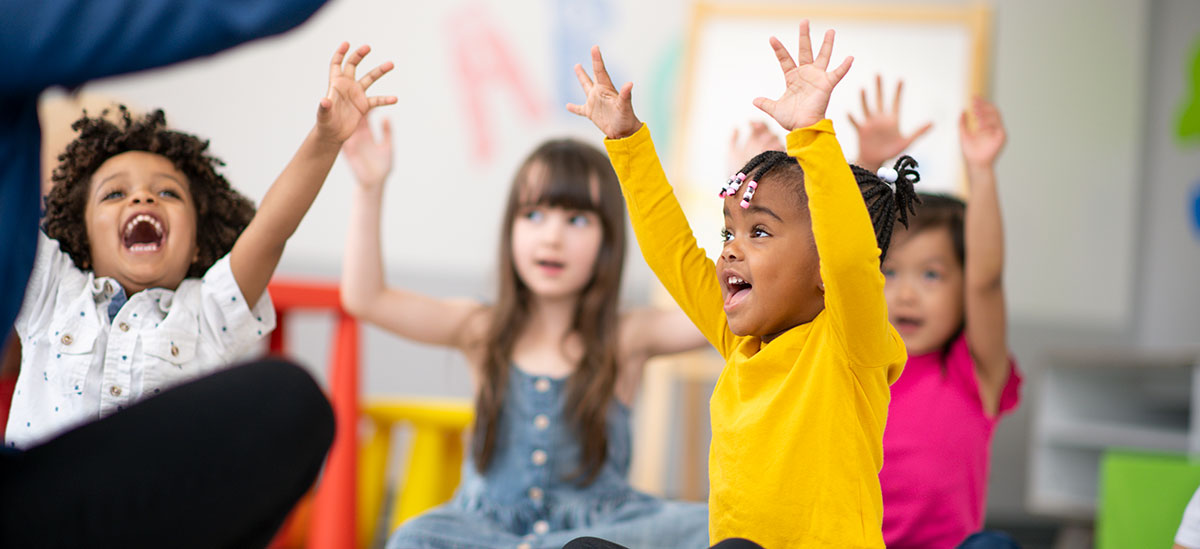 Research has shown that investing in high-quality early childhood education can generate as much as a 13% return on investment, delivering benefits that help businesses, communities and the people who live in them. 1
Those dollars can also have a domino effect, ultimately improving property values, providing cost savings for school systems as well as reducing crime rates and reliance on government assistance.
These are some of the reasons why PNC Grow Up Great, the company's signature philanthropic initiative, helps to instill a lifelong love of learning in our youngest children since 2004.

A Community Investment with Great Returns
A $500 million, multiyear, bilingual early childhood education initiative, PNC Grow Up Great has helped prepare children from birth through age 5 for success in school and life. More than 8 million children have been supported, particularly in underserved communities, since the initiative began 19 years ago.
As part of this initiative, bilingual lesson plans have been created in collaboration with renowned arts and science organizations. They are free to educators, parents and caregivers and can be found in the PNC Grow Up Great Lesson Center.
"Because we're bankers, not educators, from the start of PNC Grow Up Great we've worked with education experts at the local and national level, to develop resources and programs to support pre-K children, their families and their teachers," said Jeanine Fahnestock," senior vice president of PNC Bank and deputy executive director for PNC Grow Up Great. "This latest alliance with PBS KIDS is another great example of leveraging the expertise of the best of the best."
Support for Today's Teachers
The PNC Grow Up Great Lesson Center provides field-tested lesson plans that educators can immediately integrate into their schedules. In addition to enriching classroom activities, the plans facilitate two-way communication within the home so parents can enhance their children's education and children can share the compelling topics they're learning about with their parents, particularly those around arts and science.
Now those plans are getting even better.
Starting in 2021 and continuing through 2024, PNC has committed $750,000 in grants, teaming up with PBS KIDS to elevate selected lesson plans on PBS LearningMedia within its PNC Grow Up Great Lesson Center. More than 60 early childhood educators are actively involved in the continual development of 81 original lessons across seven PBS member stations. By Fall 2024, 118 lesson plans will be available from PBS KIDS on PBS LearningMedia.
Based on teacher feedback, selected lessons are broken into "bite-sized chunks." All include brief videos of PBS KIDS characters such as Elinor from Elinor Wonders Why, Daniel Tiger from Daniel Tiger's Neighborhood and Buddy from Dinosaur Train, exploring content related to the learning themes. For example, the original Fall Lesson Collection in the PNC Grow Up Great Lesson Center comprised 10 lessons. The Fall Changing Seasons [2]collection on PBS LearningMedia includes 19 lesson plans.2
These lesson plans focus on early science, math and art activities appropriate for each topic. They incorporate PBS KIDS video clips, games, extension activities, articles and crafts for classroom use along with resources to share with families.
What Teachers Have to Say
After her initial experience with the new plans, St. Louis, Missouri educator Molly Seiler (local PBS station Nine PBS, St. Louis, MO), reflected on the level of student engagement they encouraged. "Before participating in a lesson titled 'Changing Seasons, Rooting for Plants,' I was unsure what STEM integration in pre-K should look like," she said. "Now that I have this experience, I want to try more lessons for this coming school year. These lessons were exciting not only for my students, but for me as well. We had fun investigating and learning together. There was lots of laughter and excitement, which is what lessons should have."
Chau Tran (local PBS station WUCF, Orlando, FL) remarked, "I think this a great resource for those families and teachers that might not necessarily have the means they need to support children in their care. The program offers a plethora of accessible and free resources that more teachers need to know about."
Supporting Kids Who Can Change the World
Tawnya Heinsohn (local PBS station TPT, Elk River, MN) brings it home, "As my students engaged with some of their favorite PBS KIDS friends, they were able to channel their curiosity, formulate and test hypotheses, and think of creative solutions about the world around them. Our learners may be young, but Elinor, Curious George and Sid the Science Kid encourage them to be world changers."