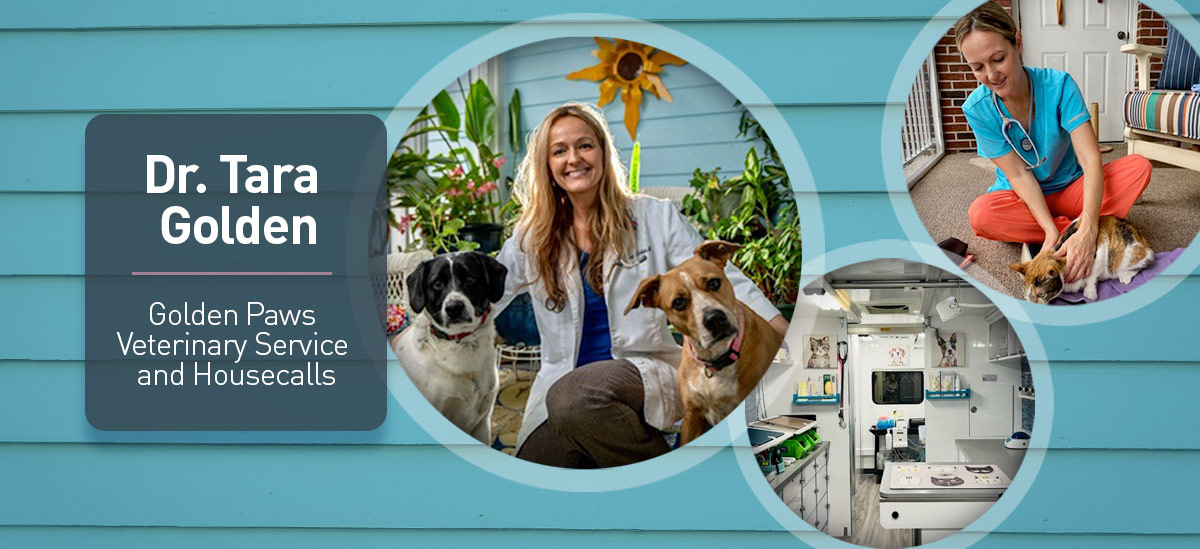 When Dr. Tara Golden, a longtime veterinarian, said her first word, she was speaking her future into existence. That word: Sikorsky.
"That was my family dog's name," she said. "He was around since my birth and lived all the way until my junior year of high school. He was very pivotal in my life."
Named after Igor Sikorsky, who designed and flew the first viable U.S. helicopter, Dr. Golden's family's dog was just the start of her love of animals.
Dr. Golden went from rescuing turtles and butterflies on the playground in preschool, to protecting ducks and other wildlife found on campus during her time in the Naval Academy in the late 90s.
Even during active duty in the U.S. Navy, Dr. Golden never stopped trying to rescue animals in need.
"When I went overseas to Qatar, I helped a local dog rescue that had been burned down," she recounted. "My crew mates and I helped supply their operation and assisted in their rebuild."
Mobilizing herself at every opportunity to rescue animals eventually resulted in Dr. Golden opening a mobile veterinary service in July of 2022. The practice, Golden Paws Veterinary Service and Housecalls,[1] is open to everyone in the Norfolk-Virginia Beach, Virginia area but specializes in helping pet owners at assisted living facilities. The vehicle that serves as her hospital, lovingly called the Mary Etna, was named after her two grandmothers, who also serve as the inspiration behind the clinic's main clientele.
Dr. Golden shared her unique story, her love of animals, how banking with PNC helped her start her fast-growing operation, and what she would say to other vets who are looking to become "mobile" as well.
Can You Describe the Path You Took to Becoming a Flight Officer in the U.S. Navy and Then a Veterinarian?
After I attended the Naval Academy, I sought permission to join flight school in 1998. Then after more than 10 years of flying, and almost 13 years of active duty, I transitioned to the reserves. I wanted to be in the reserves so I could have the time to go to vet school. When I went to the reserves, I was able to use the Post-9/11 GI Bill, which provides educational benefits for service members and veterans, to go veterinarian school at North Carolina State. I went there for four years, got my degree, passed my board, and worked in the private sector for a while after that.
What Helped You Start Your Business, and Do You Have Any Guidance for Veterinarians Who Want to Open Their Own Mobile Clinic?
First off, I interviewed several banks before I opened. PNC and my relationship manager, Pamela Walker, were crucial in helping me get my business off the ground. The bank's processes were by far the easiest from what I saw when I was choosing the right bank for me. It wasn't just about securing a good rate. They were helpful in explaining the overall loan process, providing advice on payroll and bookkeeping, and things of that nature. With PNC, they described in detail what each step meant, and how big the risk was up front and in the future. I also have to mention the customer service. I have a good relationship with my local branch. They ask me vet-related questions and showed interest in coming to see the clinic. It takes time to develop those relationships, but once you have that, you don't want to go anywhere else.
As far as advice to other veterinarians, tap into your local vet network. I've helped other area vets and their operations, and those places have been cheerleaders for me. They also let me use their facilities when I need them. It's nice to have that support from community vets. Also, everybody says to start slow and small. I started big, and that wasn't necessarily a bad thing. But I think it's good advice to start small, especially for a mobile vet doing house calls. Some of the more successful vets I've met have worked out of their cars for the first year while they're waiting for a larger vehicle like the Mary Etna.
What Made You Want to Follow the Model of a Mobile Veterinarian Clinic That Primarily Serves Pet Owners in Assisted Living Communities?
About four or five years ago, I was taking care of both my grandmas. I mostly took care of my maternal grandmother, Grandma Mary, who lived until she was 103. She was very close with dogs and cats during her life. Eventually, she had to go from my care to an assisted living facility. I found myself spending a lot of time with the people in that facility while visiting her. I got to see firsthand the impact that animals have on the senior community, as well as how challenging it can be for them to care for their animals. This is especially true for those who can't drive anymore. There were also people there who hadn't spoken or made gestures in years. One time, though, I brought my friend's miniature schnauzer, and that was the first time I saw this one particular person smile or laugh. She actually came up to me and held the dog for a little while. She experienced about five minutes of clarity just from holding this dog. Then, when I got deployed during the COVID pandemic, both of my grandmothers passed away. When I got back, I still visited that assisted living community and realized that COVID hit everyone hard, especially these seniors with pets. We don't have a lot of mobile vets in this area, so that's why I opened up my practice.
What Did Your Community Outreach Look like to Get the Word out about Your Business?
We're still doing a lot of outreach and, honestly, we could have grown a lot faster out of the gate. We're just trying to piece ourselves together strategically, so we don't get overwhelmed. We need to make sure we're good at our processes.  We do a lot of "Yappy Hours" where we meet with different communities that need us, and we provide thigs like "Pup Cups" with whipped cream and doggie ice cream, and doggy water bottles. We'll also spend several hours talking with people about their pets and concerns they may have. We also let them tour our vehicle and facilities. Another thing we do is present at forums, talking about how to improve mental health and well-being through animals.
You're Just Starting out on Your Own, but What Is Your Long-term Goal for Your Operation?
The goal is to always be mobile. A big piece of that is to have a fleet of vehicles with multiple veterinarians. There are various other clinics that do the same thing across the country. I've heard of organizations that have around 15 mobile clinics and serve different parts of their metro area and community. We also have a huge acute care crisis right now in this area, where we don't have enough emergency units, so it would be nice for us to have that type of service mobilized for our clients. We want to be able to help pick up some of the less traumatic cases so emergency vets can handle the workload of emergency surgeries and blood transfusions. We want to be able to help with that burden.