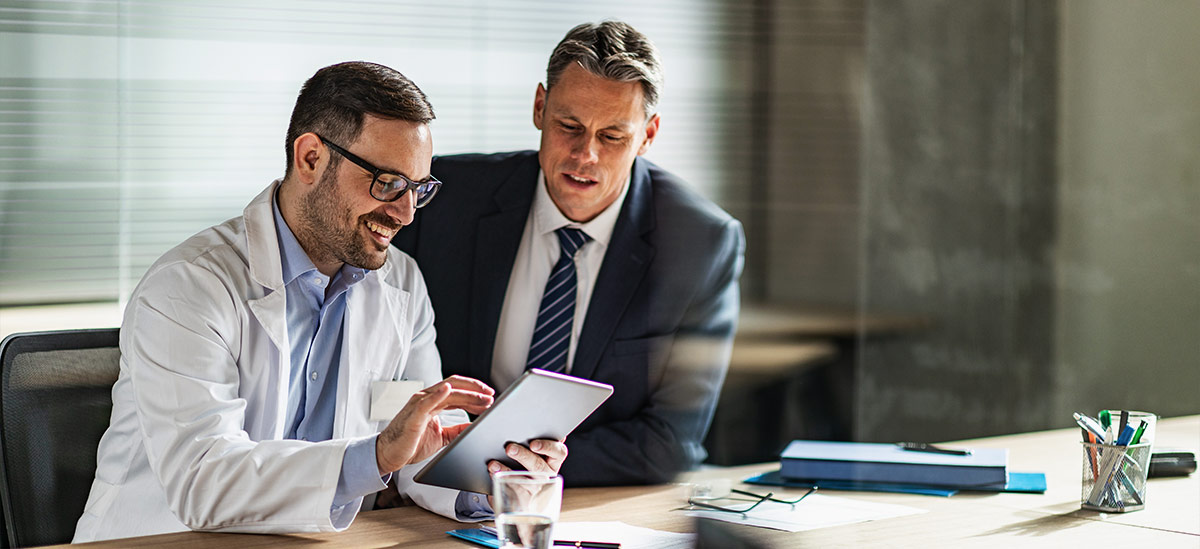 Dental practice acquisitions can be arduous, as you're tasked with finding a practice and reaching an agreement with a principal or retiring dentist. While practice ownership is an exciting career step, it makes sense if you're overwhelmed by the process and by securing financing. One recommendation is to take the time to find a bank not only focused on healthcare financing but also that will partner with you for the long-term success of your practice.
In fact, including your bank in conversations as early as possible is always a smart choice, they can help guide you through the entire loan process, as well as through establishing the necessary accounts and services to run an efficient practice operation.
A dentist's total debt in purchasing a practice can be significant, and you'll likely need to borrow money. Finding the right financing and banking partner is critical. The relationships you build now can last throughout your career.
Financing Your Dental Practice
Knowing how much to borrow is important — and a good reason to involve your banking partner in the conversation early. Many banks will finance 100% of the valuation, and some will fund a higher percentage based on collections and the type of loan you secure. One reason this is important is because in addition to borrowing for the purchase price, some dentists borrow additional funds to support cash flow needs as collections ramp up. Getting revenue flowing may take time, but expenses start immediately.
Your financing options may differ depending on whether you're buying out or buying into a practice. For example, in a buy-out, you may finance the entire acquisition. In a buy-in, you could use "sweat equity" or loans to fund the purchase.
Sweat equity refers to negotiating a reduced salary; the amount given up goes toward paying for your ownership in the practice. Even if your ownership is being acquired through a reduced salary, you may still want to obtain a loan to cover any capital expenses needed in the first year as well as obtaining a line of credit to cover any cash flow shortfalls. Your bank will walk you through your options and present flexible financing solutions to help your practice keep costs low and conserve cash.
What Banks May Ask You
Buying an existing practice comes with risks. For example, in a buy-out, the principal dentist isn't always retiring, and the reasons they're stepping away could pose concerns for the buyer. Attrition of staff and patients is a risk that always needs to be taken into account during an ownership transition.
When you locate a practice for sale, you should perform the necessary due diligence and establish a valuation for the practice so that you offer an appropriate amount without overpaying. During your diligence process, you will gain a better understanding of the practice's history, its financial performance, the patient mix, and the operations of the office.
These are all things your bank will want to review. Here are some areas you can expect your banking partner to review as part of your loan application:[1]
Current practice financials
Patient demographics
Principal dentist transition or handoff
Equipment
Staff information, benefits offered, and employment agreements
As part of the practice acquisition process, a discussion will take place about the office space where the practice is located. The buyer will either need to negotiate a lease with the landlord or potentially purchase the real estate if it is being offered for sale along with the practice. The buyer will need to negotiate a lease, assign and amend the lease, or potentially purchase the real estate if it is being offered for sale along with the practice.
What to Ask Potential Banks
Asking colleagues or your team of advisors for referrals is great place to start when looking for a bank with healthcare experience. When meeting with potential banking partners, asking the right questions can look like:
Does the bank have experience in dentistry?
What are the terms of the loan?
What are the rates, and are they fixed or variable?
What is the collateral for the loan?
Does the bank offer flexible payment options?
Based on their responses, you'll see whether the bank has the required expertise to properly structure the loan to meet the needs of your specific practice buy-out or buy-in.
Sharing Your Vision
Dentists are passionate about oral health. In the wide field of dentistry, there are many specialization opportunities. Plus, there's an ever-widening array of dental services and treatments available, from cosmetic services to Botox treatments and dermal fillers.[2]
While dental practices, by definition, provide dental services for patients, no two offices are identical. It can help to distill your big idea for your dental practice into a vision you can share with the principal dentist and the bank so everyone can help you work toward achieving your vision.
Acquiring a dental practice is a major step that can be made easier by teaming up with a bank specializing in and working shoulder-to-shoulder with healthcare practices. You'll get the financing, business solutions, and healthcare industry insights you need to start on solid footing with your newly acquired dental practice and a strong partnership for years to come as your practice grows and evolves.
Ready to learn more about dental practice acquisition? Check out the other articles in the series:  
Ins and Outs of a Dental Practice Acquisition: 2 Types of Ownership
Ins and Outs of a Dental Practice Acquisition: Finding a Practice for Sale
Ins and Outs of a Dental Practice Acquisition: Establishing Practice Value