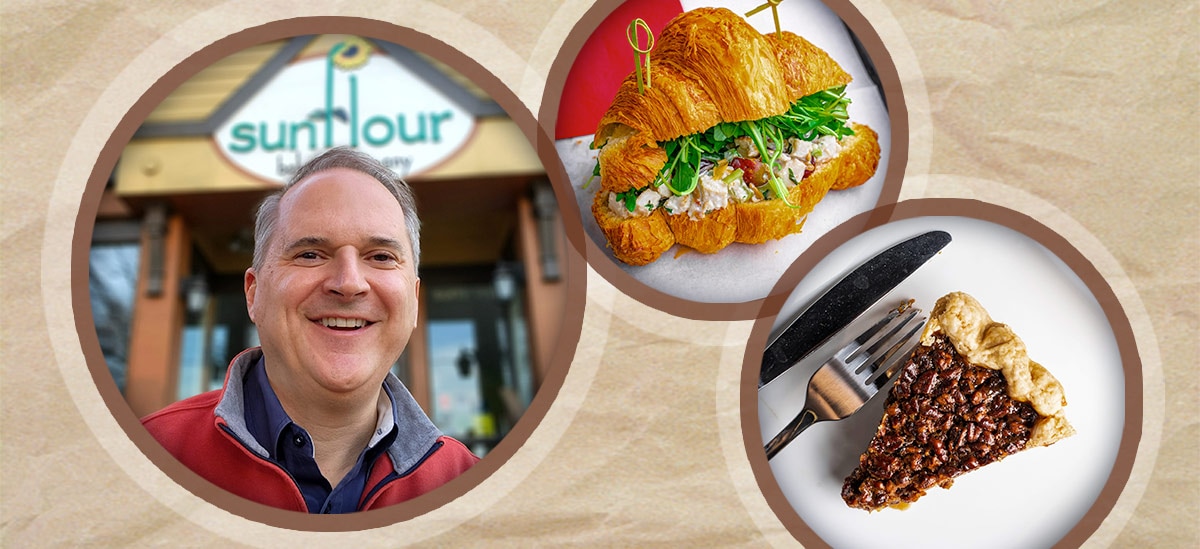 When it comes to simple, fresh comfort food that appeals to all corners of the palate, Sunflour Baking Company is on a tier of its own – and it's apparent before anyone takes their first bite. Scrolling through its vibrant website, customers are warmly met with inviting images of colorful cookies, creamy lattes, and carefully crafted sandwiches.
"If you're hungry just looking at our website, we're doing something right," said Jack Parrish, the company's owner.
It's not the only thing Parrish and his team are doing right, as they have impressively and continuously expanded their operation over the past nine years, enlisting the help of PNC and its suite of business banking services to "level up," according to Parrish. Sunflour Baking Company started in 2009 with one café, but in 2014, Parrish's Blue Gables Group bought the bakery and quickly began expanding to multiple locations across the Charlotte, North Carolina area.
The company's growth under Parrish and his team has even stretched beyond the walls of his shops, resulting in a new production facility with the help of PNC. According to Parrish, the bank and Charlotte-based Relationship Manager David Lewis helped him find and secure the right Small Business Administration (SBA) loan for the project's specific financing needs. Parrish's relationship with PNC takes on various forms, ranging from treasury management solutions to specialized business loans. With PNC's Main Street banking approach, Parrish's local PNC team can offer customized business solutions by accessing a wide array of services that only a national bank can offer.
"I didn't have to work with anyone in another location or in their corporate office," said Parrish. "My bankers are here in Charlotte, like us. The things that have helped us grow and succeed are tied to PNC. I really appreciate my relationship with them."
He shared thoughts about his relationship with the bank, his exciting short-term projects, and gives advice to owners who are navigating the restaurant business while striving for success.
Can you tell me more about your background, how you became Sunflour Baking Company's owner, and how you ended up with multiple locations almost ten years later?
For a time, I was a financial broker in Asia and Europe. But after I retired from that, I moved back to the U.S. and was looking for something to do in Charlotte. I didn't specifically consider going into the bakery business at first, but then Sunflour Baking Company was put up for sale in 2014. After I purchased it, we spent the first two years slowly figuring out how to run a bakery café. Then we expanded in 2016 to our second location. At that point, we not only had to run more than one café, but we also had to ensure that we kept both locations the same in terms of quality and taste. In 2017, we jumped to two more locations. In the restaurant business, there's a lot of turnover. Restaurants open and close frequently. So, the first four Sunflours were makeovers of previously owned bakery facilities. Now we're opening our fifth café with the help of PNC, and that'll be our first location that we've built from the ground up. Now we get to incorporate some fun structural things that we haven't been able to in other locations. We now have a formula figured out and we're really excited about our growth.
How do you keep your quality consistent with so many locations?
Certain aspects of the business call for innovation, but some need to be left alone. Our stuff is homemade and as traditional as you can get. There's nothing in our products you can't pronounce. It's simple and straightforward, and our customers appreciate that. People want simple food and that's what we offer. Also, we just completed a big production facility with the help of PNC. I was able to work with PNC and David to get a Small Business Administration (SBA) loan. That loan elevated Sunflour Baking Company to a new level. The facility is designed for centralized production, where we make certain menu items that are sent to other locations. Most of our items are made at our café locations, but some products, like croissants, are made centrally and then distributed because they require more equipment and more time. That site also handles items for our online store. We have a whole set of customers in Charlotte and outside of Charlotte that we're shipping to through online sales.
What do you think separates PNC from other institutions when it comes to small business banking?
We've dealt with a lot of institutions over the course of our operation. But I've had a good connection with the people at PNC. I just feel like the local team has a feel for the area's business landscape, they focus on our growth, they understand what we're trying to do and they help us with our goals. We've used a lot of PNC banking products and services, like financing vehicles for delivery vans, SBA loans, our point-of-sale (POS) system, and things like that. That SBA loan was a big deal for us. PNC and its local team have been instrumental in our company's growth and success in a number of ways.
You've experienced a lot of growth in a relatively short amount of time since you bought the company in 2014. Are you looking at new ways to grow beyond new Sunflour locations?
Since the pandemic, we've found ourselves doing a lot of delivery. Currently, I would say about 25% of our business comes from delivery orders. Half of what we make at Sunflour consists of breakfast and lunch items, including hot sandwiches. One of the things we did during the pandemic was figure out how to make our crunchy, delicious, toasty sandwiches stay that way after they've been sitting in a paper bag while being delivered. Hot sandwiches obviously have steam coming out of them, but when you wrap them up, that steam makes the bread soft and chewy. That's not what we're going for. We now have a patent coming for a sandwich wrap that we created that's micro perforated, with tiny holes in it that lets the steam out. So now, we wrap all our sandwiches in what we call Krunchy Wrap. When you open your hot sandwich delivery, all the steam that was in the sandwich - instead of staying inside the wrapper and making the bread soggy – has already been released. You still have a nice, toasty, crunchy sandwich.
What was the process behind making Krunchy Wrap?
We experimented with all kinds of things. At one point, we were using a hole puncher, like the type you use for regular paper. We were literally rolling out sandwich wrap and punching holes in it. But those holes were too big. Then we started using pins, like those people use to make patterns on fabric. We tried various ways of punching holes in paper to let the steam out, because it was clear that was what was making our bread soggy in delivery orders. So eventually, we looked into various industries for inspiration. We came across this perforated paper that the fabric industry uses and went that route. This was unclaimed territory in our industry. It sounds simple, but we needed to figure out a solution. I hope to eventually sell this to other businesses. I mean, a lot of sandwiches are made every day in the U.S.!
What advice can you give to small business owners on how to handle the highs and lows of the restaurant industry?
The restaurant business is very competitive. One thing I emphasize: do not be a one-item shop. The staff sometimes tells me we're making too many things, and I have to reign in my ambitions sometimes. But people like variety. They like new things. Your restaurant can have its staples, but you also have to put in some seasonal or improved items. I'd also say you have to have different ways for customers to purchase your product. I'm talking about walk-in, delivery, wholesale, and shipping. That's important. Through it all, you can be successful if you are transparent with your customers, manage the industry's complexity and keep people interested.