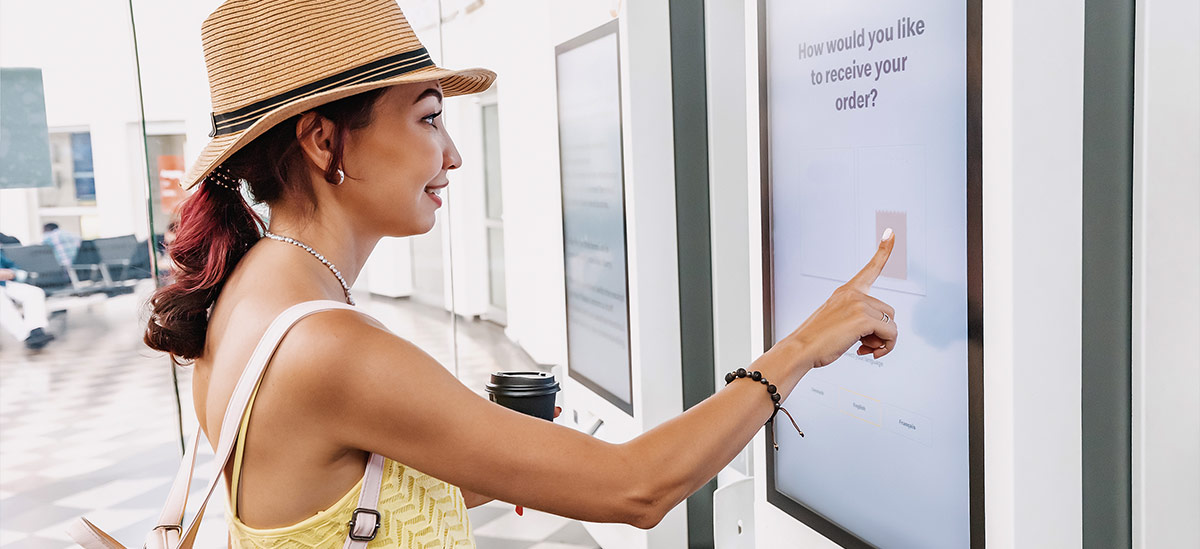 Restaurants pride themselves on being a "high-touch" operation, with an emphasis on greeting guests by name, creating special menu offerings and experiences and fostering a hospitable ambiance that entices customers to return.
Yet as restaurant operators grapple with a host of pressures – from labor shortages to inflationary prices to supply chain hiccups – increasingly they are exploring the power of automation to optimize processes and improve customer interactions. Small businesses need to find innovative ways to stay competitive and increase productivity in the front and back of the house, and technology solutions may be the answer. In fact the National Restaurant Association's "2023 State of the Restaurant Industry" report found that 40% of restaurant operators intend to invest in equipment or technology.[1]
However, even small business owners who understand the potential advantages may find implementation daunting. If you've thought about upgrading your technology stack to embrace the efficiency of technology, here are six steps to streamline the journey.
1. Evaluate existing processes and determine where automation would yield the highest value.
One reason digital transformation seems so overwhelming is the sheer number of places you could automate – from inventory management software and online ordering platforms to analyzing data and eliminating manual tasks.
The key is to assess current operations and pain points to determine which areas would benefit most. For example, if you have a wide-ranging menu where guests frequently request substitutions, customizing orders via a mobile device or virtual kiosk can enhance customer satisfaction and ease employee stress.
There are many less-obvious ways you can use automation to minimize costs and increase staff retention, notes Daymion Phelps, vice president of sales forLinga, which offers restaurateurs a way to leverage technology to streamline their operations, increase revenue and improve customer experiences.
During a recent webcast she explained that food cost and inventory control modules had traditionally been implemented less frequently than other software options, despite their potential. "Today they're getting well-deserved recognition and use, and are being well-leveraged to monitor and control costs," she says, adding that she's seeing the same keen eye placed on scheduling and payroll systems, which can help with the entire employee management workflow from onboarding to overall retention.
2. Conduct research on appropriate technology solutions.
After identifying your priorities, focus on relevant solutions, ideally in an end-to-end system designed specifically with small business restaurant needs in mind and with the ability to scale as your needs and comfort level grow.
For example, Linga, the first processor-agnostic, cloud-based POS system designed specifically for the hospitality industry, is frequently evolving to add new functionalities, such as online ordering, payments, QR code-based menus and virtual kiosks, to remain one of the most sophisticated restaurant operating systems on the market.
As you begin your research, compare systems online then ask fellow small restaurant owners to share the pros and cons they've found within their system. Focus on elements such as overall ease of use, frictionless digital experiences, total cost of ownership and scalability.
3. Explore funding alternatives.
Cost is always a critical factor when making a purchase as significant as technology. A key consideration is making sure you understand all the details of "total cost of ownership." In other words, don't just weigh the upfront investment; include ongoing maintenance fees associated with the technology that can impact your cash flow. While you aim to eventually increase efficiency and profitability, remember that realizing the return on investment may not be immediate.
Fortunately there are financial solutions available to ease any cash crunch. For example, your PNC small business banker can help you assess the relevance and discuss the short- and long-term effects of various financing sources. Popular options include credit cards that come with a host of additional rewards; lines of credit, which offer flexibility and expedited credit decisions; and term loans, including unsecured ones, which may allow you to amortize the initial cost expense over a period of time to conserve cash.
Your banker can walk through these choices, focusing on your specific financial situation and goals to identify the funding preference that's right for you.
4. Interview vendors and find one who aligns with your business objectives.
Once you've done your online research and have a handle on your funding parameters, it's time to talk with your top supplier choices. Some aspects to consider are:
Their knowledge of the restaurant space: While some systems are industry-agnostic, others are designed specifically for the hospitality space. Linga, for example, can even adapt to different restaurant formats, from full-service restaurants to those that focus on specialties like pizza or bubble tea.
Customization options: As you determine the optimum tools for your restaurant, look for a system that allows you to add functionality as needed, along with integration capabilities to leverage existing systems. "To drive optimization, [restaurants are] looking for more from their current solutions, whether it's using more components of the software we already own or adding modules to existing platforms," Phelps explained.
Robust training and customer service practices: Because a system is only as good as its user experience, look for a supplier who offers adequate training so your team can navigate the various features with a minimal learning curve. You also want your partner to be responsive and readily available to guide you through concerns as they arise.
5. Communicate changes to customers, if necessary.
As you automate your restaurant, there will likely be new processes where customers will become more involved, such as scanning their own loyalty card or customizing their meal on a kiosk. Take time to convey the benefits the system will add, from increased convenience in ordering and paying for meals to reducing wait times and ensuring accuracy. Stress that the goal is to elevate service and quality and assure them your staff is equipped to answer questions and assist as they become familiar with your new procedures.
6. Monitor and update as needed.
Automating your operations will be an ongoing process, which is why it's vital to choose a supplier who stays current on emerging technologies and trends and therefore is primed to progress as you are.
Many restaurant owners start in one key area, then gradually expand to other features. By leveraging data analytics tools in your systems, you can gain insights into sales, customer preferences and operational performance, then utilize these reports to make informed decisions and identify areas for improvement.
An important part of deciding when and how to scale is communicating with staff to ensure the systems and processes are adding to their efficiency. When you find pain points, you can turn to your supplier for advice and best practices to overcome them and empower your associates.
At this point, you might want to revisit your finances to see if you need another infusion of capital to finance additional systems. Ideally you're tracking your return on your investment so you can predict how additional technology will boost your profitability even more.
Are you ready to reap the benefits of automation?
The restaurant business has never been easy, but small restaurant owners relish their role in helping diners celebrate a special occasion or enjoy a signature dish with family and friends. By taking proactive steps to automate your operations, you can effectively optimize routine, time-intensive tasks, which frees up availability to provide the engagement that keeps diners coming through the door.
For more information, check out PNC's Solutions for Retail Businesses & Restaurants.