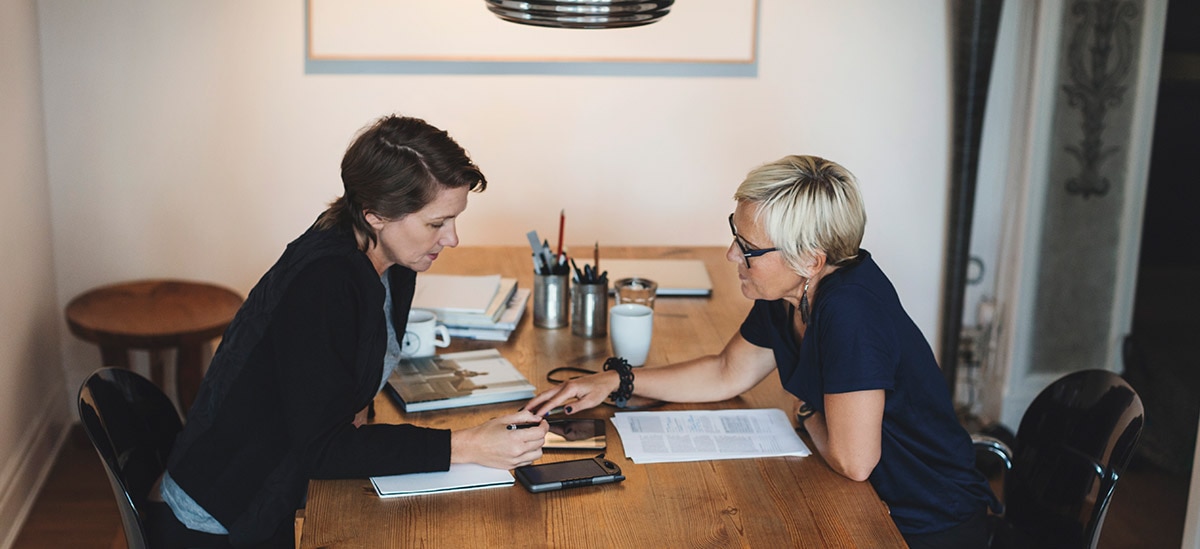 Being your own boss blurs the lines between work and personal life. But when it comes to finances, setting clear boundaries puts you in greater control — and simply makes life easier. Still not convinced? Consider these three main advantages to keeping business and personal finances separate. Then, quickly get yourself to the bank to set it all up.
Better Tracking
Lisa is an interior designer with a home office. Her whiteboard shows all her tasks for today, from placing a drapery order to enrolling her daughter in swim lessons. Unfortunately, she just used the same credit card to pay for both. When her statement comes, she'll need to do extra work to sort out reimbursable business expenses from personal spending.
If Lisa gets a business credit card, it will be easier for her to track what she needs to bill back to her clients. Many credit cards offer online statements that track and categorize purchases for easier reporting. Lisa also can take advantage of credit card rewards that might include cash back, points or travel. And she will be establishing credit in the name of her business. In the future this will help her borrow money to expand her business, or access a business line of credit to cover major expenses, like furnishing a 10-room bed and breakfast.
Lisa just got her credit card bill, and she's paid off the balance using her personal checking account. You see where this is headed, right? Now it's going to be even tougher to track where her money went. Opening a business checking account (and ideally a business savings account, too) will get Lisa one step closer to being financially organized. Which leads us to...
Tax Time Efficiency and Accuracy
Martinez is a drywall installer with 20 years of experience. He doesn't sweat it during tax time, because he can easily pull up his expenses and income over the last year.
During his first year leading his own crew, he wasn't as organized. Martinez provided his accountant with a large box of receipts, forms and cancelled checks, hoping she would figure it all out. She did — and charged him 50 percent more than usual because of the extra time it took to prepare his filing. That overage could have bought him a couple extra drywall lifters, or a month's worth of gas for his truck.
Now, Martinez uses accounting software and online tools from his bank to create detailed reports he can share with his accountant. This saves the accountant time and allows them to work together to accurately project his income, expenses, and taxes for next year. As a small business, Martinez must prepay quarterly estimated federal and state taxes. Because he has a couple of full-time employees and also hires seasonal help, he is responsible for payroll taxes, too. The more accurate the tax projections are, the more money Martinez can keep throughout the year to cover his expenses, save for unexpected costs, and invest in his retirement. He figures that's better than overpaying throughout the year, then waiting to get his own money back later in the form of a tax return.
Transparency
Amara is a wiz at developing mobile apps people really want. What started as a side hustle in college rapidly grew into a full-blown business, and Amara soon discovered she needed both a business partner and a bookkeeper so she could turn her attention to strategic business planning and tech development.
When she approached an old college friend about becoming her business partner, he asked a lot of questions about her finances. He wanted to be sure that her business was financially sound, had growth potential, and would be a good return on his investment. Since Amara had been tracking her finances from the very beginning, it was all there for him to see.
Later, the pair brought on a bookkeeper, and applied for a business loan to cover their growing working capital needs as they leased office space and hired three developers and a marketing professional. The bookkeeper could immediately jump right in because all the financials were organized and transparent. It was also easier to get the bank loan for the same reasons.
For help separating your business finances from your personal finances, stop in your nearest PNC branch, or call PNC 1-877-287-2654 to schedule time with a Business Banker.