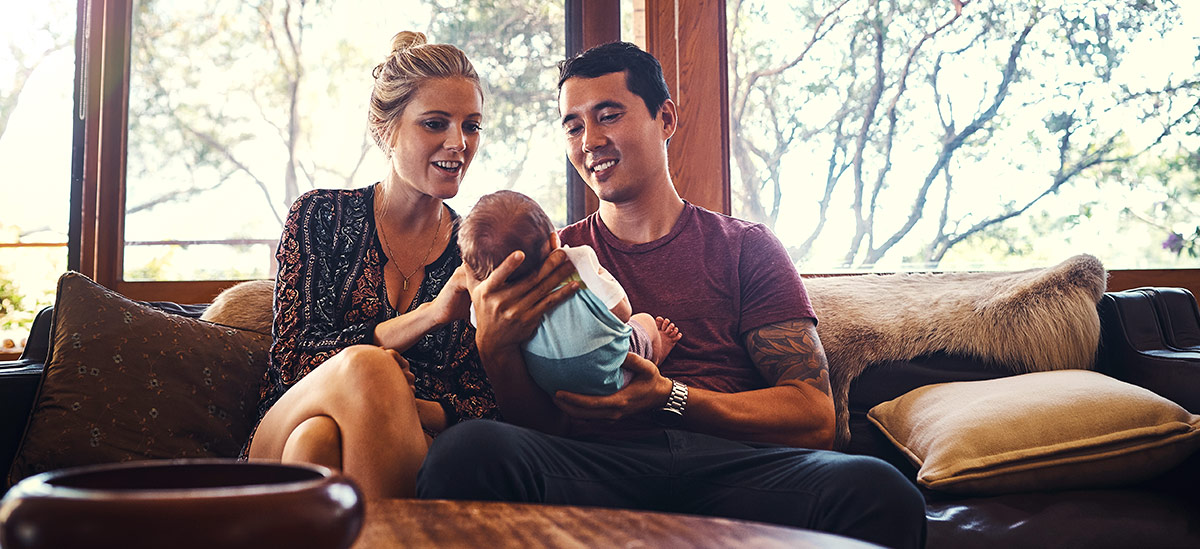 Having a baby can bring significant lifestyle changes, and amidst the excitement of planning for a new arrival, it's essential to consider what it means for your finances.
Creating a financial game plan that covers things like budgeting, saving, and managing debt can help you prepare for parenthood. This checklist outlines the more critical financial tasks new parents should be ready to tackle.
1. Plan your budget
You may have a regular household budget that guides your spending each month, but having a baby means making a few adjustments.
For example, you might be adding spending categories to cover things like:
Clothing, blankets and baby accessories
Diapers and wipes
Bottles and formula if you plan to bottle-feed
Child care
At the same time, there might be changes to your regular budget categories.
Perhaps you spend more on groceries and less on dining out once the baby is born. Or, you might pay more in co-pays or health insurance premiums if you're using a pediatrician that's outside your network or switching from individual coverage to a family plan.
You should also consider how your income might be affected by your baby's arrival. Maybe both you and your partner work, but one of you wants or needs to stay home with the baby full-time. Losing a part of your income might require you to trim down nonessential spending to make your baby budget work.
2. Reevaluate your savings
Having savings to cover emergencies is crucial at any time, but especially once you become a parent. If your child gets sick, your emergency fund can help make up for any lost income if you have to take time off from work.
Once you've reviewed your budget, look at what you have set aside for rainy days. Most experts recommend having three to six months' worth of expenses saved for emergencies. If you don't have that yet, don't panic.
Start by choosing a set dollar amount to save for each person in your family, such as $1,000. So if that's you and your partner, plus baby, your immediate savings goal would be $3,000.
Go over your budget again before the baby arrives. See how much you could save from your monthly income before the baby arrives. Break down the amount you can save per paycheck, then automate a direct deposit into your savings each payday. If you're a PNC customer, this is something you can easily set up with PNC Virtual Wallet(R). You can increase your savings by adding extra money whenever possible, such as a bonus from work, rebates, or refunds or any cash gifts you receive for the baby.
3. Take advantage of what's on tap at work
Your employer may offer benefits or perks that can help with financial planning for a new baby. For example, you might be able to tap into paid leave benefits or short-term disability benefits to help make up for any missing paychecks while you're taking time off after the birth. Or you may be able to use your Health Savings Account or Flexible Spending Account to cover some of your baby's first-year medical costs. The cost of giving birth alone can potentially run from $5,000 to $11,000, depending on where you live.
Once the baby is born, you could also look into other benefits your company might offer that are child-focused. Some employers offer workers the opportunity to buy savings bonds for college at a discount. Others may provide matching contributions to a 529 college savings account, similar to a 401(k) match.
Talking to your company's human resources department well before the baby is due can help you take advantage of any available benefits. In the case of a 529 match, you don't have to wait until the baby is born either. You can set up a 529 account with yourself or your spouse listed as the beneficiary to snag matching contributions, then make your child the beneficiary later.
4. Think about long-term savings
Getting a head start on college can work in your favor, but you might also have retirement saving on your mind. If you've opened a 529 college savings account or a Coverdell Savings Account for your child, automating contributions can help you grow that money over the long-term. Once you have those contributions set up, you can turn your focus to retirement.
First, look at what you're putting into your 401(k) or a similar plan at work.
It's worthwhile to contribute at least enough to qualify for the full company match is offered, as this is free money you can use to save for retirement. If you're falling short of that mark, check your budget once again to see if it's feasible to boost your contribution rate.
Second, look at other opportunities to save, such as an individual retirement account. You can add money to an IRA on top of what you're saving at work, or in place of a 401(k) if your employer doesn't offer one. PNC, for instance, offers both traditional and Roth IRAs, and it's easy to set up automatic contributions from your checking account.
Once the baby's born and you start getting used to your new financial reality, it's time to think about other needs you might want to fill, besides retirement, emergency savings, or college savings. For example, you might want to get some life insurance if you don't have any. And creating a plan for paying off debt can put more money back into your budget as your family grows. These are all things that a financial advisor can help you plan. If you're ready to talk about your bigger financial picture as you anticipate becoming a parent, contact PNC today to schedule an appointment with a financial advisor.