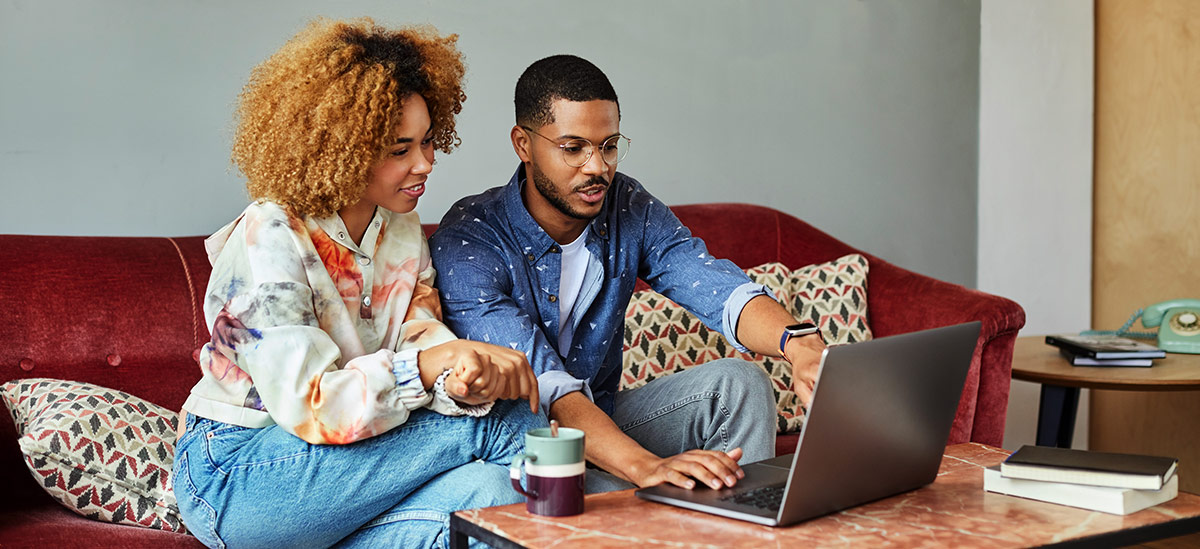 Has the thought of driving to the bank, waiting in line, and wrestling with paperwork been holding you back from opening a consumer bank account? If so, you're in luck.
In today's digital world, completing the entire process online is often possible, eliminating the need to visit a bank branch. 
Whether you're planning on opening an account for the first time or thinking about switching banks, understanding exactly how to open a bank account online can make the process simple and stress-free. Here's what you need to know.
Step 1: Choose Your Bank Account Type
The first step in opening an online bank account is to decide on the type of account you want. Do you need a checking account for everyday expenses, a savings account to build wealth, or both?
Understanding the difference between checking and savings accounts can help with choosing the right option for your needs.
For example, a checking account makes paying bills and everyday expenses easy, while a savings account pays you with interest that can help your savings grow. If you're looking to build a strong financial cushion, a savings account could be ideal, but if everyday transactions are a primary concern, a checking account is likely the best option.
If you're considering both, an option like PNC's Virtual Wallet® offers a combination of a primary checking account for spending, a secondary checking account for short-term planning, and savings account for long-term growth.
Next, determine whether you need an individual or a joint account. Individual accounts are owned by a single person with full control, while joint accounts are co-owned, often with family members or significant others. While individual accounts ensure autonomy, joint accounts can be beneficial for shared expenses or saving for common goals and may offer a practical solution for managing household finances.
The benefits of checking and savings accounts can vary from bank to bank, so review factors like minimum deposit requirement, monthly maintenance fee waiver requirements, and ATMs fees prior to applying.
No matter which type of account you choose, it's critical to ensure it's Federal Deposit Insurance Corporation (FDIC) insured. This means that the FDIC protects the account's deposits (up to $250,000 per depositor)[1].
Step 2: Gather Your Personal Information
Gathering the necessary documents and information before getting started can help ensure you can complete the account opening in a single sitting. Most banks require the following information when applying:
Your Social Security number
Date of birth
A U.S. residential address
A valid U.S. driver's license, state-issued ID, or Military ID 
If you're opening a joint account, you'll need this information for both account holders. Also, if you're a minor, you may not be able to set up an account online. For example, at PNC, customers under age 16 must visit a branch with a parent or guardian to apply (and all potential customers under 18 must have a parent or guardian cosign for the account).
Step 3: Complete Your Application
Each financial institution has its own unique account application; however, the process is typically similar. Generally, when opening an account online, you can expect a clear, simple form that explains each step with easy-to-understand prompts.
It's crucial to correctly enter all the data, as the bank needs this information to verify your identity. You should be able to review the application for accuracy before submitting it, so pause and ensure all details are correct before submitting the application. This step not only secures your personal data but can also help prevent delays in your account opening.
While most online bank applications can be completed entirely online, there may be some situations where additional verification is required.
For example, you may need to sign a form agreeing to the bank's terms and conditions or physically sign a signature card at a branch location. If additional steps are needed, you can expect the bank to communicate these requirements clearly as you go through the application process, ensuring a seamless process.
Step 4: Fund Your Account
The easiest option is often to transfer funds from an existing account. This can be done online using the account number and routing number of the existing account. This information can be found on your check. If the bank or credit union offers both online and in-person banking, you may be able to make a deposit using mobile deposit, ATM, or at a physical branch. Some institutions may also allow you to mail a check or money order. Be sure to check with the bank to confirm your options and any transfer or deposit limits before you attempt to move funds.
It may take a few days for the deposit to be processed and show up in your account. Once it does, you're all set. The new bank account is open and ready for you to start paying bills, saving for the future, or managing everyday spending.
Regardless of how you choose to add funds to your account, it is a highly important step to ensure it remains open and active — some banks will close accounts if they are not funded within a certain timeframe.
Step 5: Monitor and Maintain Your Account
Opening a bank account online may be the first step to successfully managing your finances, but it doesn't stop there. Be sure to make use of your bank's online platforms and mobile apps for real-time access and notifications about your accounts.
These tools allow you to easily track expenses, pay bills, and set up automated deposits or payments, ensuring you stay organized and in control of your financial life. 
By staying engaged with your bank's digital platforms, you can stay ahead of your finances, identifying any irregularities and addressing them immediately.
Get Started With Online Banking
Opening a bank account online with PNC Bank is simple and straightforward. With a range of account options to choose from, it's easy to find a solution that meets your needs. Take the first step towards financial empowerment today and open a bank account online with PNC. Our financial professionals are here to guide you every step of the way.