Toggle nav
Login
Sign on to Online Banking
---
Personal and Small Business:
---
Personal and Small Business:
---
Corporate and Institutional:
Determining Tier 1 or Tier 2 Status

PNC Supplier Diversity Program relies on a tiered approach to make sure diverse suppliers have the maximum amount of opportunities by participating in the program. The "Tier" is relative to the Purchaser.
PNC views a Tier 1 Supplier as a supplier that invoices PNC for goods and services rendered directly.

A Tier 2 supplier is a supplier that invoices the Tier 1 supplier for goods and services rendered.
When a PNC Tier 1 supplier is a non-diverse business, PNC encourages its non-diverse Tier 1 supplier to subcontract or work with diverse suppliers. The spend that the Tier 1 supplier has with diverse suppliers in that regard is considered as Tier 2 diverse spend.
PNC's Tier 2 Definition
The concepts of "Tier 1", "Tier 2" are widely known in Supplier Diversity field, and many companies track and report on Tier 2 diverse spend, including direct and indirect spend. However, each company might define direct and indirect Tier 2 diverse spend differently.
At PNC, we consider direct spend and indirect spend as:
Direct Spend
This is the amount that PNC spends with a Tier 2 diverse supplier through PNC's prime supplier for services/products that directly supports PNC's business needs. These purchases must be able to be directly traced back to a specific agreement between PNC and some association.
One example of Tier 2 direct spending would be a large technology firm (aka prime supplier) contracting with a diverse-owned firm (aka Tier 2 diverse supplier) to provide IT staff augmentation services to PNC (in support of the contract between PNC and the large technology company).
A second example would be a PNC general contractor (aka prime supplier) outsourcing to a diverse mill work company (aka Tier 2 diverse supplier) in order to provide check desks to a new PNC Branch.
Indirect Spend
This is the amount that PNC's prime suppliers spend with diverse suppliers in support of the prime supplier's overall operations and business. This spend is not related to a specific PNC's business need, but indirectly contributes to the business that prime supplier has with PNC. A company can have both direct and indirect diversity spend.

One example of Tier 2 indirect spend would be a PNC prime supplier with $1,000,000 in total sale and $50,000 in total spend with diverse suppliers. This prime supplier has sold a total $200,000 (20%) worth of goods and services to PNC. In this case, PNC considers 20% of the prime supplier's diversity spend as Tier 2 indirect diverse spend. Therefore, the indirect diverse spend that the prime supplier reports to PNC is 20% of $50,000 diversity spend, which is $10,000.
Such calculations are automated within our reporting system once the required information is submitted.
Registration as a Reporting Prime
Step 1: Go to the PNC Supplier Diversity Portal
Step 2: Select "Register as a reporting prime"
Step 3: Enter all required information and click "Submit" button to complete the registration
Once registered, you will receive an email confirmation and you may begin reporting your diversity spend on a monthly (preferred) or quarterly basis.

If you have any questions or comments about the PNC Tier 2 Program or the reporting process, submit our Supplier Contact Form to contact us.
Our diverse suppliers offer varying perspectives, unique skills and innovative thinking that allow us to drive value, reduce costs and help PNC remain competitive.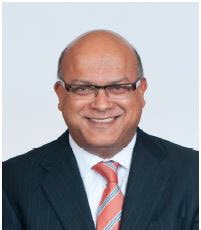 Viju Verghis
Chief Financial Officer, Shared Services Finance and Enterprise Spend
Important Legal Disclosures & Information
It is important to note that registering with PNC's Supplier Diversity Program does not:
Guarantee you a PNC contract
Certify or designate any company as preferred or approved supplier
Obligate PNC to solicit a sourcing opportunity
Indicate that registered supplier will be considered or selected to participate in procurement opportunities