Toggle nav
Login
Sign on to Online Banking
---
Personal and Small Business:
---
Personal and Small Business:
---
Corporate and Institutional:
We're Offering a Helping Hand in Our Neighborhoods
We take our relationships with community organizations seriously. Our Community Development Banking group is comprised of 80+ dedicated employees who work to boost the quality of life in low and moderate-income neighborhoods through financial education, consumer products, community development lending, investing and economic development.

Through leadership, technical know-how, strategic investments, community development loans and employee volunteerism, PNC is helping to build strong communities and create financial opportunities for individuals, families and businesses alike. At PNC, we're committed to affordable housing, community service, neighborhood revitalization and economic development.
Our community development banking team also works to align community organizations with PNC Foundation grants and Charitable Sponsorships in order to help bring their vibrant visions to life.
Learn More: PNC Foundation » | Learn More: PNC Charitable Sponsorships »
The strength of our company is largely dependent upon the strength of the communities where our customers and our employees live and work. That's why our company and our employees invest time, energy and resources to support efforts that improve quality of life and bring economic and cultural vibrancy to the communities where we operate.
Bill Demchak, PNC Chairman, President & Chief Executive Officer
Our Lending, Investing & Banking Services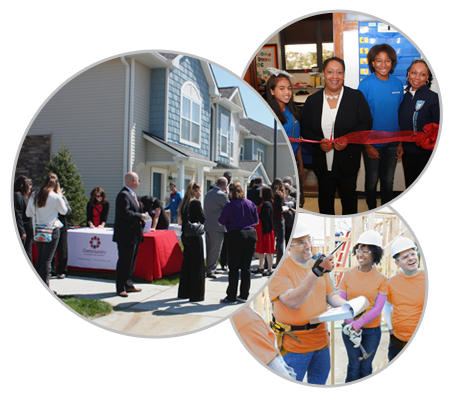 Driving Affordable Housing Forward
PNC provides financing to public and private developers to build and rehabilitate affordable rental and for-sale housing.

Reinvigorating Community Facilities
PNC assists nonprofit organizations with financing to upgrade their operations and provide a range of investments and alternative lending services.

Loans & Investments
For those who dream of building a better community, we respond with financing solutions that meet your needs.
We provide loans and investments to parties that develop and build affordable housing and community facilities. These parties include community development financial institutions, community development organizations, for-profit developers, faith-based organizations and any group serving low and moderate-income individuals and communities. We can also assist groups in working with government agencies and locating other sources for technical, financial or investment support.
View examples of recent support »
Our innovative lending and investment products include:
Traditional real estate lending with flexible terms
Lines of credit to nonprofit organizations for housing acquisition and rehabilitation

Debt associated with various tax credit programs

Tax-exempt bond financing
Various state and federal tax credit programs
Community development credit union deposits
Letters of credit for bond financing
Our Portfolio Includes:
$221 M+
in Loans & Investments
to 71 Community Development Financial Institution Partners

in 2016, We Provided:
$189 M+
in New Direct Community Development Loans& Investments
Supporting Affordable Housing, Community Development and Revitalization and Economic Development

Our Foundation Checking is available to customers opening new accounts that are entering or re-establishing themselves in the banking system. To become eligible for Foundation Checking, customers must first take our Foundations of Money Management online course. To learn more, please speak with one of our banking representatives.
PNC SmartAccess®
PNC SmartAccess is our prepaid Visa® card offering, which enables our customers to securely, easily access and manage their money. The card lets our customers deposit money, make purchases, pay bills, get cash and more.
Mortgages
PNC Mortgage offers a full range of products to help make the dream of homeownership real, with special programs for first-time and low-moderate income buyers.[1]
Savings & VITA Support Programs

PNC School Bank is a youth savings program grounded in a school-branch alliance that helps children build savings accounts with integrated financial education and an introduction to banking careers. PNC also supports the administration of Individual Development Account (IDA) programs offered by non-profit organizations to help low and moderate income families achieve savings to buy a first home or attend school. Through an alliance with the IRS, PNC offers prepaid Visa debit cards, check cashing and financial education to clients of free Volunteer Income Tax Assistance (VITA) sites.
Connect with us to learn more »
Small Business Loans

PNC Business Banking offers a variety of lending solutions to small businesses, including those in low to moderate income neighborhoods.
ABLEnow®
An Achieving a Better Life Experience (ABLE) account is a tax-advantaged savings account for individuals with disabilities, providing a new way to save, invest, and pay for qualified disability expenses. In most cases, eligible individuals can save without losing eligibility for certain means-tested benefit programs like Medicaid and Supplemental Security Income (SSI).
The ABLEnow program is offered by the Virginia College Savings Plan and PNC Bank supports the program in its role as Custodian.
Financial Education
Building a Stronger Foundation
We believe every decision is a financial decision, and our mission is to give you the confidence, information and tools you need to make informed financial decisions that help you achieve your goals. That's why financial education is a key part of our commitment to our customers and the communities we serve. Whether you're getting started for the first time or want to refresh your skills, we can help you discover how to manage your finances and future.
Live Workshops: Throughout our service areas, PNC's trained professionals provide free financial education seminars on topics like building good credit, financing a home, raising money-smart kids and more. Many of these seminars are available in both English and Spanish.View Our Catalogue of Seminars & Learn More

In 2016, We Held:
1,417
Financial Education Classes

Reaching More Than:
24,776
Individuals

PNC Achievement Sessions is an online series of videos that are practical sessions taught by real-world experts on financial topics that matter to you. From basics like saving and spending to more complicated topics like investing and retirement, we've got you covered. Visit PNC Achievement Sessions

Foundations of Money Management is an online course, available in both English and Spanish. Users learn financial essentials like how to deposit a check and use an ATM. The certificate of completion ensures eligibility for our Foundation Checking account, and is also recommended for customers interested in a PNC SmartAccess card. Register for this course
Important Legal Disclosures & Information
PNC is a registered service mark of The PNC Financial Services Group, Inc. ("PNC"). All loans are provided by PNC Bank, National Association, a subsidiary of PNC, and are subject to credit approval and property appraisal.
Bank deposit, lending products and services are provided by PNC Bank, National Association, a wholly owned subsidiary of PNC and member FDIC.

PNC Bank, National Association. Member FDIC.