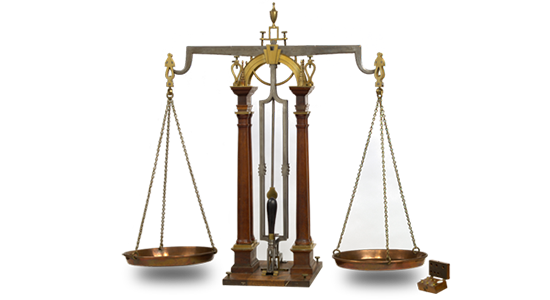 Scale / c. 1820
The National Bank of Fredericksburg
Although they preferred coins to paper notes, banks nonetheless exercised caution in accepting coins for payment. This scale was used at the Farmers' Bank to measure the weight of gold and silver. After the end of the Civil War, The National Bank of Fredericksburg purchased the remaining assets of the failed Farmers' Bank, including this scale.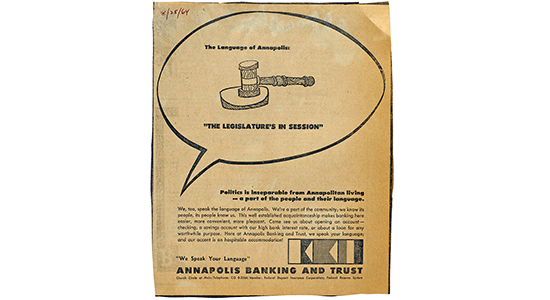 Advertisement / 1964
Annapolis Banking and Trust
After World War II, Annapolis Banking and Trust increased its services to consumers, particularly in the form of mortgages and installment loans. Advertisements such as this helped promote these services.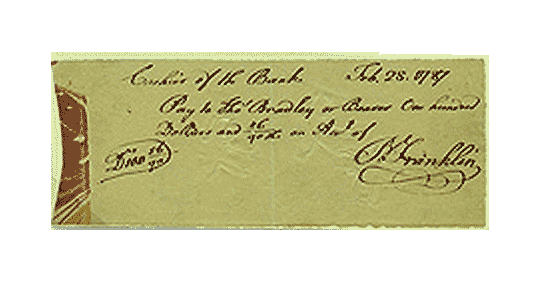 Benjamin Franklin Check / 1787

By the time Franklin wrote this check in February 1787, his fellow signers of the Declaration of Independence regarded him as an elder statesman. Only two years earlier, he returned from France where he charmed the aristocracy and intelligentsia and ultimately negotiated an alliance that proved critical to defeating the British during the Revolution.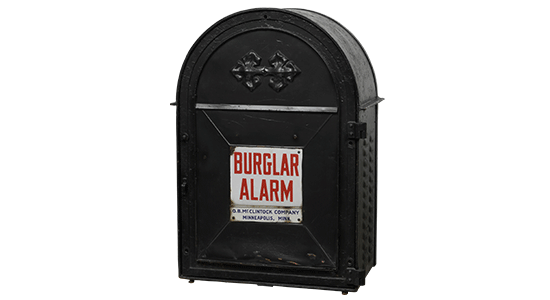 O.B. McClintock Burglar Alarm / 1927
The National Bank of Fredericksburg
When The National Bank of Fredericksburg installed its time-lock vault, it purchased this alarm for added security. This alarm hung on the bank's outside wall. If someone tried to break into the vault, this alarm went off, alerting neighbors of an unauthorized entry.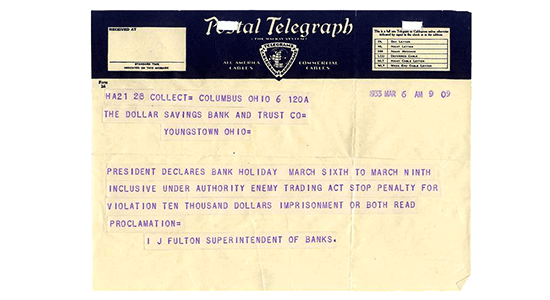 Bank Holiday Telegram / 1933
National City Bank
Franklin Delano Roosevelt took office in the midst of an economic crisis in March 1933. Immediately, he initiated an energetic program to stabilize the banking system. It included a bank holiday enabling the evaluation of every bank in the nation, and the creation of the Federal Deposit Insurance Corporation. This telegram from the Superintendent of Banks to the Dollar Savings and Trust, Youngstown, announced the bank holiday beginning March 6, 1933.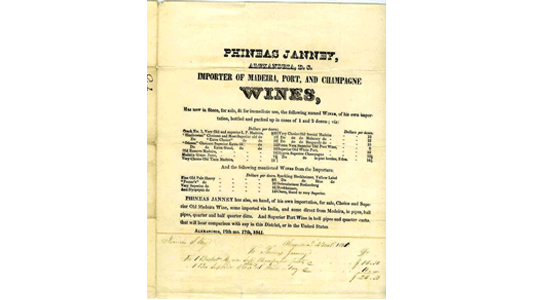 Invoice for Francis Scott Key / 1841
Corcoran & Riggs
Invoice from merchant Phineas Janney who sold champagne and port wine to Francis Scott Key, then a lawyer in Georgetown, 1841. Key had written his poem ""The Defence of Fort McHenry"" in 1814. The poem was put to music and become better known as ""The Star Spangled Banner."" The song was adopted as the American national anthem in 1916.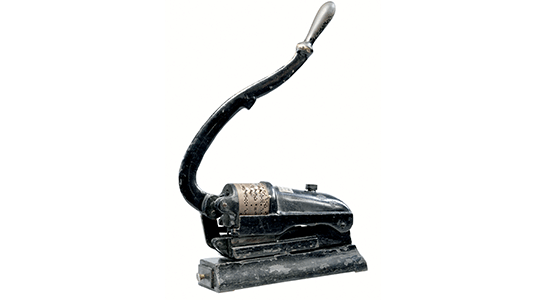 Check Canceller / c. 1895
Farmers & Mechanics Bank
Check cancellers, such as this one, imprinted the bank's number on a check after it was cashed and thereby prevented their re-use.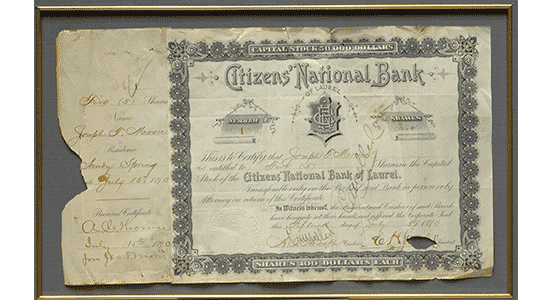 Stock Certificate / 1890
Citizens National Bank
When Citizens National Bank first opened its doors, Laurel was a mill town, the only industrial town in Prince George's County, Maryland. Most of its residents worked in one of the mills, the cotton mill or Avondale Flour Mill. The bank issued its first stock certificate in July 1890.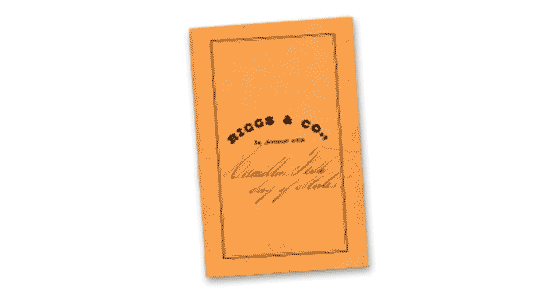 Hamilton Fish Passbook / c. 1869
Riggs & Co.
Bank passbook of Hamilton Fish, who served as Secretary of State between March 17, 1869 and March 12, 1877 under President Ulysses S. Grant. He was Grant's longest-serving Cabinet officer. Fish was also Governor of New York, and a United States Senator from the state.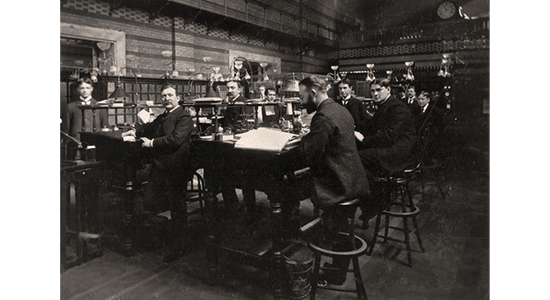 Counting Room Employees / 1895
Mercantile Trust & Deposit
In 1884, Baltimore's leading financiers established the Mercantile Trust and Deposit Company. At the time, most banks specialized in a particular type of service. The directors of this new bank wanted to offer more than just trusts, but all banking services under one roof - "a financial department store." The photo above shows Mercantile employees in the bank's counting room.
Check Canceling Hammer and Block / c. 1820
The National Bank of Fredericksburg
After paying checks, banks have always marked them to prevent their re-use. For much of the nineteenth century, banks cancelled checks by placing them on a block and hitting them with a hammer designed for the task. The hammer cut a clean, sharp hole in the shape of an "X" to indicate that the check had been cancelled.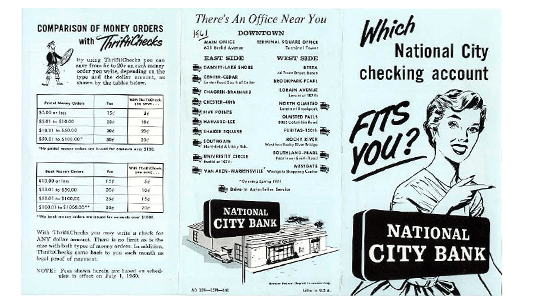 Homemakers' Brochure / c. 1950
National City Bank
In the early 1950s, National City targeted homemakers as a customer base. Their appeal was evident not only in printed matter, but also in their sales pitch. "Home Service Representatives" called on 15,000 homes in Greater Cleveland to introduce women to the banking services offered by National City.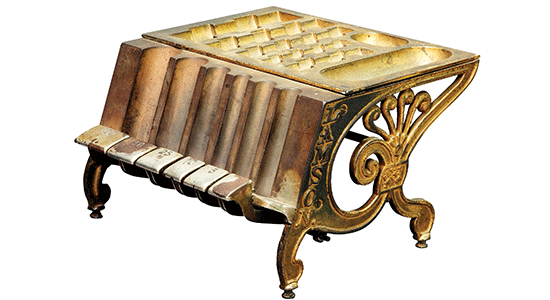 Coin Counter / c. 1890
The Gettysburg National Bank
Banks have always tried to adapt available technology to provide greater efficiency and accuracy to their basic services. This coin counter was used by employees of The Gettysburg National Bank.
Employees Keeping Records / c. 1970
Mercantile-Safe Deposit and Trust Company
As their services expanded, banks mechanized repetitive tasks. This automation not only simplified work but it greatly enhanced record keeping, allowing more detail and accuracy. The photo above shows Mercantile-Safe Deposit and Trust Company employees at work during the early years of the computer age.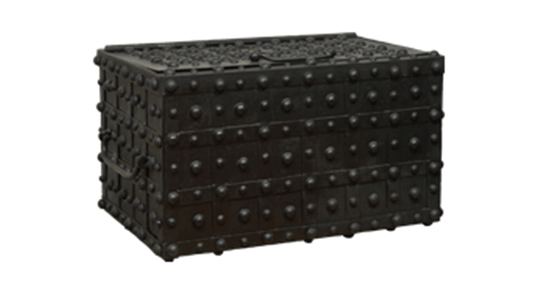 Iron Chest / c. 1820
The National Bank of Fredericksburg
Farmers' Bank notes and records were stored inside this heavy iron chest. Kept inside the vault, this chest required special keys to which only the President and Cashier had access. After the end of the Civil War, the National Bank of Fredericksburg purchased the remaining assets of the failed Farmers' Bank, including this iron chest.
ATM Prototype / c. 1981
CCNB
Computer technology enabled banks to install automated teller machines (ATMs) in their bank branches to provide their customers 24-hour access to their deposits. As they installed ATMs, banks allayed the anxieties of their customers. CCNB used this machine, which did not dispense cash, to train employees and customers in the use of automated tellers.
Logo / 1988
Marshall National Bank
Marshall National Bank and Trust used the profile of John Marshall in its logo. Marshall was a native of Fauquier County, Virginia and the longest serving Chief Justice in Supreme Court history. Marshall dominated the Court for over three decades and played a significant role in the development of the American legal system.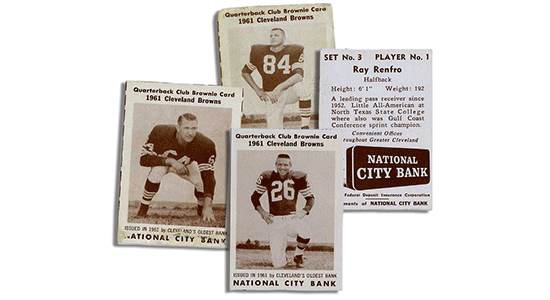 Football Trading Cards / 1961
National City Bank
These Cleveland Browns' trading cards reminded young and old sports fans to bank at National City and featured Jim Ray Smith, Ray Rentro and Paul Wiggin, 1961.
Graphotype / c. 1915
First National Bank of Mechanicsburg
Employees used this graphotype to emboss an address on a tin plate which they filed with the customer's records. When they needed the address, they simply pulled out the plate, inked it, and then pressed out addresses on bank statements, envelopes and account records.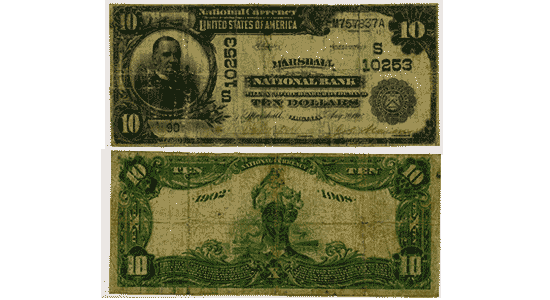 National Currency / 1912
Marshall National Bank
After the Civil War, banks issued national currency, which was backed by federal deposits. Above is a $10 note issued by Marshall National Bank in 1912. The bill includes a portrait of President William McKinley, who was assassinated in 1901.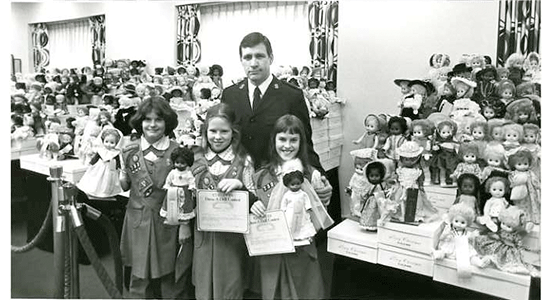 Holiday "Dress-a-doll" Contest / c. 1980
CCNB
For twenty years at Christmas, CCNB touched a broad segment of the community with its "Dress-a-doll" contest. CCNB employees distributed dolls to contestants who made costumes for the dolls and entered them in the competition. Three Girl Scouts accepted their honorable mention awards from a CCNB employee and Salvation Army officer in 1980.
National Bank Charter / 1865
The National Bank of Fredericksburg
The National Bank of Fredericksburg secured its charter by October 1865, six months after the end of the Civil War. Documents from this period include the list of original stock subscribers, the banks organization certificate, and the charter shown above.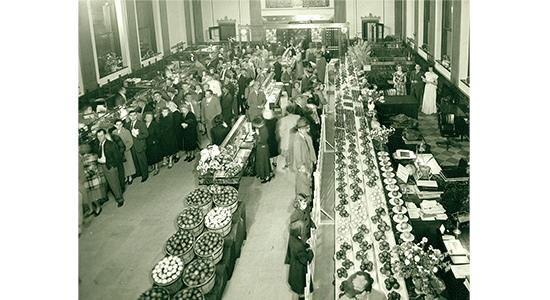 Apple Festival
The Gettysburg National Bank
Banks served as stewards to their communities. Events and programs sponsored by banks helped establish connections with their customers that enhanced their business position. Between 1928 and 1965, The Gettysburg National Bank sponsored an apple show in its bank lobby. Year after year, apple enthusiasts of all kinds converged to celebrate the apple harvest and its role in the regional economy.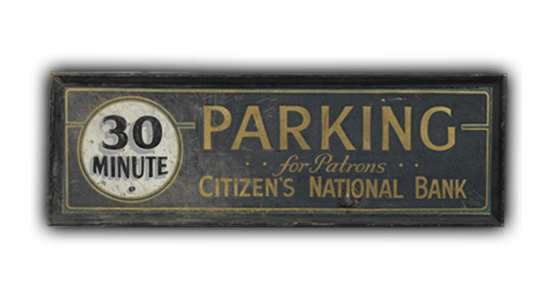 Parking Sign / c. 1935
Citizens National Bank
The automobile transformed the landscape of Maryland. As the mills closed, Laurel emerged as an early suburb of Washington and Baltimore. As more customers drove cars, banks built parking lots. Citizens National Bank installed this sign in Laurel during the Depression.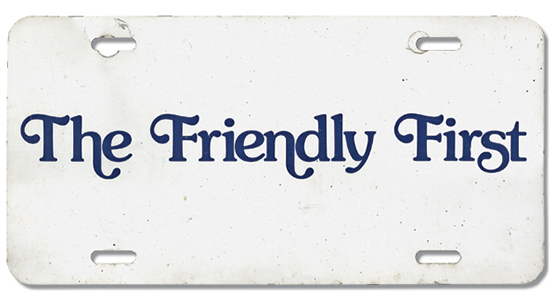 License Plate / c. 1983
Bank of Lancaster County
In the 1970s, the First National Bank of Strasburg adopted the slogan, "The Friendly First," to reinforce its connections to small depositors. Upon changing its name to Bank of Lancaster County, the bank retained the slogan and promoted it with this license plate.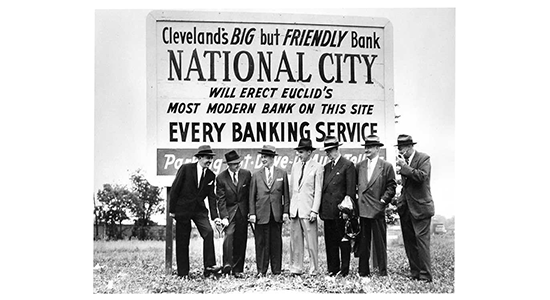 Ground Breaking / 1955
National City Bank
National City promoted itself as the "big and friendly" bank. Several officers break ground at the Babbitt-Lake Shore branch in 1955.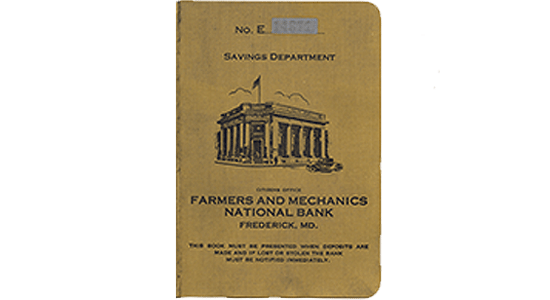 Passbook / c. 1965
Farmers & Mechanics Bank
The affluence following World War II transformed banking. Customers increasingly turned to banks for mortgages, loans, trust services as well as savings and checking accounts. Computers enabled banks to keep more comprehensive records of their customers' activities. Farmers and Mechanics National Bank issued this passbook around 1965.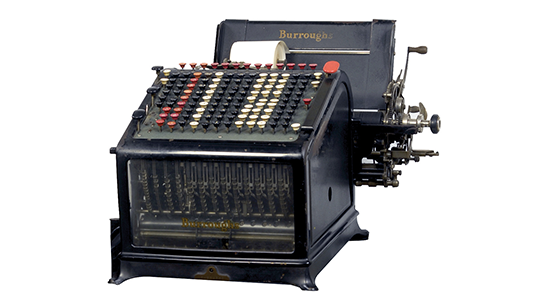 Posting Machine / c. 1920
The National Bank of Fredericksburg
Throughout the nineteenth century, all bank records were made by hand. These records were time-consuming and prone to errors. Available in the 1910s, posting machines generated typewritten records of deposits and withdrawals that guaranteed accurate arithmetic.
Revolutionary War Currency
Westminster Union Bank
Before the Civil War, there was no centralized currency. Banks tried to accept only sound notes that would be readily accepted by others. Some the affiliates of Mercantile Bankshares Corporation retained these notes and coins, which were found in their vaults. Above is a 50-cent note issued during the Revolutionary War.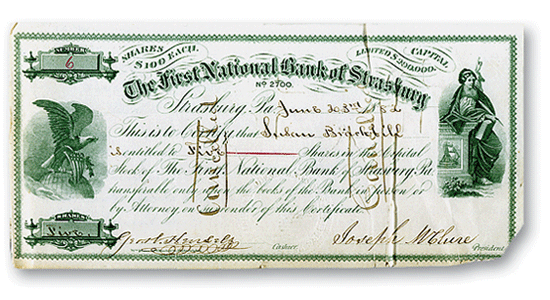 Stock Certificate / c. 1882
First National Bank of Strasburg
In May 1863, the citizens of southern Lancaster County applied for a national bank charter a few months after Congress established the national banking system. Initially known as the First National Bank of Strasburg, the bank held charter number 42. This stock certificate was issued in 1882.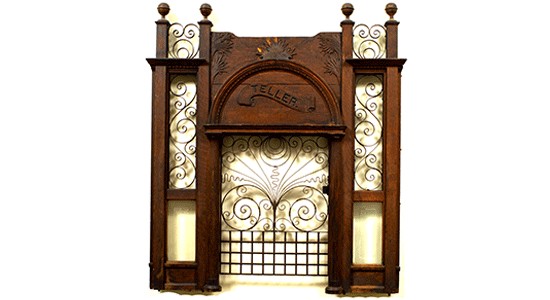 Teller's Window / c. 1927
The National Bank of Fredericksburg
The Planters' National Bank used this teller's window until it moved out of its original building. The National Bank of Fredericksburg secured the window on permanent loan from the family of Edgar M. Young and prized it for the banking traditions it symbolizes.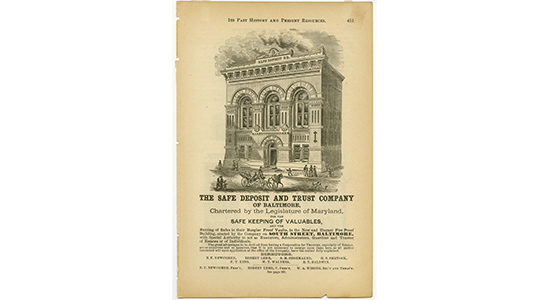 Advertisement / 1878
Safe Deposit and Trust Company
The Safe Deposit and Trust Company and Mercantile Trust and Deposit Company both used advertising to publicize the security of their safe deposit boxes and suggest new uses for them. In addition to providing impenetrable vaults, these banks developed recordkeeping procedures to document the ownership of property.
Vault Door / 1913
Farmers & Mechanics Bank
By the 1890s, banks installed vaults secured with time-lock mechanisms. Designed by Mosler Safe Company and installed by Peoples Bank of Libertytown in 1913, this vault serves as a testament to the bank's commitment to safety. Presently, this door is on display at 110 Thomas Johnson Drive in Frederick, Maryland.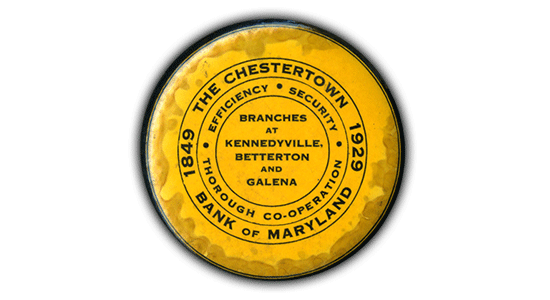 Ink Blotter / c. 1935
Mercantile Eastern Shore Bank
The Chestertown Bank of Maryland was founded in 1904 to serve the agricultural population of the area. Many community banks promoted their services with advertisements and giveaways. The Chestertown Bank announced its new branches with this ink blotter. In 2004, the bank was consolidated with two other affiliates into Mercantile Eastern Shore Bank.
Award Winning Cow in Bank Lobby / c. 1964
Marshall National Bank
Local farmers were always the most important patrons of Marshall National Bank. For the first half of the twentieth century, county farmers frequently brought their cattle and crops to town for sale. They even led cattle drives through Main Street. Through the 1960s, the bank sponsored livestock shows to promote husbandry. If particularly proud of the winner, the bank displayed the cow in its lobby.