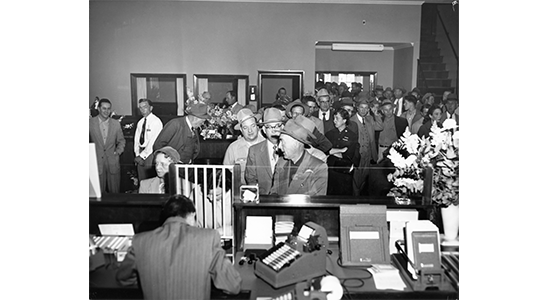 Opening Day | 1954
Planters National Bank
Banks helped farmers to secure the capital necessary to cultivate and harvest their crops. In Eastern North Carolina, Planters National Bank of Rocky Mount understood the special needs of tobacco farmers. It opened this branch in Ahoskie shortly after the town established its own tobacco market.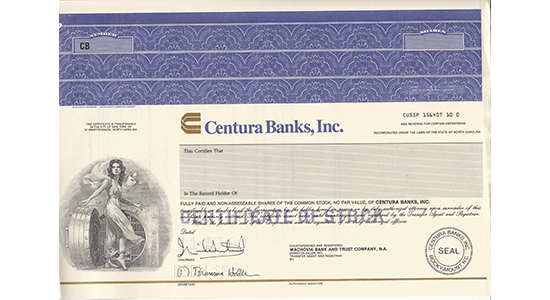 Sample Stock Certificate | 1990
Centura Banks, Inc.
Centura was founded with the merger of two banks based in Rocky Mount, Planters National Bank and Peoples Bank & Trust. Their new name reflected their 100-year tradition of service and their ongoing commitment to provide quality service to the communities of Eastern North Carolina.
Trademark | c. 1955
Peoples Bank & Trust
From the time it opened, the people of Rocky Mount identified Peoples Bank & Trust with the clock pictured on this check. For more than fifty years, it hung outside the home office and marked the corner where customers could receive friendly and reliable service.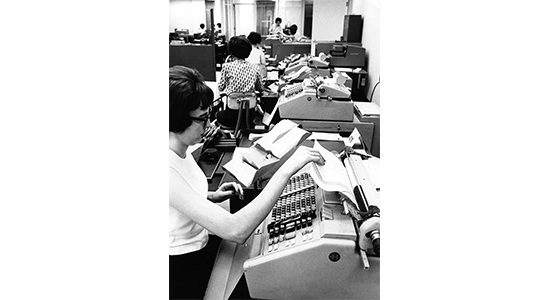 Bookkeeping Department | 1965
Peoples Bank & Trust
Bank employees input ledger entries into Sensitronic, a major breakthrough in branch operations when first purchased by the Rocky Mount bank in 1957. It provided quick access to account information.