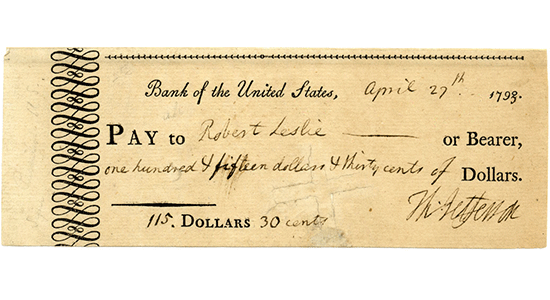 Jefferson Check to Robert Leslie
Riggs Bank
Check written by Thomas Jefferson to Robert Leslie drawn on the Bank of the United States, April 27, 1793. Jefferson was serving as the nation's first Secretary of State under George Washington at the time.
Monroe Letter Requesting Payment for Rations
Riggs Bank
During the War of 1812, Farmers and Mechanics Bank provided banking services to the U.S. Treasury. Written months before the end of this war in October 1814, Secretary of War James Monroe asks the cashier of F & M to honor a government draft payable to contractors who provided soldiers their rations. Monroe also promised that the Secretary of Treasury would repay within a few days.
Tyler Letter to Riggs & Co.
Riggs Bank
The first presidential customer of Riggs & Co., John Tyler instructs the bankers to deposit his monthly salary of $1105.48, February 4, 1843.
Cartes de Visite of ex-President Polk and his wife
Riggs Bank
President James Polk presided over the Mexican War, which Corcoran & Riggs financed by raising $5 million from European merchants and financiers. The presentation of these visiting cards to the Riggs family suggests that ex-President Polk retained a friendly relationship with George Washington Riggs and his family.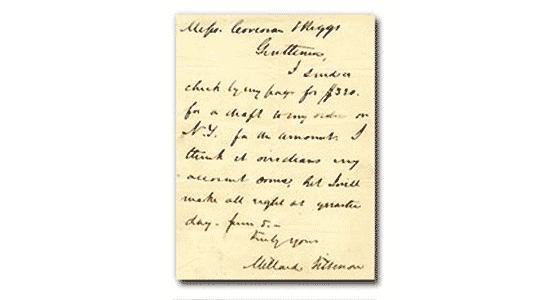 Fillmore Letter to Corcoran & Riggs
Riggs Bank
With this note, a page delivered $320 from President Millard Fillmore to Corcoran & Riggs. Fillmore instructed the bankers to use the money to draw up a draft. He also noted that the transaction would overdraw his account, which he would cover within a couple of weeks, May 24, 1850.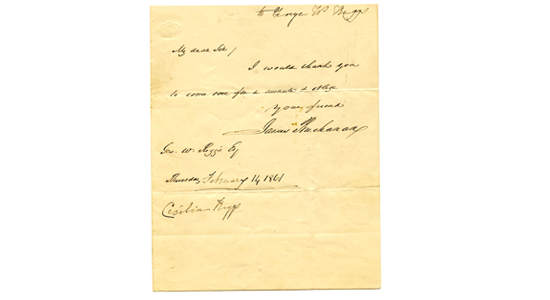 Buchanan Letter to George Washington Riggs
Riggs Bank
With less than one month left in office, President James Buchanan asked his friend and chief proprietor of Riggs and Co., George Washington Riggs, to stop by, February 14, 1861.
Lincoln Check to Son Willie
Riggs Bank
Abraham Lincoln wrote this $8 check to his son Willie approximately eight months before his death of typhoid fever, May 17, 1861.
Lincoln Check to Mr. Johns
Riggs Bank
In this check, Abraham Lincoln identified his payee "Mr. Johns (a sick man)" by his condition rather than his full name. Tellers cashed this check, yet Mr. Johns did endorse this check and left no clue regarding his identify, August 28, 1861.
Garfield Check
Riggs Bank
President James A. Garfield wrote this check to Mary McGrath less than two months before he was shot, May 25, 1881. He died on September 19, having served for just six months and fifteen days.
T. Roosevelt Check to Cab Company
Riggs Bank
Theodore Roosevelt wrote this check to Hedric Cab Company shortly after Riggs National Bank opened its headquarters at the Fifteenth and Pennsylvania location, January 5, 1905.
Taft Check to Department Store
Riggs Bank
Check written by William Howard Taft to Woodward & Lothrop, the leading department store in Washington, June 19, 1919.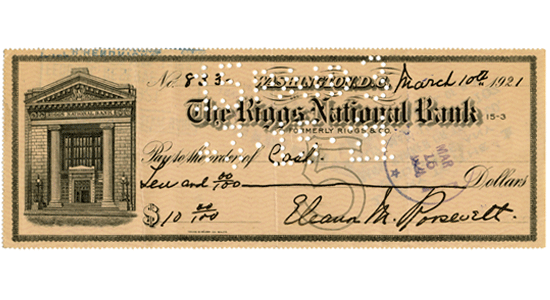 Eleanor Roosevelt Check
Riggs Bank
Eleanor Roosevelt wrote this check to cash during Franklin Roosevelt's tenure as Assistant Secretary of the Navy, five months before he contracted polio, March 10, 1921.
Photo of Truman's Inaugural Parade
Riggs Bank
Wearing a top hat, President Harry S. Truman passes Riggs National Bank on Pennsylvania Avenue, January 20, 1949. Truman maintained his account at Riggs National Bank until 1962, nearly ten years after he left Washington.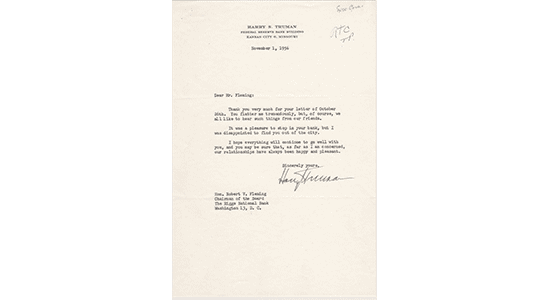 Truman Letter to R. Fleming
Riggs Bank
President Harry S. Truman lets Robert V. Fleming know that he stopped by the bank and expressed his regret at not finding him at the bank, November 1, 1956. Like his predecessor, Truman valued the advice and friendship of the Riggs National Bank President and Chairman.
Eisenhower Letter to R Fleming
Riggs Bank
President Eisenhower thanks Riggs National Bank President and Chairman Robert V. Fleming for his work as Chairman of the Inaugural Committee, January 22, 1957. Eisenhower and Fleming held each other in high esteem. They played golf together, watched the Senators on opening day, and attended informal and formal dinners together.
Nixon Check to Phone Company
Riggs Bank
Check written by Vice-President Richard M. Nixon to pay his monthly phone bill with Chesapeake & Potomac Company, November 14, 1959.