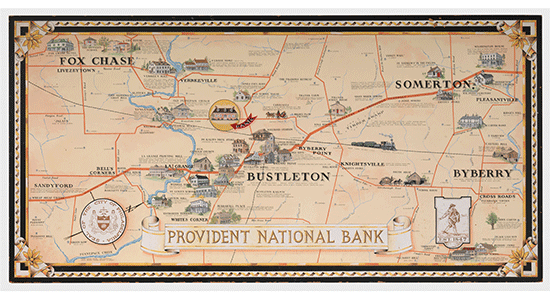 Philadelphia Market | 1847
Provident National Bank
This map illustrates the landmarks of one area in the Philadelphia region when Tradesmens Bank was founded.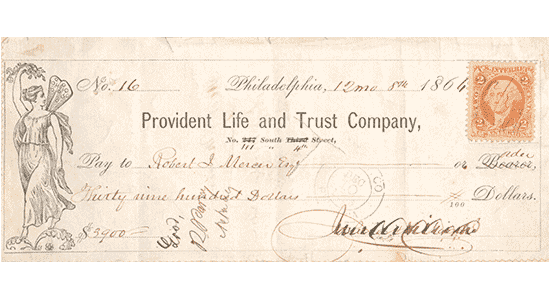 Check / 1869
Provident Life and Trust
Established during the Civil War primarily as a life insurance company, Provident Life and Trust complemented its services as a life insurance company by providing trust and other banking services to its customers.
Courtesy of the Hagley Museum and Library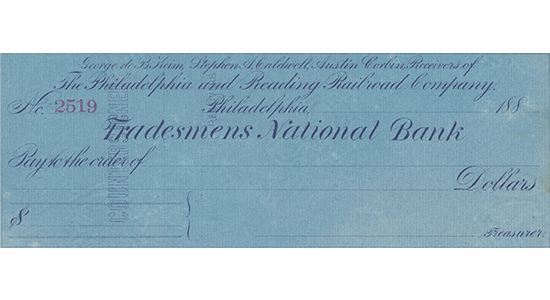 Philadelphia and Reading Railroad Company Check | From the 1800s
Tradesmens National Bank
Tradesmens was known for its investments in infrastructure, particularly rail lines that serviced the Philadelphia region. Its customer, now remembered as the Reading Railroad, transported anthracite from northeastern Pennsylvania to Philadelphia.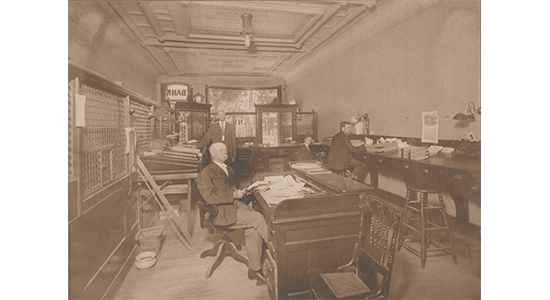 Early Twentieth-Century Bank Floor
Camden Safe Deposit and Trust
It is now difficult to imagine banks as small local concerns as they were in the early twentieth century. Camden Safe Deposit and Trust housed all of its operations in a storefront bank staffed by the four men photographed here.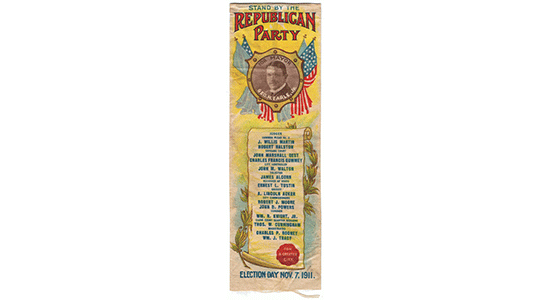 A Bank President for Mayor | 1911
Tradesmens National Bank
Banks are typically not breeding grounds for municipal politics, but Tradesmens Bank President George H. Earle was exceptional. Known for his ability to rescue companies in crisis and his antipathy towards bossism, Earle resigned from Tradesmens to run for mayor. He won the Republican nomination, though he subsequently lost in a close general election.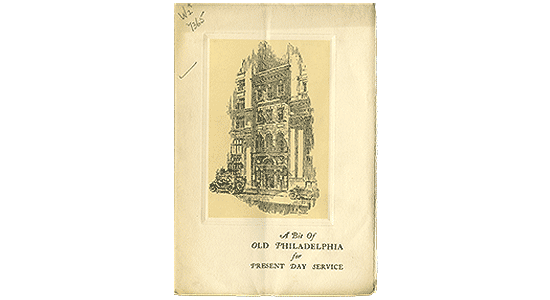 A Purposeful Renovation | 1922
Provident Trust
Shortly after its formation, Provident Trust renovated an old weathered brick building at 1508 Chestnut to serve as its headquarters. The exterior and interior of the building helped Provident Trust convey its identification with the personal service and conservative philosophy of nineteenth-century banking.
Courtesy of the Historical Society of Pennsylvania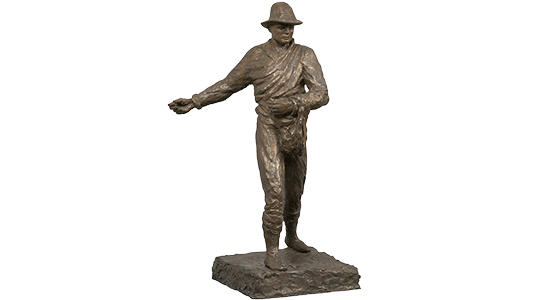 The Sower
Provident Trust
After separating from Provident Mutual in 1922, Provident Trust took the Sower as a trademark for the bank. This image of the farm worker planting seed symbolized the virtue of a simple and productive life and the possibility of growth from small investments.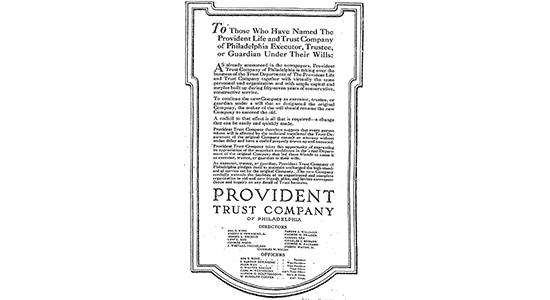 Announcing a Corporate Reorganization | July 31, 1922
Provident Trust
In this advertisement placed in the Philadelphia Inquirer, Provident Trust offers reassurance to its customers that its separation from Provident Life and Trust will not affect its "conservative, constructive service." The message also offers practical advice, providing instructions regarding how to adjust legal documents to reflect the new trustee relationship.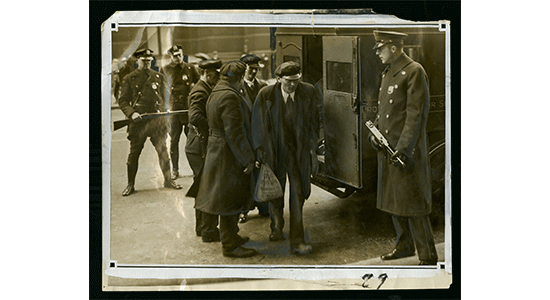 Transfer of Assets | 1931
Market Street National Bank
An armored car and security detail secured the assets of Market Street National Bank as it moved into a new bank facility. A photographer from the Philadelphia Record captured a bank employee carrying $50,000 cash into a new branch on Market and Juniper Streets.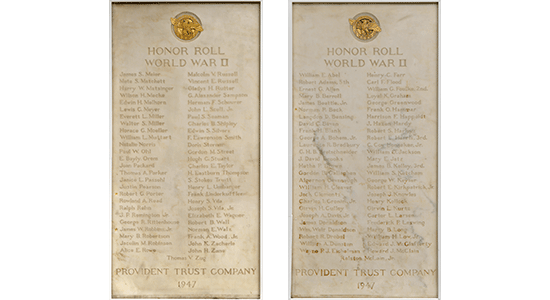 World War II Memorial | 1947
Provident Trust
Provident carved two marble tablets listing eighty-eight employees who had lost their lives during World War II. The tablets are still displayed at PNC Philadelphia headquarters at 1600 Market Street.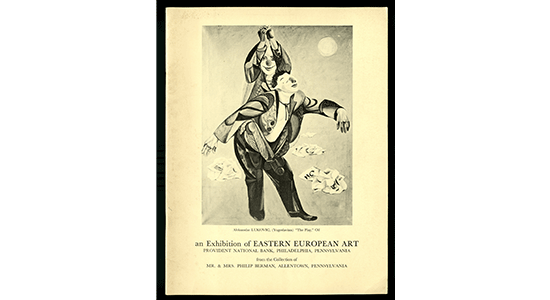 Art Display at Headquarters Lobby | 1970
Provident National Bank
This exhibition of Eastern European art collected by Philip and Muriel Berman of Allentown was one of many art programs developed or sponsored by Provident National Bank, an interest that PNC has maintained
Courtesy of the Historical Society of Pennsylvania