Farmers & Mechanics Bank
Sound and Steady in Unsettled Times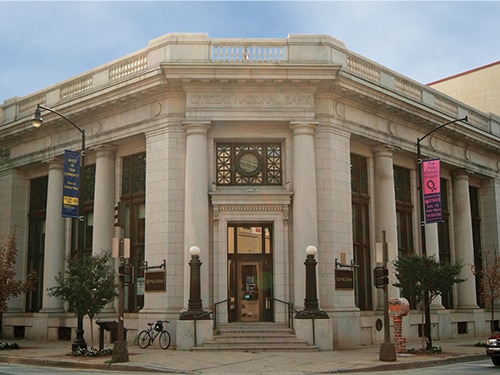 After its acquisition by Mercantile Bankshares in 2003, Farmers & Mechanics Bank solidified its position as the largest bank in Frederick, as it merged with Fredericktown Bank & Trust which had been operating as a Mercantile affiliate for more than twenty years. With longstanding histories dating back to the early nineteenth century, both banks withstood economic crises, provided basic banking services, and invested in the prosperity of Frederick.
Both banks were founded at a time when Frederick stood at the crossroads between east and west. Founded as the Office of Pay and Receipt, a branch of the Bank of Westminster, in 1817, Farmers & Mechanics offered basic cash services to migrants leaving Maryland for Ohio. The Fredericktown Savings Institution, chartered in 1827, concentrated instead on encouraging savings among the farmers living in the area.
Both banks weathered economic crises well. In 1864, the Confederate army threatened to destroy the city if it did not receive $200,000. Farmers & Mechanics and Fredericktown Savings were among the five local banks that provided the cash to save the city. Each bank also emerged from economic panics, particularly the Great Depression, in a stronger position than before.
After World War II, Farmers & Mechanics grew steadily through a series of community bank mergers that extended the bank's reach beyond Frederick County and into Carroll County. The most significant of these – the acquisition of Citizens National Bank in 1953 – included this location.