Provident National Bank
"Sowing" Opportunity with Clients and Community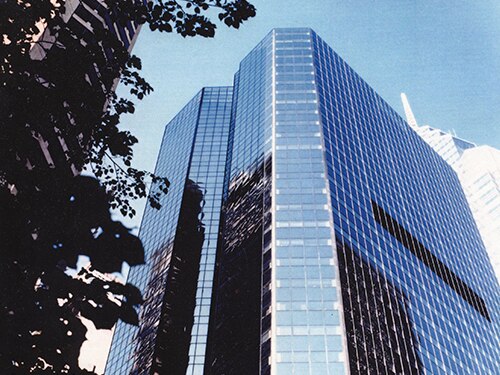 Provident National Bank originated in 1865 when a group of merchants established Provident Life and Trust to encourage people to plan for their futures and protect their estates. In 1922, new regulations impacting trusts led Provident to separate its life insurance and trust businesses to form Provident Trust. The company adopted its trademark – the Sower – to symbolize the abundant wealth that could stem from small but steady savings.
In 1958, Provident Trust and Tradesmens National Bank merged to form a company known for its conservative business philosophy, wealth management services and commercial lending.
Trademens National Bank
When Provident Trust was looking to expand its wealth management services to include commercial and consumer banking, it found its perfect complement in Tradesmens National Bank to form Provident Tradesmens National Bank and Trust in 1957 (later re-named Provident National Bank).
Founded as a bank for people of modest means in 1846, Tradesmens Bank had national impact. Its president, Charles H. Rogers, became a trusted advisor to Secretary of Treasury Salmon P. Chase and helped organize Philadelphia bankers to provide loans to the federal government during the Civil War.
Tradesmens' political and social influence did not end there. George H. Earle, one of its presidents, was popularly known as the "financial doctor" because of his ability to save businesses in crisis. He resigned from this position in 1910 to run for mayor. Subsequently, noted Jewish philanthropist August Loeb took over as president at a time when most Jews were shut out of commercial banking. His son Howard Loeb succeeded him.
After mergers with Market Street National Bank and Real Estate Land Title & Trust, Tradesmens National Bank became a leader in commercial and consumer lending with a large network of branches throughout greater Philadelphia.
Largest Bank Merger in U.S. History to Date
When Provident National Corporation merged with Pittsburgh National Corporation to form PNC Financial Services Group in 1983, it brought together two highly capitalized and profitable banks in the largest bank merger in U.S history at that time. Provident and Pittsburgh National were the first two banks to have taken advantage of legislation passed in 1982 that enabled commercial banks to expand operations statewide. Prior to passage, bank operations were localized and were confined to home office and adjacent counties.
Chemical Bank and Midlantic Corporation
In 1995, PNC made two bold moves to establish its presence in southern New Jersey. In March, it announced the purchase of 81 branches of Chemical Bank, nearly all located in southern New Jersey. Four months later, PNC announced the acquisition of Midlantic Corporation, a holding company with $13.7 billion in assets and more than 300 offices in Pennsylvania and New Jersey.
Midlantic Corporation had pursued an aggressive acquisition strategy, including a merger with Philadelphia-based Continental Bancorp in 1987.