Marshall National Bank
The Bank that Backs the Farmer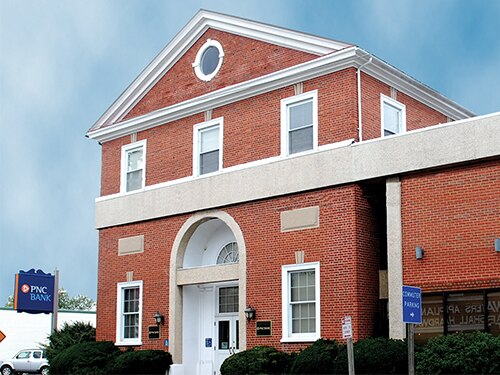 With a sense of apprehension common to all new business ventures, the leading residents of Marshall established the Bank of Marshall in 1905. Its deposits grew quickly, and their success prompted them to re-charter as the Marshall National Bank in 1912. The early stockholders could not have imagined the longevity of their bank. It weathered the Great Depression, recessions in the real estate market, and deregulation that closed other local banks.
Farmers have always been the most important patrons of Marshall National Bank. Prior to its founding, farmers depended upon local merchants or banks in Baltimore, Alexandria, and Richmond to provide financial services. With the establishment of Marshall Bank, the farmers found a bank that would deal with their special needs.
By the 1950s, the bank emphasized the convenience of its services, as it continued to serve local farmers. It installed a night depository in 1953 and, three years later, the first drive-in window in Fauquier County. In 1970, it opened its first branch in Warrenton and eventually opened another branch in Middleburg.
For a century, this bank with modest beginnings has served the financial needs and community interests of Marshall. After opening a new trust department in 1928, the Board of Directors changed the bank's name to Marshall National Bank and Trust Company. In 1998, Mercantile Bankshares acquired the bank, a move that provided additional capital backing and enabled Marshall National Bank and Trust to retain its local identity.