Toggle nav
Login
Sign on to Online Banking
---
Personal and Small Business:
---
Personal and Small Business:
---
Corporate and Institutional:
Tap Into Your Business®
Login to the application whenever it's most convenient for you.
Smartphone & Tablet App
Available for iPad, iPhone, or Android phone.
Touch ID™ Authentication

Log in quickly and safely with your biometric thumbprint.
Capabilities & Benefits
Secure Access
The PINACLE Mobile App provides the same strong authentication and multi-layered security features you have come to expect from your PINACLE desktop service.
Authentication
Your login credentials and login process are the same as those used for the PINACLE desktop application.
Choose to enable Touch ID for convenient fingerprint access.
Note: Your PINACLE Company ID must be enabled for this feature and a token passcode is still required where applicable.
The App provides an automatic inactivity time out.
Confidentiality
Only the last four digits of the account number are shown.
No personal or company data is stored on your device.
Home Page
Get an instant snapshot of your current cash position, items needing approval, important PINACLE notifications and much more! Directly navigate to every feature within the App with just a single tap. Hot spots are located within each function to quickly drill down into specific information to help you make informed business decisions.
Information Reporting
Stay up-to-date on all of your account activity. Easily toggle between Current Day and Previous Day views and see high-level account information or drill down deeper into your transactions for more details.
View Current Day and Previous Day account balances and transaction details for all of your domestic, foreign currency, and sweep accounts.
Search for transactions and view images associated with transactions.
Credit Management
Just like the Credit Management Module on your PINACLE desktop, the Credit Management feature within the PINACLE Mobile App allows you to evaluate your funding needs and make borrowing decisions in real time. Stay up to date on your entire cash position wherever you are.
Access credit information such as availability, balances, maturity dates and rates, recent transaction history and transaction details. View all commitments under each Obligor, including loans and letters of credit.
Approvals & Decisions
You no longer have to be at your desk to decision a Positive Pay item or approve a wire. The PINACLE Mobile App helps you to keep important actions moving and meet payment deadlines with a tap of your finger. Whether you're the CFO, a PINACLE administrator, or a back-up approver, various types of items can be decisioned and approved via the App. View a complete overview of all pending action items or use the filter function to refine your search. Submit your items one-at-a-time or all at once with the convenient single-submit feature.
Approve wire payments and wire payment templates.
Authorize ACH batches and ACH templates.
Decision and approve Positive Pay and ACH Positive Pay items.
Approve administrative activities for operators.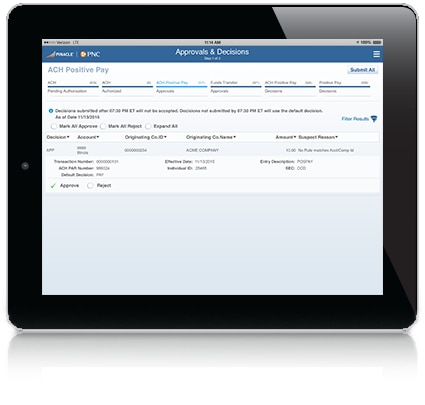 Initiate Payments
Rediscover your mobility - No need to step away from a business lunch or an important family function in order to send a last minute payment. Submit different payment types individually or all at once with the convenient single-submit feature.
Transfer funds between PNC accounts in real time.
Search for templates easily, and initiate wire transfers and ACH batches.
View daily activity for all three payment types with the ability to edit and delete.
Administration
Forgotten password? Operator is locked out? Do these sound familiar? The PINACLE Mobile App offers robust administrative features that will make managing your operators more convenient. No matter where you are, you can manage access and view operator status and recent log in activity for all of your operators.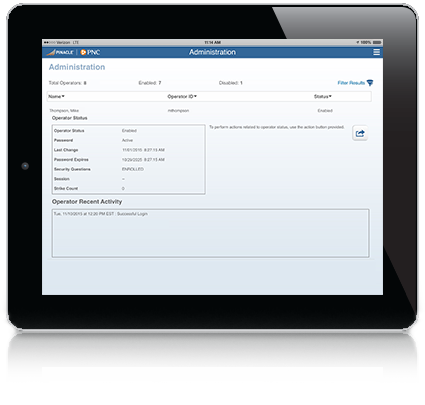 Message Center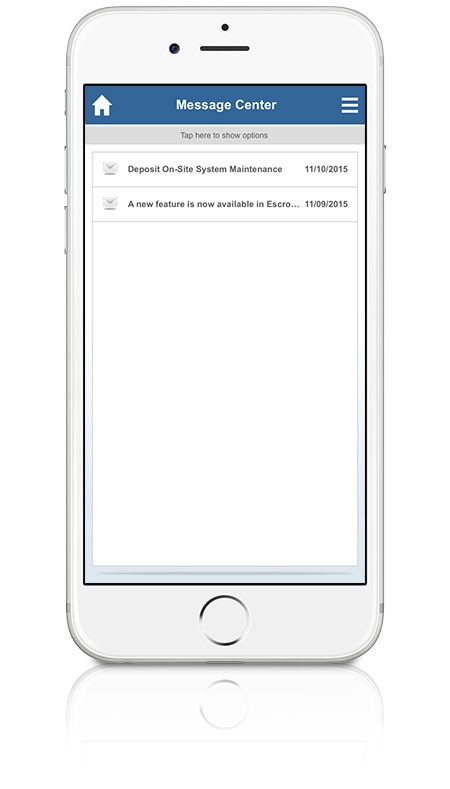 The Message Center offers an organized way to stay informed about your account details and what's happening with PINACLE.
View your Event Notifications, System Alerts, and Informational messages.
Filter notifications and messages based on what you want to review.
Customization
PINACLE lets you customize your preferences to make using the Mobile App even easier. Tailor your mobile preferences via the 'My Profile' feature on your PINACLE desktop application by selecting the services and accounts you want to view on the Mobile App. Additionally, under My Contacts you can quickly access phone numbers and email addresses of your important contacts while on the go.
For more information, please contact your Treasury Management Officer or Treasury Management Client Care (TMCC) at 1-800-669-1518.
Important Information and Disclosures
Google Pay and Google Play™ store are trademarks of Google Inc.
Apple, iPod, and iPad are trademarks of Apple Inc., registered in the U.S. and other countries. iPhone, Touch ID and Apple Pay are trademarks of Apple Inc. App Store is a service mark of Apple Inc.

PNC, PINACLE and Tap Into Your Business are registered marks of The PNC Financial Services Group, Inc. ("PNC").
Bank deposit, treasury management and lending products and services, and investment and wealth management, and fiduciary services are provided by PNC Bank, National Association, a wholly-owned subsidiary of PNC and Member FDIC. Lending and leasing products and services, including card services and merchant services, as well as certain other banking products and services, may require credit approval.