Toggle nav
Login
Sign on to Online Banking
---
Personal and Small Business:
---
Personal and Small Business:
---
Corporate and Institutional:
Deposit on the Move
Submit your checks and remittance details for deposit via your mobile device
Accelerate Cash Flow
Deposit checks several times a day or at the end of your business day
At-a-Glance View

All deposit activity, mobile and web, can be viewed and reported in one place


Bring the Bank's Teller Window to Your Business
With PNC's Deposit On-Site Mobile App you can reduce the time spent waiting for your deposits to clear and improve your cash flow and information visibility. Now you can deposit a check and include the payment remittance information with a few simple taps.
Deposit on the Move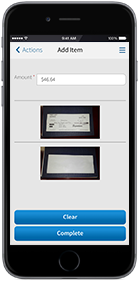 Create Deposits
Quickly and easily create a new check deposit. You can deposit one or more checks into a single deposit providing you with a simple and streamlined deposit process.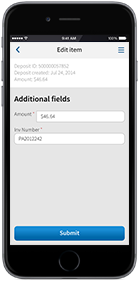 Enter Remittance Info
Data fields are customizable so that important deposit information is available to you later. These fields can be either required or optional at the check and deposit level.
View Deposit History
View the history and images of all deposits made for up to 35 days. Users will have the option to drill down into past deposits to see the images and transaction details.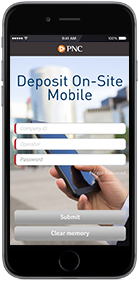 Security
Your company remains protected on the move because the Deposit On-Site Mobile App provides security throughout every step of the process. The app provides multi-layer security access controls and through Trusteer Mobile security detects and prevents the use of compromised mobile devices. Additionally, check images and authentication credentials are never stored on the device by PNC.
Compare
Compare Deposit On-Site Web and Mobile Experience
Whether you have some payments that are received via mobile or others received in your office using a traditional desktop scanner, all of your deposit activity can be viewed and reported with Deposit On-Site through PINACLE®.
| | | |
| --- | --- | --- |
| | Deposit On-Site Web | Deposit On-Site Mobile App |
| Administration | | |
| Enable/Disable Operators | | |
| Unlock/Change Operator Passwords | | |
| Set Operator Deposit / Item Limits for Web and Mobile | | |
| Assign Locations to Operators | | |
| System Features | | |
| Re-Assign Deposits | | |
| Custom Data Entry Fields at the Check Level | | |
| Optional Data Entry Fields at the Deposit Level | | |
| Remittance Coupons | | |
| Security | | |
| Duplicate Check Detection | | |
| Secondary Review | | |
| Security Questions | | |
| Operator Password Self Reset | | |
| Trusteer Rapport / Trusteer Mobile | | |
| Information Reporting | | |
| View Deposit Details | | |
| Print/View Summary & Detail Reports (PDF, xls) | | |
| Print /View Remittance Summary & Detail Reports (PDF, xls) | | |
Important Legal Disclosures and Information
PNC, PINACLE, and Deposit on-Site and Deposit On-Site Mobile are registered marks of The PNC Financial Services Group, Inc. ("PNC").
Banking and lending products and services and bank deposit services are provided by PNC Bank, National Association, a wholly-owned subsidiary of PNC and Member FDIC.
Funds may not be available for immediate credit and withdrawal. Subject to credit approval. Deposit On-Site users should refer to their Deposit On-Site service agreement and the applicable Funds Availability Policy for their PNC business checking account to determine when their funds will be credited and made available. Eligibility for Deposit On-Site is subject to bank approval. Customer must maintain a PNC business checking account to qualify for Deposit On-Site.
Apple is a registered mark of Apple, Inc. Android is a trademark of Google Inc.