PNC Cash Rewards® Visa Signature® Business Credit Card
Boost your bottom line with the PNC Cash Rewards Visa Signature Business credit card. This card makes it easy to earn unlimited cash back … just for doing business as usual.

Fast, Easy, Secure
Apply online and get a response in minutes.

Earn a $200 bonus
when you open and use a new PNC Cash Rewards Visa Signature Business credit card.[1]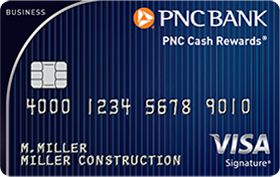 To qualify for this offer: Make at least $3,000 in qualifying net purchases[2], using your PNC Cash Rewards Visa Signature Business credit card account, during the first three billing cycles following account opening.
Introductory 0% APR for the first 9 billing cycles following account opening on purchases. Then a variable APR, currently 13.24% to 22.24%, based on creditworthiness, will apply. This APR will vary with the market based on the prime rate.*
Earn $200
Key Features

Earn 1.50% Cash Back on Net Purchases
[2]
No limits on the amount you can earn.

Online Account Management
Choose from a variety of online tools to manage your business credit card activity.
Visa Signature® Benefits
Provides travel benefits and protection for purchases.
Account Overview
Features and Benefits

Earn 1.5% Cash Back on net Purchases[2]
Enjoy no limits on the amount of cash back you earn
Redeem cash back anytime as a statement credit, or deposit cash back into an eligible PNC Business checking or savings account
No Annual Fee
Use Account View to Manage Employee Purchases and to Monitor Cash Flow
Check your current balance & view pending transactions online
Set individual spending limits for employee cards
Add, activate, or close cards
Make payments electronically or schedule recurring payments
Access up to 13 months of transaction detail
Download transactions into Excel®, Quicken®, or QuickBooks® or use .csv files
View your PNC Business Credit Card Spending by Business Category
When you enroll in Cash Flow Insight℠ our Spend Analysis tool will automatically assign business categories to your posted PNC business credit card transactions. This will help you:
Monitor where you and your employees are spending
Plan and budget for future business needs
Manage Business Risk
Set up your PNC business credit card as overdraft protection for your PNC business checking account to help ensure that you have funding when needed*
Gain the benefits of added convenience and peace of mind with Visa benefits

If your Visa Business card is ever lost or stolen, your company is protected against fraudulent use of the card, including transactions made via telephone or on the Internet with the Visa Zero Liability Fraud Protection.[3]
Extended Protection can double the time period of the original manufacturer's written U.S. warranty up to one (1) full year on warranties of three years or less.
Purchase Security will replace, repair, or reimburse you for eligible items of personal property in the event of theft or damage within the first 90 days of purchase.
Travel Benefits
PNC Cash Rewards℠ Visa Signature® Business Credit Card Travel Benefits[4]
Lost Luggage Reimbursement
Travel Accident Insurance
Auto Rental Collision Damage Waiver
Roadside Dispatch®
Lost / Stolen Card Reporting
Purchase Security and Extended Protection
Emergency Card Replacement and Emergency
Cash Disbursement
Travel and Emergency Assistance Services
Visa Signature Concierge
Calculate How Much You Could Earn
Use the calculator below to estimate your cash back amount!
Adjust the slider to show how much you usually spend on your credit card each month
$
Your average yearly credit card spend is: $1,200
You could get back:
$15 (1.50%) per year

* Rates and Fees
Introductory Offer
Introductory 0% APR on purchases for the first 9 billing cycles following account opening.
Annual Fee
$0
Purchase and Balance Transfer APR
13.24% to 22.24, based on your creditworthiness.
This APR will vary with the market based on the prime rate.
Cash Advances APR
24.24%
This APR will vary with the market based on the prime rate.
Penalty APR
31.24%
This APR will vary with the market based on the prime rate
Transaction Fees:
Balance Transfers
Either $5 or 3% of the amount of each balance transfer, whichever is greater
Cash Advances
Either $10 or 4% of the amount of each cash advance, whichever is greater; $75 maximum fee

Penalty Fees:
Late Payment
Up to $39
Over Credit Limit
$39
* Important Information about Rates and Fees
Did you know? If you have a PNC business checking account, using a PNC business credit card could offset your monthly maintenance fee.[5]
How to Apply

What You Need to Apply
It's easy, secure and takes less than 5 minutes to apply online. You will need the following to apply:

Company Tax ID
Company annual revenue
Your Social Security Number, monthly housing payment and gross annual income
Important Legal Disclosures and Information
The $200 statement credit will be awarded after the company has made $3,000 in net purchases during the first 3 billing cycles following account opening. The statement credit will be awarded within 90 days following the net purchase that enabled you to meet the $3,000 minimum requirement.

The term "net purchases" does not mean all transactions you may make using your credit card. Some limited transactions are excluded. For details about excluded transactions, please see the complete reward program terms and conditions.

The Visa Zero Liability policy does not apply to ATM transactions, PIN transactions not processed by Visa, and certain commercial card transactions. Notify PNC Bank immediately of any fraudulent use. For specific restrictions, limitations and other details regarding unauthorized use of your credit card, see your credit card agreement.

Certain terms, conditions and exclusions apply. In order for coverage to apply, you must use your covered Visa Signature card to secure transactions. The costs for goods or services purchased through Visa Concierge Services are the cardholder's responsibility. Complete terms for these programs are provided with your new Visa Signature business card; please refer to your Visa Signature Guide to Benefits for details.

To receive relationship benefits, the checking account must be set up as the billing account for the respective service. See your banker for details.
PNC Cash Rewards is a registered mark of The PNC Financial Services Group, Inc.
Excel is a registered mark of Microsoft Corporation.

QuickBooks® and Quicken® are registered marks of Intuit, Inc.

Visa is a registered trademark of Visa International Service Association and used under license.
Cash Flow Insight is a service mark of The PNC Financial Services Group, Inc.
PNC Bank, National Association is the creditor and issuer of the PNC Bank Credit Cards.