PNC Merchant Services®
End-to-End Payment Processing Solutions to Help Your Business Thrive
With PNC Merchant Services, you have a dedicated team to help you discover the right payment processing solutions, guided by extensive industry experience and backed by knowledgeable support, 24/7.
Devices and Solutions for the Way You Do Business
At the Counter
Make the counter your command center with next-generation point-of-sale technology. Manage inventory, track revenue and generate reports, all while ringing up sales.[1]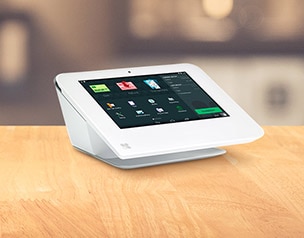 On the Go
Enjoy the ultimate in mobile convenience with the flexibility to confirm inventory, take payments and print a receipt from anywhere in your business. Or anywhere that you do business.
[1]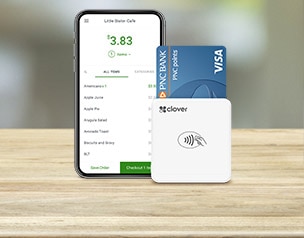 Online
Take payments reliably — 24/7/365 — from your website or over the phone. Plus, you can access credit and debit card authorizations, check payments and view real-time transaction reports.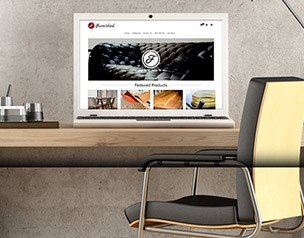 Convenience, Simplicity, Efficiency. Backed by an Industry Leader.
Payment Processing Experience
From single-outlet boutiques to super-regional retailers with thousands of locations, PNC Merchant Services brings a wealth of experience to the selection and support of your solution.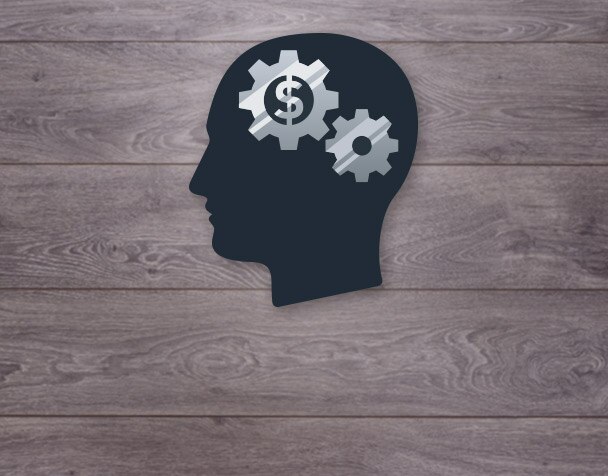 24/7/365 Service & Support
Any issue, at all times, our Customer Service Center and POS Help Desk are standing by with highly trained professionals who are committed to resolving any issue on the very first call.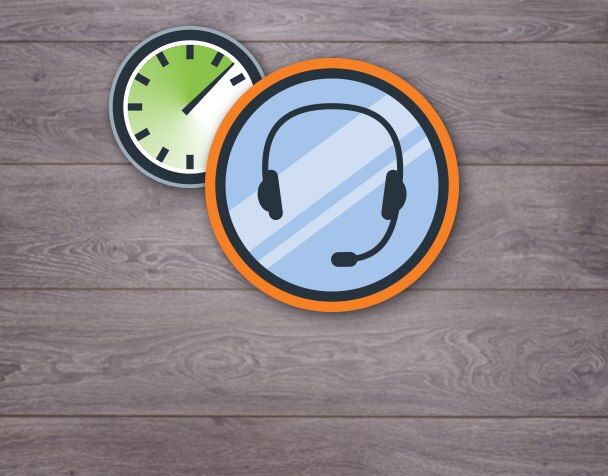 Security Solutions
Clover Security products are designed to deliver end-to-end security with new and improved encryption, tokenization, monitoring, data scanning and anti-virus technology.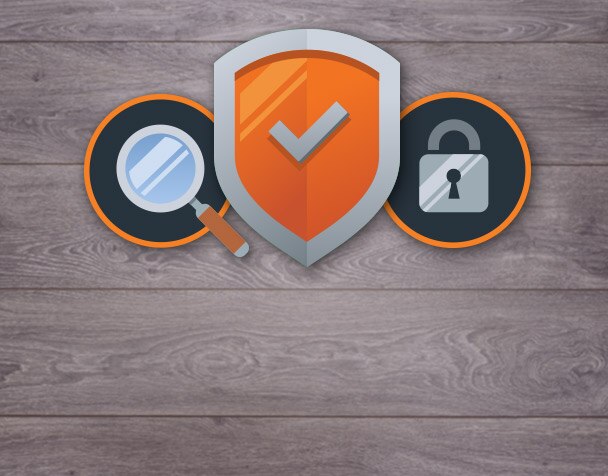 Earn a $50 Rebate with Clover® Go
Earn a rebate of $50 if you incur and pay at least $50 in transaction processing fees with your PNC Merchant Services account.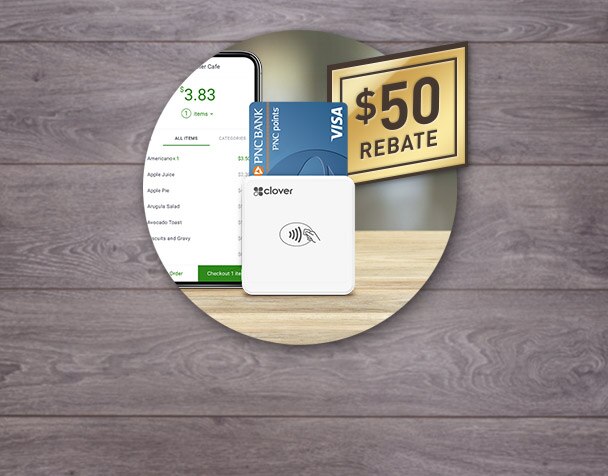 Earn up to $500 with PNC Merchant Services
You could earn up to $500 when you open a new PNC Merchant Services account. Expires 06/30/19.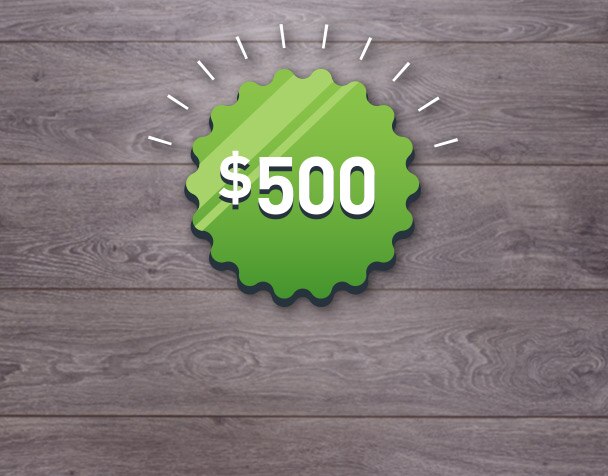 Switch and Save!
Take our Beat Offer challenge. If we can't beat your current payment processing fees, you could receive a $1,000 PNC Credit or Check.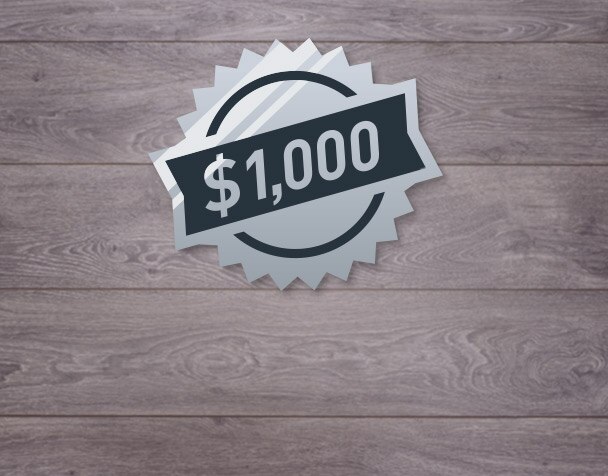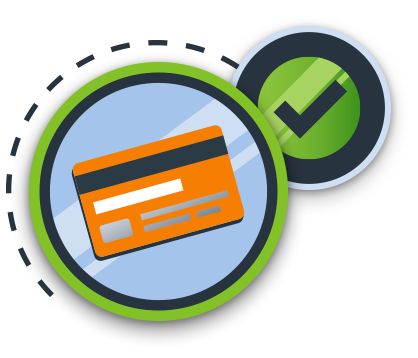 Swipe and Non-swipe Pricing
PNC Merchant Services offers a variety of pricing options, helping to make it easy for you to find a solution that fits your business needs.
Get Started with PNC Merchant Services

No matter whether this is your first time accepting cards or if you are already accepting cards through another servicer, we have card processing solutions for your business.

Call Us
Not sure what you need? Speak to a 
PNC Merchant Services representative
to discuss a custom-tailored solution
to meet your business needs.
1-888-562-2300 »
Prefer Email?
Complete a Contact Request Form and we will contact you to help find the right card payment processing options for your business.
Contact Us »
Visit Us
Stop into your neighborhood PNC Bank to learn more about our card payment processing solutions.
Find a PNC Location Near You »
Important Legal Disclosures and Information
PNC Merchant Services is not responsible for third party apps or software. All apps are provided by third parties (including Clover, a First Data Company) and are subject to the terms and conditions of the app developer. All Clover software plans are provided by Clover. Availability of certain Clover software plans and apps may be based upon the Clover equipment you purchased or leased. For more information contact your PNC Merchant Services account executive. You are responsible for selecting your Clover software plan and apps. Some apps may be available for download on your Clover device through the Clover App Market. The Clover App Market can be accessed through a Clover device or through their web dashboard. There may be fees associated with apps which are disclosed in the app market. You will be charged monthly fees for most Clover software packages for all of your Clover devices. These monthly fees may be changed by First Data or PNC Merchant Services at any time. For information regarding third party app fees and software fees, contact your Merchant Services account representative at 1-800-501-8748. Fees for software plans and apps are charged through the app market. Clover Station is required to have the Register software plan and software fees are charged through PNC Merchant Services.
Merchant Services are provided by PNC Merchant Services Company and are subject to credit approval. PNC Merchant Services is a registered trademark of The PNC Financial Services Group, Inc.
Visa is a registered trademark of Visa International Service Association and used under license; MasterCard is a registered trademark of MasterCard International, Inc.; Discover is a registered trademark of DFS Services, LLC: American Express is a registered trademark of American Express Marketing & Development Corp. in the United States and other countries.
Customers must establish a new PNC Merchant Services account with an initial term of three years or longer. An early termination fee will not be applied if you close this account prior to the end of the term. If you have leased Clover or other equipment, this is a separate agreement and is noncancellable. Please refer to your lease agreement for details. Purchased Clover or other equipment is nonreturnable. A separate agreement for Clover Check Acceptance may also have been signed. Please refer to your Clover Check Acceptance agreement for termination policy.
Banking products and services and bank deposit products are provided by PNC Bank, National Association (N.A.), a wholly-owned subsidiary of The PNC Financial Services Group, Inc. and Member FDIC.
GET IN TOUCH

Stay Connected

Join Us

Be part of our inclusive culture that strives for excellence and rewards talent.

Visit PNC Careers »
The PNC Financial Services Group, Inc. All rights reserved.