Toggle nav
Login
Sign on to Online Banking
---
Personal and Small Business:
---
Personal and Small Business:
---
Corporate and Institutional:
Merchant Services Pricing
PNC Merchant Services® offers a variety of pricing options, helping to make it easy for you to find a solution that fits your business needs.

Review our Swipe and Non-swipe Pricing*
2.60% + $0.00
Per Swipe Transaction**
Standard or chip debit and credit cards
3.45% + $0.15
Per Non-Swipe Transaction**
For payments online, over the phone or manually entered
*Equipment pricing and transaction and other fees that are available through the online application process are not available through other PNC Merchant Services sales channels including, but not limited to, from account executives and PNC Bank branches. Pricing is subject to change at any time.
**Swipe and Non-Swipe transaction prices do not include equipment costs, chargeback fees, Payeezy Gateway charges, app fees and other third-party charges, or cost of software required in order to utilize some apps in the Clover App Marketplace.
Choose a device with the features that work best for your business[1]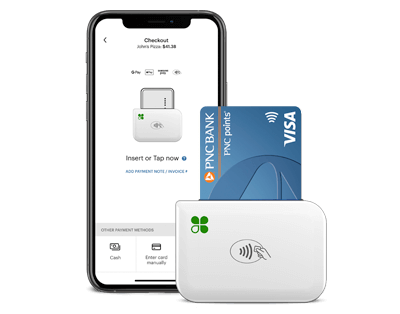 Clover Go
From a customer's job site to a festival booth to a remote location in your own building, you can ring up sales when and where you want, all from your smartphone or tablet.
Learn More »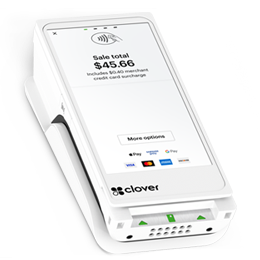 Clover Flex
Take orders, confirm inventory[1] and accept payments anywhere, all without extra trips to process a card or check a storeroom.
Learn More »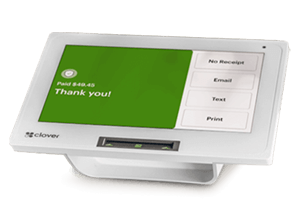 Clover Mini
Customizable point-of-sale and payment processing in one secure, convenient package that's intuitive, easy to use, and easy to move.
Learn More »
Fast Funding
Next-day funding of Visa®, MasterCard®, Discover®, and American Express® payments when deposited into a select PNC Bank business checking account.[2]
Support 24/7
Customer care and support available 24/7/365 for all of your device and payment processing needs via telephone and email.
Money Management
Easily track transactions and optimize cash flow when you link your merchant account and a select PNC Bank business checking account.
Speak with a merchant services representative to learn more about pricing and equipment options.
Call us today at 1-888-562-2300
Or, share a few details on the form below and a PNC Merchant Services representative will contact you.
Important Legal Disclosures and Information
PNC Merchant Services is not responsible for third party apps or software. All apps are provided by third parties (including Clover, a First Data Company) and are subject to the terms and conditions of the app developer. All Clover software plans are provided by Clover. Availability of certain Clover software plans and apps may be based upon the Clover equipment you purchased or leased. For more information contact your PNC Merchant Services account executive. You are responsible for selecting your Clover software plan and apps. Some apps may be available for download on your Clover device through the Clover App Market. The Clover App Market can be accessed through a Clover device or through their web dashboard. There may be fees associated with apps which are disclosed in the app market. You will be charged monthly fees for most Clover software packages for all of your Clover devices. These monthly fees may be changed by First Data or PNC Merchant Services at any time. For information regarding third party app fees and software fees, contact your Merchant Services account representative at 888-562-2300. Fees for software plans and apps are charged through the app market. Clover Station is required to have the Register software plan and software fees are charged through PNC Merchant Services.

Next-day funding on card transactions processed by PNC Merchant Services when deposited into a select PNC Bank business checking account. Certain restrictions may apply.
The Clover® name and logo are owned by Clover Network, Inc., a wholly owned subsidiary of First Data Corporation, and are registered or used in the U.S. and many foreign countries.
Merchant Services are provided by PNC Merchant Services Company and are subject to credit approval. PNC Merchant Services is a registered trademark of The PNC Financial Services Group, Inc.
Customers must establish a new PNC Merchant Services account with an initial term of three years or longer. An early termination fee will not be applied if you close this account prior to the end of the term. If you have leased Clover or other equipment, this is a separate agreement and is noncancellable. Please refer to your lease agreement for details. Purchased Clover or other equipment is nonreturnable. A separate agreement for Clover Check Acceptance may also have been signed. Please refer to your Clover Check Acceptance agreement for termination policy.
Visa is a registered trademark of Visa International Service Association and used under license; MasterCard is a registered trademark of MasterCard International, Inc.; Discover is a registered trademark of DFS Services, LLC: American Express is a registered trademark of American Express Marketing & Development Corp. in the United States and other countries.
Banking products and services and bank deposit products are provided by PNC Bank, National Association (N.A.), a wholly-owned subsidiary of The PNC Financial Services Group, Inc. and Member FDIC.