Toggle nav
Login
Sign on to Online Banking
---
Personal and Small Business:
---
Personal and Small Business:
---
Corporate and Institutional:
Fraud Mitigation Solutions
For Small Business
To learn more about how these business solutions can help you mitigate fraudulent activities, contact a PNC Treasury Management Direct representative.
Stop fraud in its tracks.
It's no secret: The number and complexity of fraud schemes perpetrated against business checking accounts is continuing to grow. Seventy-eight percent of finance professionals report that their organizations were targets of payments fraud. Seventy-four percent of organizations subject to payments fraud were victims of check fraud.[1]

Do you have measures in place to help combat this type of attack?
Powerful fraud mitigation tools

This comprehensive fraud mitigation approach combines four advanced technologies and security tools designed to help you identify and thwart attempts to compromise your financial accounts. By providing enhanced insight into the transactional details of your financial accounts, fraudulent checks and electronic transactions become easier for you to identify if presented for payment.
Here's how the tools work together:
These four tools, working together, help you protect your account from unauthorized activity, whether initiated electronically via ACH, or manually via paper check.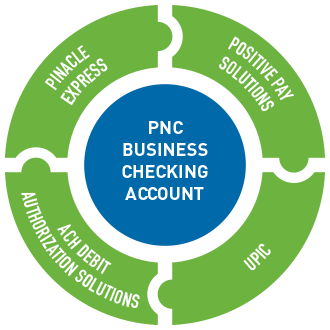 Fraud mitigation solutions from PNC
Associated Products & Services